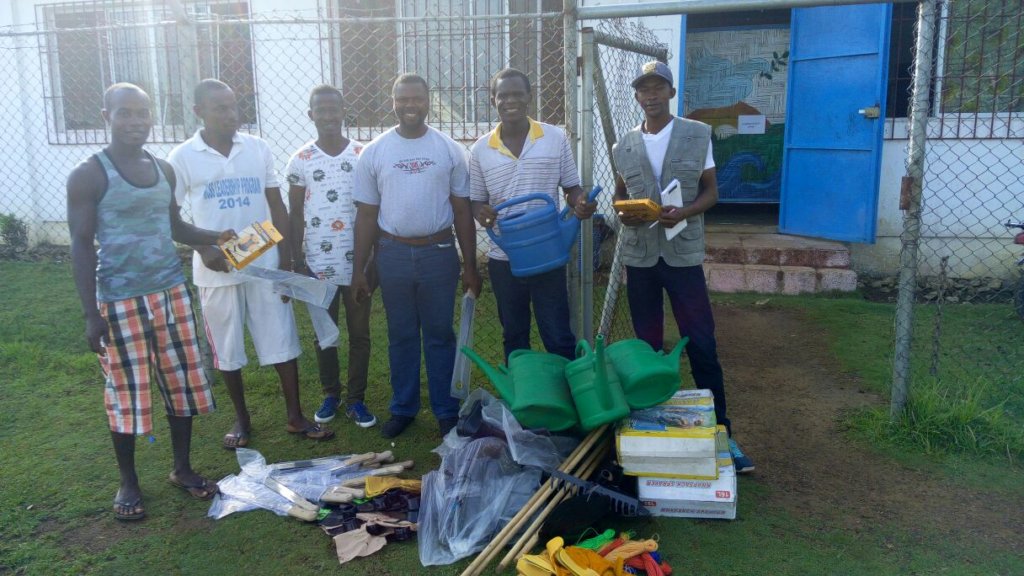 Improving nutrition in a sustainable way requires having good seeds, access to training and information, and appropriate tools. Many people have the energy, ambition and are ready for the work but they do not have the resources to get started. Having access to right garden tools and supplies makes a community's goal of nutrition improvement easily achievable, especially for SPI's seed recipients.
Appropriate tools and equipment contribute to the broad objective of increasing the viability of the small farms and gardens supported by our partner organizations. Most smaller groups and individual seed recipients in Liberia use traditional technologies that are inefficient. Although power tools and more modern tools can be found in Liberia, most recipients and our partner organizations do not have the resources to cover the cost of these types of equipment. It is, therefore, our goal to help fill this gap with good quality tools and equipment that are affordable and suited to the scale of operations of the small farmers and gardeners.
in May 2017 11 tools banks with little or no tools at all were fully stocked with tools for SPI seed recipients across five counties in Liberia. With their new tool banks, our Liberia partners are preparing themselves to train seed recipients how to operate their new tool banks in an inclusive and efficient manner, and create a self-supporting system of sharing tools and other resources.
SPI provided the tools with support from you and from GlobalGiving and paid the cost of transport to our distribution point, which was the office of one of our partners in Liberia.
The tools funded by SPI are selected specifically with the environment and local culture in mind. These tools are:
a) adapted to allow efficient and speedy work with the minimum of fatigue
b) of simple design, so that they can be made locally;
c) light in weight, for easy transportation
d) ready for immediate use without loss of time for preparatory adjustments;
f) made of easily available materials.
Across Liberia, it's mostly small kitchen gardens and small-scale farmers who put food on a villager's table. It is because of the hard work of these gardeners and farmers that we have accomplished our goals. We support sustainable options for our partners, instead of pushing them into the endless cycle of buying bad seeds and chemical fertilizers and pesticides that only damage their most precious resource, their land.
When working with our in-country partners, we look at a variety of resource areas, including access to seeds, tools, and training to determine the gaps and how to invest SPI resources to sustainably contribute to the rebuilding of communities who have survived disease and war many times over.
We are proud of our Liberia partners who are working tirelessly to make a difference in the communities they serve. Despite a variety of difficulties, they have been able to obtain and share valuable horticultural and life skills that have become life-saving for many who rely on them.
Thank you for supporting our work, and thank you to GlobalGiving for your partnership!