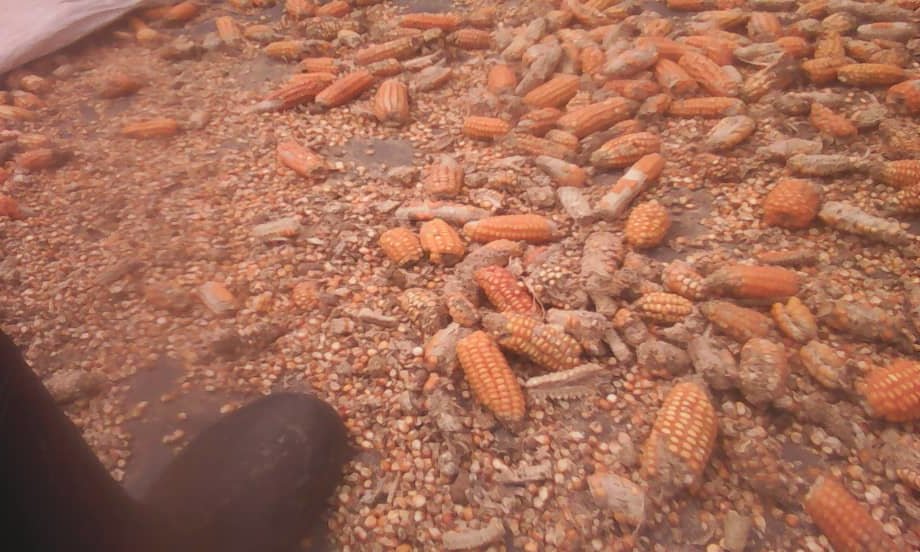 Thank you for opening this november newsletter. Hope you'll appreciate the project update and get to know our new, temporary team reinforcement, mr. Edoka Jombo.
Fall season 2019: heavy rains, flooded areas, damaged roads and loss of harvest results
The rainy summer/fall period in Sierra Leone this year was the heaviest of the last 10 years, as you may remember the photos, we reported in the previous newsletter.
This bad weather, in combination with lack of sufficient post harvest handling materials like tarpaulins and drying floors, caused severe losses of corn products, due to rotten and moulded grains. So only a part of it was fit for sale, and therefore the full repayment of the Seeds for Growth loan can not be made.
Of course this situation is not the fault of the farmers (it's taken like a natural disaster), but the farmers agreed to take the burden for the survival of the SFGF project in the chiefdom.
See the photo above to get an impression of the disastrous results of the recent harvest.
Therefore we ask you to support us with your end-of-year donation to keep the current project on track with our support of the current 150 farmers and their families.
Introducing our new team member.
My name is Edoka Oyinkansola Jombo (photo below), originally from Nigeria and I live & study in the Netherlands. I'm currently supporting seeds for growth foundation activities as part of my Internship program. Coming from the Western part of Africa allows me to understand the impact Seeds for growth will have on individuals or families that are struggling with their daily lives.
Finally...
Thank you for supporting our cause, we appreciate your donation and sharing this news letter in your network!
Ben Bolland, president
Kapri Turay, secretary
Momodu Sheku Kamara, program manager
Edoka Jombo, communication officer
and 150 farmer families.....