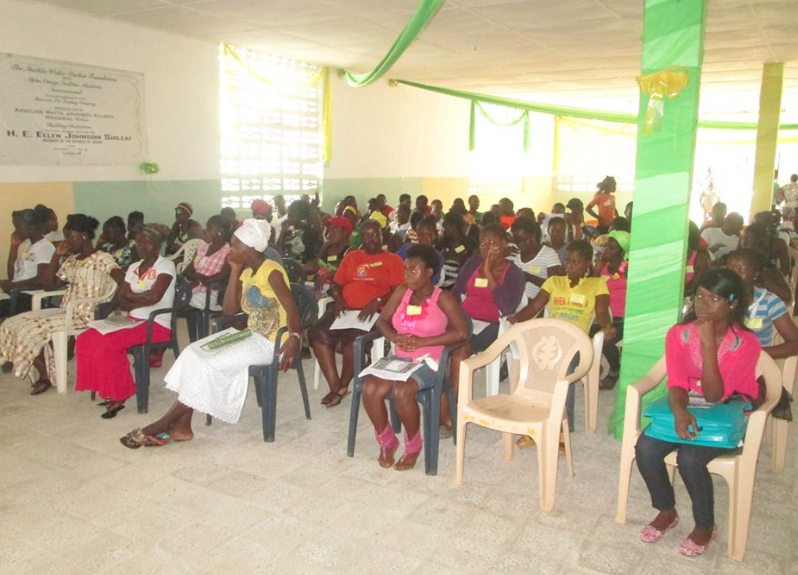 Over 60 percent of Liberia's agricultural producers are women; yet, men still tend to receive more and better training, and women's training is often inappropriate.
Through the partnership of Seed Programs International and Church Aid Liberia a lot has changed at the village level and in the lives of the Women's Empowerment Program recipients. The bottom-up approach has empowered the women. They are actively involved in various aspects of program management such as conducting meetings, collectively selecting training topics and presenting groups needs to Church Aid Liberia staff.
Church Aid Liberia women's group training provides a structure that enables women to share training information. Equipping women with the skills to improve production and manage change and support each other. We believe access to information and training are the most powerful tools for women's empowerment. We provide a community based solution that gives women access to knowledge, skills and self-confidence they need to seek out economic opportunities paths out of poverty to self-reliance.
Church Aid Liberia's Women's Empowerment programs incorporates agricultural training with Business management training, to help women take advantage of new agricultural opportunities, and to manage and market their vegetable production more effectively.
Training:
A recent 6 week training funded by Seed Programs international, included session on:
Basics of vegetable gardening
Harvest and preservation methods
How to develop a business plan
Financial projections
Financial management
Pricing and costing
Practical marketing
Business management
Benefits of Co-Operatives
Church Aid Liberia's Women's Empowerment Program staff and volunteers help women to engage and encouraging them to create groups based on need and interests.
Delivering training through groups increased the number of women who are able to benefit from training. During the training, exchange of experiences among participants is encouraged as an important step towards securing livelihoods and reducing poverty by working together.
The training was facilitated by Church Aid Liberia staff and contract extension trainers hired by Church Aid Liberia.
Impact:
On completion of the course the women are able to understand amongst many other things:
How to improve their vegetable yield through environmentally friendly and sustainable methods
How to start a fresh vegetable sale business
How profit is calculated in a business
Understand the factors which determine the right price for their produce
Understand the concept of working capital
Prepare a budget
Prepare cash flow projections
As part of the training, the participants are encouraged to submit proposals for agribusiness projects that they intend to carry out in their communities. Church Aid Liberia provides ongoing support.
75 women were in attendance. Participant were selected base on their interest in gardening in addition to those who have previously received seeds (80 to 90 (%) percent of the women have received seeds).