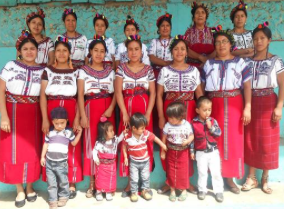 We are all grateful for your support of our women's gardening efforts in the most impoverished countries worldwide including Madagascar, Guatemala, and Liberia. By providing top-quality vegetable seeds and locally-driven support, seed programs give women a path to empowerment, income, and nutrition.
The women of Chajul, Guatemala project are all working hard to make their garden a success. They extend a heartfelt 'thank you' for your support.
" Thank you , Thank you. No one has ever before given us the opportunity to help ourselves. We are proud of our ability to work the soil in the Mayan way and thank you for believing in us."
They received orientation instructions in their own language of Ixil Mayan in a high school classroom . This was a very exciting day, especially because they've never had the opportunity to go to school. They were very attentive and entered into good discussion with relevant questions about the project.
The vegetable gardens were prepared and planted the week before Palm Sunday. The project paid for the assistance of 2 unemployed youth with no education and 2 unemployed youth who are earning tuition for their University course work in agriculture.
Students and professors at the regional Rural University advised the project and advised on the crop selection. Local ixil Mayan farmers donated plots for use by the women who did not have access to a garden plot of their own. The women are looking forward to having vegetables to add to their families' diets of mostly tortillas and beans.
There is a long waiting list for the next vegetable garden project.
Please donate!
How about making a new donation today?
Or perhaps you'd like to set up a monthly or quarterly recurring donation…it's simple, convenient and easy to do!
Your contributions make all the difference.
There are many ways that you can support our effort to make a meaningful difference in the lives of the women participating in Seed Programs gardening project. GlobalGiving offers nice e-cards, printable paper cards, and mailed cards for giving in honor of Mother's Day, a birthday, or any other occasion.
Please read our latest Newsletter!
Again, we thank you for your continued support!