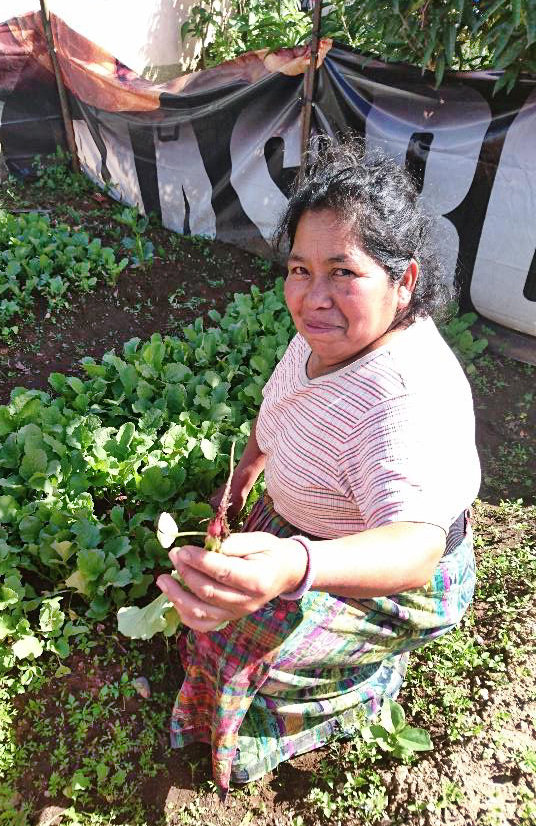 Hi folks,
This month's update comes from Tecpán Women's Group in Tecpán, Guatemala, where a group of Mayan women are continuing to grow their farming program. You may remember our previous report, where we first introduced this partner through GlobalGiving. They have been working continuously to expand their program, which preserves and passes on traditional farming knowledge to families in local communities.
At the beginning of 2020, this group implemented their Family Gardens Project, which is dedicated to growing vegetables for family consumption throughout the year. In addition to teaching gardeners advanced cultivation methods, the curriculum introduces new ways of preparing vegetables grown in family gardens. Modeling new preparation methods and providing simple recipes helps ensure that families take full advantage of the nutrition available in their garden. Paula López, the group's leader, asserts that families are more likely to grow diverse vegetable types if they can integrate them into traditional, delicious meals.
"You can't just set a bowl of spinach down in front of children and expect them to be excited. You have to cut it up, cook it with other vegetables, add it to beans, and put it all in a warm tortilla. Then they will love it, because the unfamiliar becomes familiar." — Paula López, Women's Group Project Leader
These trainings are hosted at the most fundamental level — at each gardener's home. This isn't a small job. There is sometimes miles of roads between each home. This is where your donation made a difference: Paula was able to purchase a bicycle with SPI support so field technicians could more easily travel between remote areas of the village. Gardening tools were also purchased to establish a communal tool bank that community gardeners can access.
Their efforts are not without difficulties. COVID-19 curfews have caused significant delays in garden preparation and training. Fewer hours means shorter work days, and group gatherings are discouraged.
"Malnutrition has increased considerably due to a lack of food throughout the country because of the current situation of COVID 19. The Family Gardens Project is more important now than in the past." — Paula López, Women's Group & Gardening Project Leader
Despite these setbacks, the Women's Group has found a way to work with the curfews and continue teaching while maintaining social distance. So far, twenty-five families have been able to prepare their garden beds by incorporating compost and organic matter, and some have already planted seeds. Like many partners, they are doing the best they can to adapt their programs in a rapidly-changing environment.
We are proud to partner with Paula and the Tecpán Women's Group and look forward to providing you with further updates as these family gardens begin to flourish.
Thank you, sincerely, for your support. Your gift provides important resources for partners like the Tecpán Women's Group. We hope you're encouraged to know that families have access to more nutrition because of you.
— The SPI Team