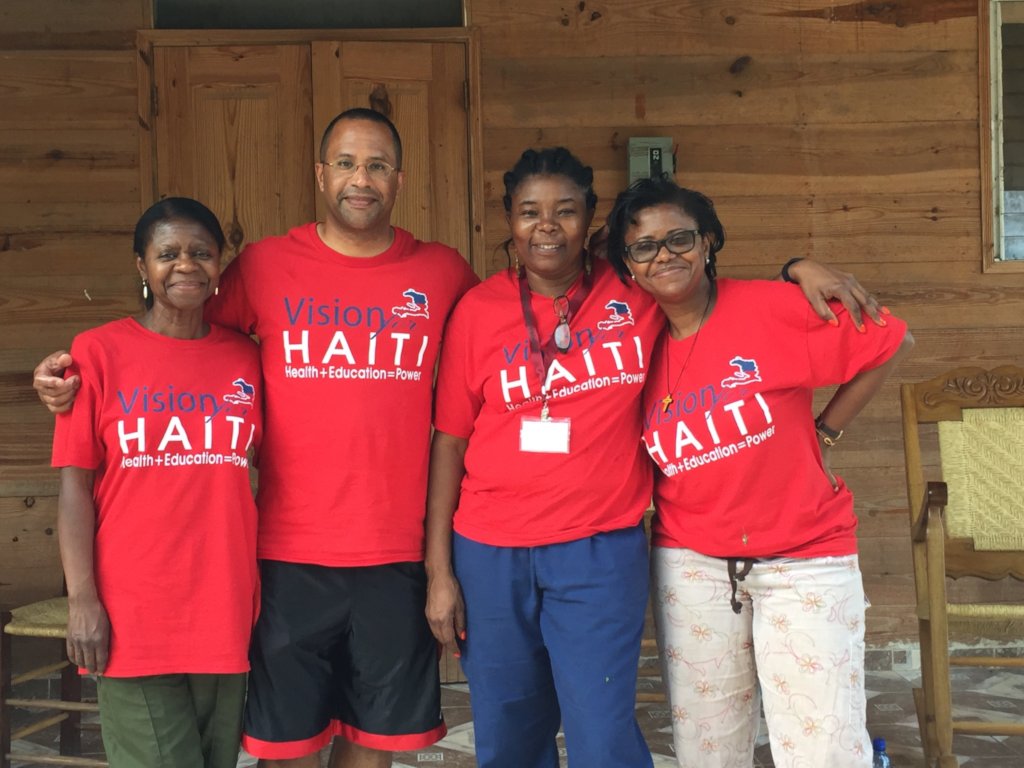 Hi folks,
We're excited to tell you about a new partner in Haiti who is taking a different approach to improving the quality of life for Haitians in rural areas. Vision for Haiti is a US-based nonprofit organization that has been responding to emergencies and ongoing need in Haiti since 2010. Recently, Naima had the opportunity to speak with Beatrice Marseille, a nurse practitioner who founded Vision for Haiti and developed an innovative approach to community health.
Vision for Haiti operates a healthcare clinic in Meyer, a town two hours southwest from Port-au-Prince. In addition to general care, the clinic specializes in women's health and diet-related health problems. A majority of their patients are women who are seeking healthcare services for themselves or their children, although men are also welcome and receive services. High blood pressure, diabetes, and other nutrition and diet-related health problems are some of the most common issues within the community — the causes of which can be addressed by accessing nutrient-dense foods like vegetables.
The nurses and doctors serving the community don't rely on prescriptions alone to treat these issues. In addition to a prescription, the folks who attend the clinic also receive SPI seeds to grow some of their own food to feed themselves and their families. In addition to SPI seed, Vision for Haiti provides locally sourced seeds. This makes us happy; we encourage the use of high-quality local seed where it is available.
Vision for Haiti's program is both a health incentive and a valuable resource. Those who choose to participate agree to a follow-up visit to the clinic. In return, Vision for Haiti provides seeds, training at their demonstration garden, and on-site garden checkups by an agronomist they've hired to support the community. Through the program, they also coordinate community-based gardening meetings to assess food security and nutrition levels as well as offer counseling about diet and how to improve nutrition.
Beatrice also highlighted some additional benefits of the gardening program: improved nutrition, economic power, and psychosocial well-being. Gardens provide fresh vegetables, which are high in nutrition, and the work from gardening provides both exercise and a sense of well-being. These are important components for the physical and mental health of their patients, and it also reduces reliance on medication to manage health issues. Because they are gardening and training together, patients are contributing to improved social interactions and community cohesion. Gardening gives patients the opportunity to give back to their families and community in an important way. Finally, growing their own vegetables also means that they are able to spend money they would normally use on food for other necessities. New skills and knowledge acquired from the training will last them a lifetime.
Beatrice and Vision for Haiti have a long history and deep experience providing health services to the Mayer community. By focusing on one community and managing the scope of their program, each gardener is more fully supported. They have worked hard to establish relationships with community members and local healthcare providers. Vision for Haiti's demonstrated expertise and deep relationships form a foundation from which gardeners can learn how to benefit from the program and enroll other community members.
We're honored to work with folks like Beatrice and Vision for Haiti, and we're inspired by their long-term approach to family and community health. From us, for Vision for Haiti, thank you for your support of this project.