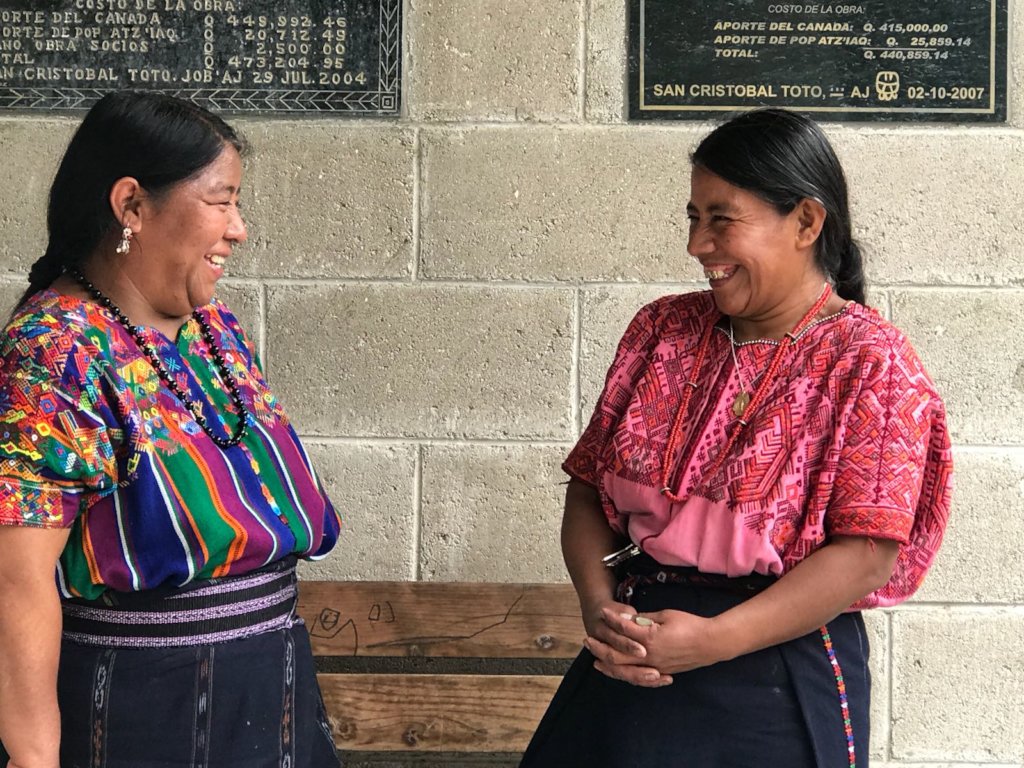 Hi folks,
Naima Dido, our Program Director, is currently on the road with Nancee Neel in the mountains of Guatemala where they're working to grow a deeper partnership with a relatively new partner, Pop Atz'iaq.
An SPI neighbor, Nancee Neel, had served as an advisor and friend of the organization before she introduced us to their work. Established in the 1990s, Pop Atz'iaq has focused on craft-based livelihood development with women and men in the region around San Cristobal, and they have a strong track record of success. Catarina, the organization's Director, reports that establishing a garden-based livelihood program has been a longstanding goal of the organization and its members.
For context, craft-based livelihoods depend on international market outlets, and those can be fickle. Garden-based livelihoods are more reliable, and this program will help diversify their members' options for income. Catarina reports that social and economic conditions are deteriorating this decade, due in large part to the lack of rural development support from the government. Child malnutrition rates have risen to 80% in most of the communities served.
Naima and Nancee have been visiting the different Pop Atz'iaq communities for the past few days. Earlier this week, they had the honor of attending a stakeholder meeting where members continued to coordinate the garden-based livelihood project. They'll continue to travel alongside Catarina through next week. Naima writes:
"The mountains are breathtaking. We even saw an active volcano on our way to San Cristobal.
We're staying at a hotel near Pop Atz'iaq. We're surrounded by small gardens of corn and beans. The only gardens growing vegetables are those associated with PA.
San Cristobal is beautiful and green. The area is culture-rich. Most of the women wear traditional clothes while all the men are dressed very western.
The Mayan culture is very strong and alive, but the Spanish influences are everywhere. The place seemed so familiar since I arrived. I realized the similarities between the coast of Kenya and Guatemala come from the Arab influence in the architecture.
The other very obvious thing is the difference between poor Mayan villagers in the rural agricultural communities and the urbanized and relatively wealthy mestizos population in city.
I am amazed at how the Mayan people here still proudly maintain their culture and traditions. Still, the Spanish language and non-Mayan people have control over resources and access. For many, Spanish is a second language and it's the official language mandated in schools and government.
The staple foods are eggs, chicken, rice, maize, beans, and cheese. The style of cooking is very simple. Squash is also very common. Chili peppers, potatoes, tomatoes, cabbage, broccoli, cauliflower, and onions are also popular, but trucked in from other regions. The vegetables grown here are exported throughout Central America.
Life for most people I've met involves hard physical work. People are very poor, but much like other communities I've met in my travels around the world, being poor doesn't mean their lives are unhappy or unsatisfied.
Women I spoke to at the stakeholder meeting said their days are spent working in their homes, cooking, raising the children, tending gardens, weaving cloth for their own clothes and for the market."

We'll share more about Pop Atz'iaq in a future report. In the meantime, thank you for your support of these communities, and for your support of Seed Programs International. We truly cannot do what we do without you!