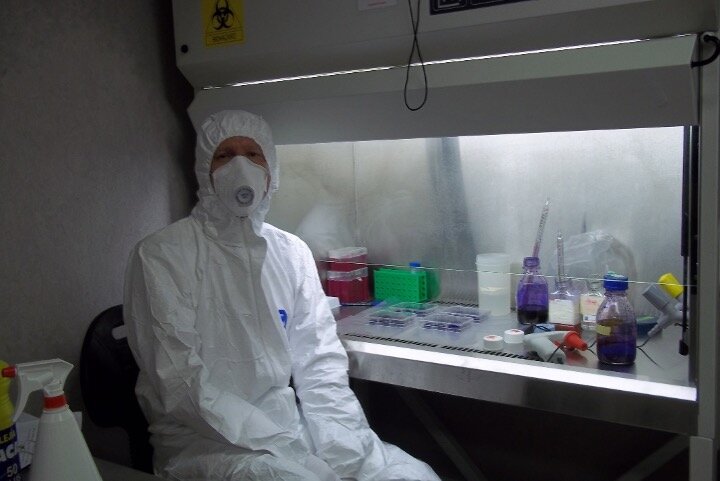 Dear supporters,
First of all, we really hope that after these months you continue to be safe and free of COVID.
In this sixth report, we would like to express our most sincere gratitude for your generous contributions.
We also take this opportunity to give you a brief update of how your donations are contributing to the fight against COVID-19. In particular, we want to inform you of the research performed by the group of Dr. Cristian Smerdou and Dr. Gloria Gonzalez-Aseguinolaza at the Center for Applied Medicine (CIMA) of the University of Navarra (Spain) who has benefitted from your help
This group has been actively working to find new antiviral compounds against SARS-CoV-2, the virus causing COVID-19. For that purpose, they have tested many different drugs, some of which are currently being used to treat other diseases, such as cancer and autoimmune pathologies. Their approach is straightforward, they infect a special type of monkey cells in the laboratory with an isolate of SARS-CoV-2 in the absence or in the presence of the drug to be tested. Of course, they do not need to use a monkey for these experiments, because the cells that they use where obtained many years ago and can be cultivated for many generations. The result of the experiment is very simple to analyze: if the drug has antiviral potential, SARS-CoV-2 will not propagate, and very little virus will be obtained from the infected cells. However, if the drug does not work, the virus will propagate in the cells and a lot of new viruses will be recovered. The quantification of the virus can be done by PCR, the same technique that is used to detect it when you are infected by SARS-CoV-2. The only difference is that they do not need a nasal swab to get a small sample from the cell culture… They can also analyze the amount of virus by infecting cells and observing if they are killed by the virus as it is shown in a representative picture below.
According to Dr. Smerdou, these experiments were a bit frustrating because most of the tested drugs had absolutely no effect on the propagation of SARS-CoV-2, and some of them were even toxic to the cells. But scientists are used to have negative results, so the group did not get discouraged and continued testing more and more drugs. Until they found a particular compound derived from a plant cultivated in Thailand that showed a clear antiviral effect. Most importantly, this compound was not toxic to the cells, suggesting that it might also be used to treat patients. The compound had been previously used in traditional oriental medicine to treat several diseases and it was known for its anti-inflammatory properties, something that the group has also confirmed in several experiments. Now they are proceeding to test whether this compound is safe in small rodents and if it could prevent SARS-CoV-2 infection in vivo, two important steps before being tested in patients.
This work has been possible in part thanks to your help. In particular the research group has employed your money to buy several reagents important for these studies. For example, with every 10 € donation, the researchers were able to analyze one laboratory sample to determine whether a certain antiviral compound was able to inhibit viral infection in cells. But each compound had to be tested at many different concentrations in different cell lines, making the number of samples for these studies very high.
As Dr. Smerdou explains "Our group at CIMA Universidad de Navarra has tested many different drugs against SARS-CoV-2, finding some promising candidates". Now it is important to validate these results in vivo and to perform further analyses that could bring this therapy closer to the clinic, thus hopefully contributing to save lives.
They sent us a photo of the biosafety level 3 laboratory where a volunteer is working with SARS-CoV-2 (Picture1)
Here is another photo of plates with monkey cells that were infected with SARS-CoV-2. The purple color indicates where the cells are. The holes in the plates (pointed by yellow arrows) indicate where the virus has propagated killing the cells (there is less virus in the plate on the right). (Picture2)

We will let you know soon where your generosity is headed next time!
In the meantime, please help us spread the word further, among family, friends, colleagues…
By donating your money to Apadrina la Ciencia, you are contributing to research projects that help handle the COVID-19 pandemic in Spain and to understand the Science behind the SARS-CoV-2 and the pandemic.
Thank you all again for your support!