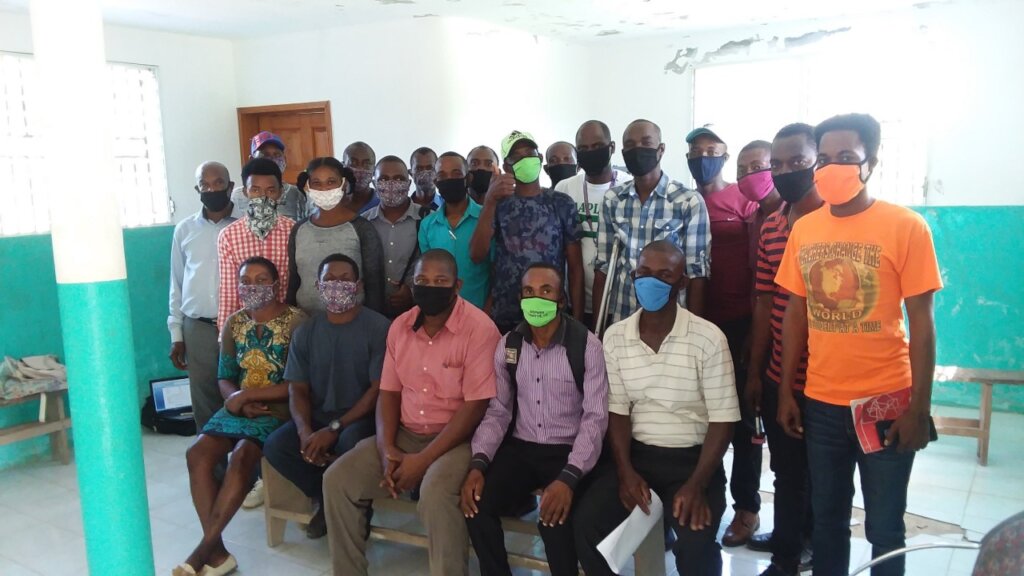 Your Generous Support is Growing the Grassroots Movement to Protect and Educate Children.
Thank you for your generous support for the growing movement to protect and educate every girl and boy in rural Haiti. With your support, a growing group of women and men are committed to the movements to end child slavery and guarantee a high-quality education for all.
Your solidarity is instrumental in making their work possible. Thanks to you and your support, these women and men are creating real change for some of Haiti's most vulnerable girls and boys and transforming their country from the ground up
As you read the stories in this report, you'll see how -- now more than ever -- Haitians are conscious of and organizing themselves to defend the rights of children. The growth of these movements and the stories of progress in this report are evidence of that – and the impact that you are having through your generosity.
Thank you again for your solidarity with our courageous sisters and brothers in Haiti in their struggle for an end to violence and injustice. With your continued support I'm confident that no matter what 2022 holds, these women and men, the movements they lead -- and Haiti itself -- will persevere and grow.
The Child Rights Training 'Scale-Up-Scale-Out' Strategy Continues to Gain Momentum
The critical mass of people in Haiti whose beliefs and behaviors are changing when it comes to how children should be treated is growing. Forty-six new Child Rights Dialogue Groups, with a total of 689 participants, were started on Lagonav Island and the mainland in the last two quarters.
Anecdotal evidence is demonstrating how these newly trained community residents and local authorities are taking their roles as child rights advocates seriously. Some are bringing their own children – who they had previously sent away to live with others in the hopes that it would mean a better life for them – home.
Others are intervening on behalf of vulnerable children in their communities. In one community, two child rights training graduates intervened when they heard a parent beating their 9-year-old child. They took the child to safety and called local authorities who arrested the parent.
The Mayor of Ansagale – Lagonav Island's largest community – himself intervened in a case he discovered of a child living in household servitude. He contacted the child's parents on the mainland, made arrangements to have the child reunited with them, and provided financial support for the family.
New Child Protection Decree is Fostering Action on Lagonav
The new child protection decree on Lagonav Island – news of which we shared in the November 2021 update – is also fostering action. Three community radio stations signed an agreement to broadcast PSAs on the decree and the Mayor is reporting a significant number of people coming to request authorization to travel with children - a key provision in the decree.
Local leaders are also meeting with child rights activists to draft a communal decree that would establish a Municipal Administrative Police unit and Municipal Child Protection Brigade.
A Look at More of the Work to End Child Slavery that You've Made Possible
Here's a look at some of the other work to protect children from slavery and abuse that you made possible:
10 new Child Rights Dialogue Groups started in 10 rural communities on Lagonav, with 193 participants (47 men, 146 women)
330 people in 10 communities (226 women, 104 men) from various child rights training groups participated in Open Space Sessions to plan strategy and set goals
20 new community Child Protection Brigades inaugurated in four rural sections on Lagonav with a total of 473 participants (311 women, 162 men)
160 adult survivors of child slavery (140 women, 20 men) from nine network branches participated in psycho-social support activities with our new Psycho-Social Support Officer
12 new Child Rights Dialogue Groups launched in two urban communities on Lagonav
24 new Child Rights Dialogue Groups created with 360 participants in St. Raphaël (North Department) with our partner PDL
186 people participated in activities to celebrate World Children's Rights Day with partner PDL with support from BB staff
A Child Rights Training Participant Shares How She's Changed
To understand how the Child Rights Training that your generosity makes possible changes participants, we asked one woman to share her story.
Before I did not understand what living in household servitude was like [for a child]. Now my eyes are open. My husband decided to send one of our girls to go live with his sister. I was happy because I knew her and I believed that my child would have a better life. She suffered all kinds of misery and mistreatment from her aunt. She was bullied, belittled, humiliated, forced to do hard work. She did not have time to sleep, she did not eat well. I didn't know that my child would end up living like a slave. I sent some peanut butter for my daughter but her aunt would not let her have any. When she tried to sneak a taste, her aunt burned her with hot water. She has scars on her arm. In the training, I heard the stories. I got so angry, I started to cry. I felt guilty for what my child was suffering. I decided to bring her home. Today, as a member of the Child Protection Brigade I have a role and responsibility in my community. My convictions are strong. I felt I needed to be part of this committee – to defend the rights of children in my community – because my child was a victim of this horrible practice. If there had been someone in my community addressing these problems and was engaged in protecting children, maybe my child would not have become a victim. ~ Louismène, 47-year-old mother of four, Child Rights Training Graduate, member of her local Child Protection Brigade
Your Generous Gift is Supporting a Growing Movement to Guarantee Every Child a Quality Education
With your support, Beyond Borders continues our work to organize a Communal Education Platform, engaging key education stakeholders, including local government, the Ministry of Education, schools, and community leaders. The goal is to ensure local organizing and leadership to build the movement to guarantee universal access to quality education in each Communal Section (Municipal District) of the Commune of Ansagalè, Lagonav Island.
Our primary education partners on Lagonav Island, the Matènwa Community Learning Center (MCLC) continues its work with schools to improve the quality of education being offered to children on Lagonav Island. The two-year teacher training program supports schools to integrate new methods and approaches to deliver primary education in Haitian Creole that is participatory, nonviolent, and rooted in local culture.
New Communal Education Platform is Playing a Key Role in Promoting Quality Schooling
The Ansagale Communal Education Platform is starting to play a key role in communities mobilized to promote the right to high-quality education for all children. One key objective of bringing together education stakeholders on Lagonav is to foster creative, collaborative solutions to problems encountered. We are witnessing the fruits of this collaboration and positive impacts as shared by state and civil society actors. State school inspectors feel the support of the community to overcome challenges they face in their jobs. The mobilization of education actors allows for discussions and punctual actions to deal with problems in real-time in a mutually collaborative way. School staff, parents, community based organizations also share positive feedback about the opportunity to participate in this new form of shared governance-responsibility. Later this year, the Platform will launch a friendly competition between communities. Participating schools will be evaluated on seven criteria, ranging from physical state of the school to teaching methods to involvement of parents/students in school governance. The winner (the community not an individual school) will be invited to submit a proposal for funding of an education project in that community.
A Look at More of the Work to Guarantee Universal Quality Education that You've Made Possible
Here's a look at some of the other work that you made possible:
Seven school directors and 35 teachers received initial training on non-violent classroom management and new teaching methods
30 pedagogical visits were made to seven schools
36 people participated in an Open Space Session on National Creole Language Day to talk about the importance of teaching in Creole
Seven schools received didactic materials, along with bookshelves and books
Four General Assemblies of the Education Platform were held in four rural sections with 78 participants, including local authorities, school directors and teachers, students, community leaders, and BB partner, MCLC
51 people participated in three workshops to discuss strategies for mobilizing local resources to support education initiatives in their communities
Two School Directors Share What The Teacher Training You Make Possible Means to Them
I am the director of the Methodist School in Nan Zèb, where I have been the director for many years. I can say that after the training, I now fully understand the role of a school director. In just a little amount of time, the Methodist School of Nan Zèb has completely changed in how we treat our students. Before, I thought that a stick was a good educational tool. But the training showed me that a stick has no place in a school. They taught me other non-violent strategies that I can use to make the school function better. Classrooms have been rearranged, students' work is on display around the room – this is thanks to what we learned, we did not know this [strategy of teaching] before. I feel proud to be in partnership with your organization that is working to promote quality education on Lagonav. Thank you, thank you to those who fund this great work. ~ Peter Watson Laguerre, Director of the Methodist School in Nan Zèb
I have been teaching at the National Boukanlama School for many years. The state never provided any training for me. I was then promoted to Director, still without any training. I cannot hide the truth that, thanks to the training, I am learning what it means to be a school director. With this training, I am learning to manage the school better. I am also learning the importance of having a school garden, and am learning the techniques to create a garden at my school. I promise that the National Boukanlama School will work hard to respect the engagements and commitment we have made in order to make this school a reference and model in the community. ~ Hornyle Guerrier, Director of the National Boukanlama School
Thank You Again
I am grateful for all the good work that you are making possible through your support for the Schools Not Slavery initiative. Thank you again for your extraordinary generosity and solidarity. If you have any questions about what you read in this report, please call or write to me anytime at (305) 450-2561 or b.stevens@beyondborders.net.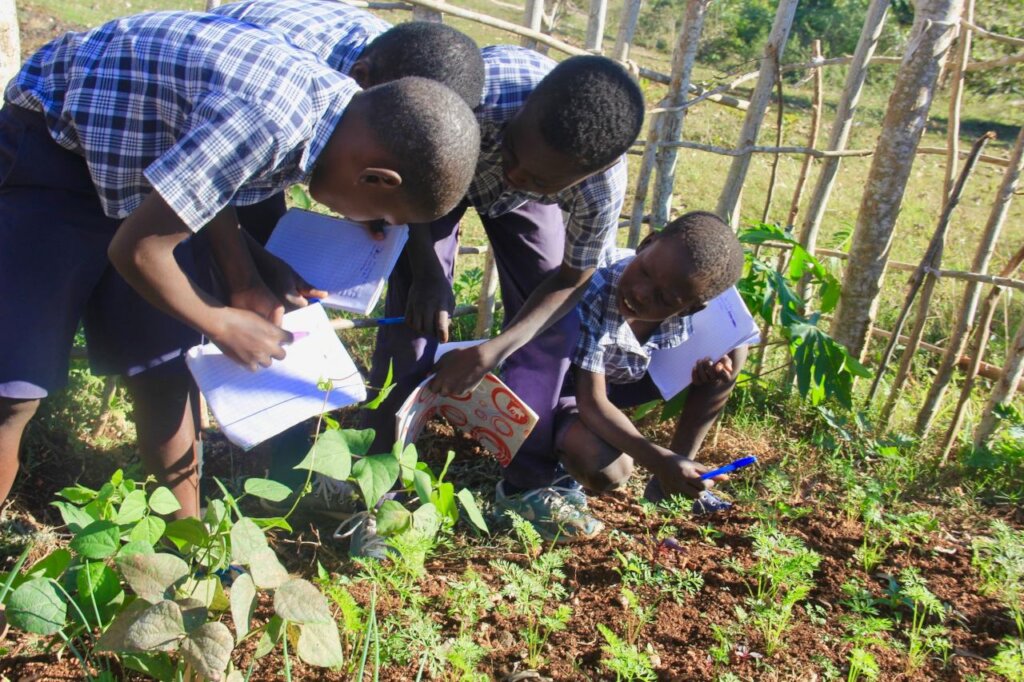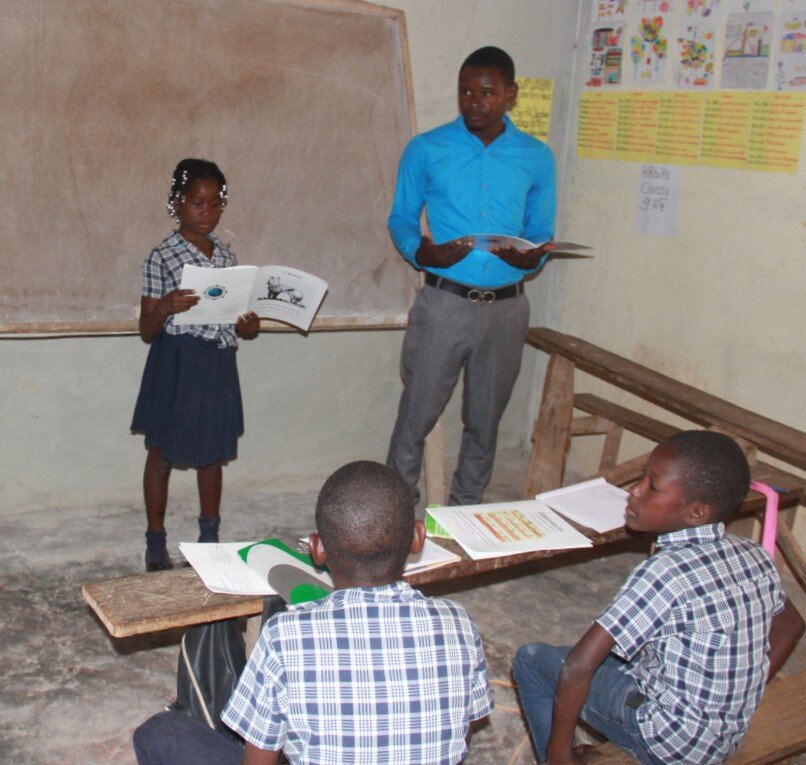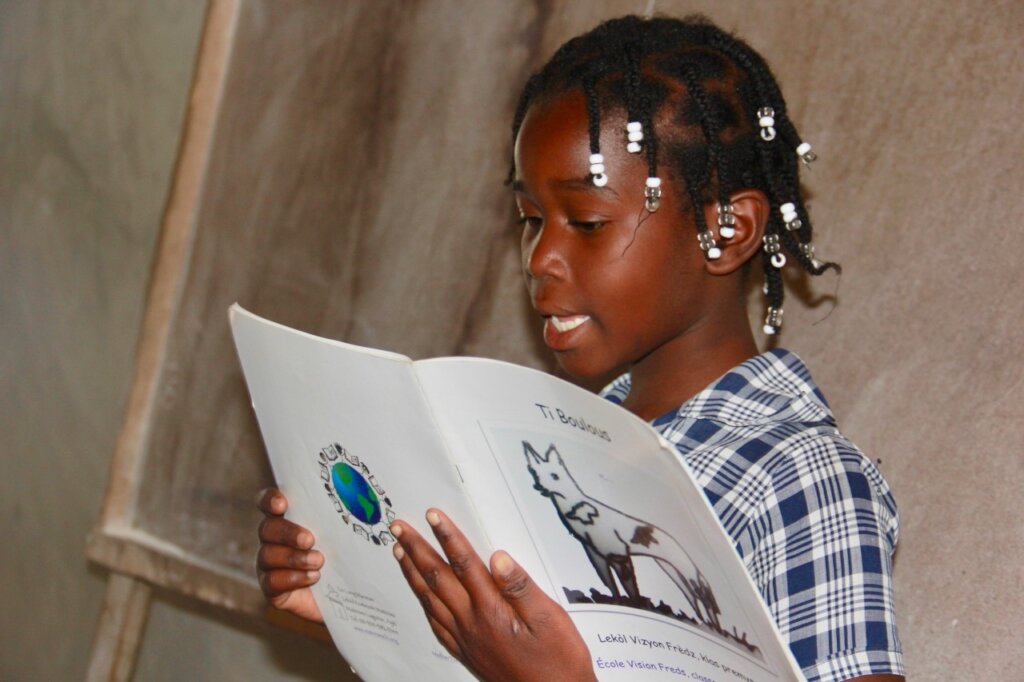 Links: