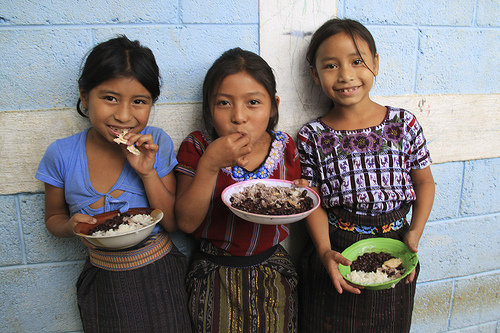 In Guatemala, 51% of the population resides in areas where food insecurity and malnourishment rates are among the highest in the world. One such area is the Santiago Atitlán municipality, where people's livelihoods often hinge on a single annual coffee harvest and there are few alternative options for generating income. Guatemala-based livelihood studies show that when savings begin to run out or food prices rise internationally, the first household items to go are fruits and vegetables.
Due to lack of government support, NGOs often provide an important safety net in ensuring that students in rural communities have daily access to at least one balanced meal.
For us at Pueblo a Pueblo, this effort takes the form of our School Nutrition Project, which in 2013 provided daily nutritious lunches to 754 students in four elementary schools in Santiago. This cornerstone meal improves core cognitive functions and increases school attendance, as well as provides students with the nutrients they need to stay healthy and active.
Manuel Gonzalez, a teacher at Panabaj Elemetary School, affirms the value of the lunches, noting that "since we started the lunch project children are coming more frequently and paying more attention in school."
But while these lunches are an essential ingredient in boosting educational performance and keeping the classroom full, safety nets only address short-term need. That's why we aim to complement the School Nutrition Project with our Organic School Garden Project, which teaches students how easy it is to grow produce at home and incorporate nutrients into their diets.
Just in 2013 there were 169 days in which school communities consumed vegetables, fruit, and herbs produced right in their organic garden. Now, in 2014, we're looking forward to introducing our School Nutrition Project to 80 more students in Tololyá elementary school, where over the past year students and teachers have cultivated a healthy garden filled with everything from lettuce, tomatoes, and onions to bananas, papaya, and chipilín. We're excited to be a part of such a successful project and we'll be sure to keep you all informed on our progress!