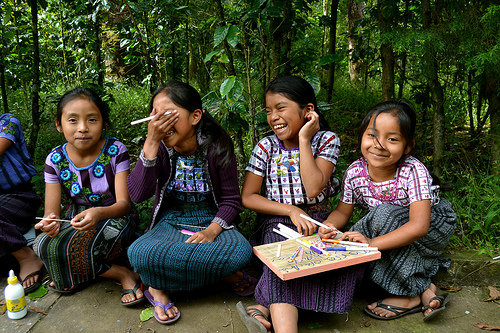 This past month Pueblo a Pueblo launched its second annual summer vacation Garden Camp. By the end of December, more than 100 students in four partner schools will have explored the wonders of organic gardening and learned about issues like biodiversity, organic versus inorganic waste, the effect of chemicals on the environment, and the identification of common plants.
To keep campers engaged with the issues, our team has put together lots of interactive, hands-on activities, including painting, building scarecrows, and creating team posters and songs that the campers can present each day. "In contrast to conventional teaching practices in Guatemala, experiential learning lets students be creative and independent, which gives them a better grasp of the topics at hand," says Tina, our school health and nutrition project manager.
And this year there's an added surprise: cooking classes! We've partnered with Guatemala's department of agriculture to lead sessions on how to make healthy recipes with ingredients that are easily affordable for local families — ingredients you can grow in an organic garden! A government-sponsored educator joins each school for three days, helping different teams of campers prepare nutritious lunches for the whole camp. As a result, children learn not only the importance of nutritionally beneficial food, but also artistry and creativity that can so easily be incorporated into cooking.
Imagine preparing dishes like The Boat Adventurer — a baked güisquil hull filled with carrots, radishes, and green beans, with a triangle piece of tortilla for the sail – or the Fun Family of Chard, a compilation of delicious carrot and chili mashed potato bodies with smiling potato and carrot faces, sleeping under a blanket of cooked chard. "We're especially excited about these classes because they're breaking down the strong gender barriers that you often see in Santiago," says Monika, our Organic School Gardens project intern. "In the morning, boys were saying they didn't want to participate because cooking is for girls, but by afternoon they were chopping, cooking, and really enjoying themselves."
To share all the amazing things the children have been learning and creating over the past few weeks, we've invited parents to the last day of camp. We hope this will give campers the chance to pass on to their entire families the important lessons they've learned and delicious recipes they've tried at this year's Garden Camp.