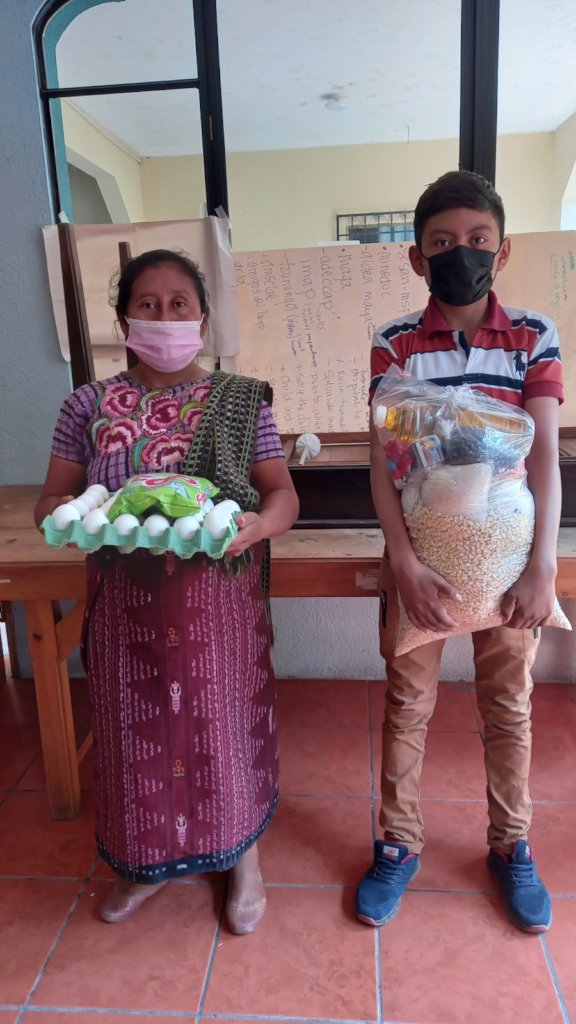 As the COVID-19 pandemic continues to impact our typical nutrition programming in schools, Pueblo a Pueblo has been finding new ways to support the nutritional needs of our community members!
Throughout this pandemic, we have truly seen how food insecurity is at the root of not only health challenges, but also challenges to occupational and school success in the Santiago Atitlan community. As such, our organization is reinvigorating its commitment to nutrition as a top priority for building sustainable lives here in rural Guatemala.
One important way in which we are re-committing to the fight against food insecurity and malnutrition is with our Maternal Child Health project. Recently, project directors have shifted the timeline and goals of this project to focus on building a strong nutritional foundation for young children. The project will now support mothers and their new babies from pregnancy until the child reaches age two, instead of age five. This shift reflects a desire to provide more all encompassing resources for mothers and their children during the most vulnerable period of their life –the first two years. The Maternal Child Health project will now be providing monthly nutrition workshops and staple food baskets to beneficiary mothers and children.
Project director, Vilma Mendoza explains: "We have seen that here in Santiago, it is a priority to support families not only in terms of their general health, but especially in their nutritional health. We can help families by giving them access to the clinic, but if a child is sick with the same condition every month –for example, if a child comes in each month with diarrhea or lesions on the skin, there is a bigger problem. I spoke with one of the doctors at the clinic, and I asked her, "why do we see the same problems every month?" She told me, "aside from a lack of hygiene, there is a big lack of vitamins. If a child comes in this month, I can give them vitamins and medicine and they will get better but if the child doesn't have food, next month they will have the same problem." So, we have recognized that it is a priority to reduce childhood malnutrition, especially from birth until two years of age."
Along with this shift in the Maternal Child Health program, Pueblo a Pueblo remains committed to supporting the nutrition of other community members as well. With the help of monthly sponsors, Pueblo a Pueblo has been delivering food baskets filled with staple food items to children in our Primary Education Scholarships Project. During such a challenging time, we are shifting to meet the nutritional needs of our community because we recognize that now more than ever, nutrition is vital to community development.
Thank you for believing in Pueblo a Pueblo's vision of promoting sustainable livelihoods through nutrition. Your support is invaluable to the empowerment of rural Guatemalans!