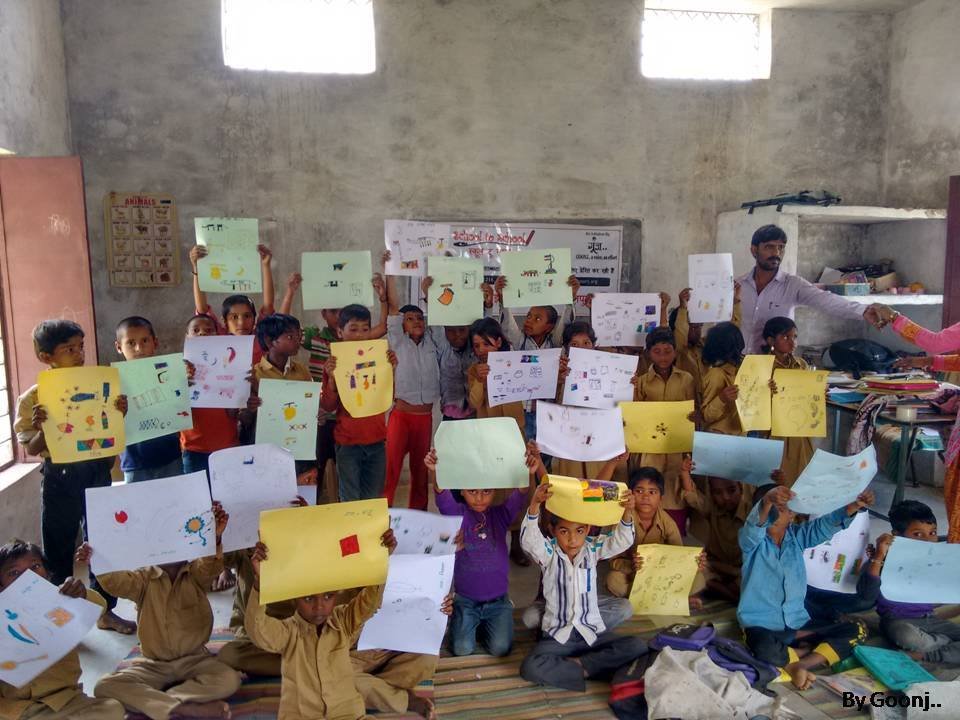 When we usually talk of 'Childhood' the words that are usually associated are joy, happiness, naughtiness, homework, school, friends, fun ,games, play, toys, colors…. And so on. For a large number of children these toys, colors, books, pencils, water bottles… are still distant dreams. Goonj's School to School initiative is reaching out to the children in far flung remote villages of the country providing material; not as charity but as a motivation for behavioral changes.
An evidence of this is from Kannagi Nagar in Chennai where thousands of people evacuated from different parts of the city due to calamities, metro projects etc. find a refuge. Most are migrant daily wagers. Uma and her husband started a makeshift tuition center in Kannagi Nagar for the local kids to fill up gaps in their education.. Started from the streets with some 15-20 kids, they now have 250 kids enrolled who come twice a day to study. Because of some support from people they now have a shed and are provided with basic food, for children with a high risk of malnourishment.
We have reached out essential school material to more than 152 kids here including school kits, stationery, geometry boxes, notebooks and oats under Goonj's 'School to School' initiative. When asked to do some activities to get this material as reward, the kids put together and enacted a skit emphasizing the sad sanitation scenario in their locality. It bothered them.. They drew picture showing how it was at present in 2016 and how they wanted it to be in 2018.
Uma is excited, as much for Goonj's School packs as for the impact the whole exercise has had on the kids. "They come early and leave late and sometimes we had to force them to leave the center. After children received the school kits as rewards in school there are more applications coming to me for enrollment" she shares cheerfully.The parents have also started to drop the children to the center more regularly while the kids have taken up the responsibility of keeping the campus and the surroundings clean.
Similarly, our team reached out in four primary schools in Lalitpur, UttarPradesh (Kapasi, Bijouri, Khiriya Jatara and Kalyanpura Dhanga Basti),providing notebooks/exercise copy books, stationery and some Daris to make the learning experience of these kids a bit better.
The kids participated in a drawing competition to receive this material.
Over the past years thousands of School Kits have been channelized to remote parts of multiples states in India with the continued support received from individuals, corporate, organizations like Global Giving & others. Do spread the word in your network of friends & family as Goonj plans to reach out to 1 lakh children this year.