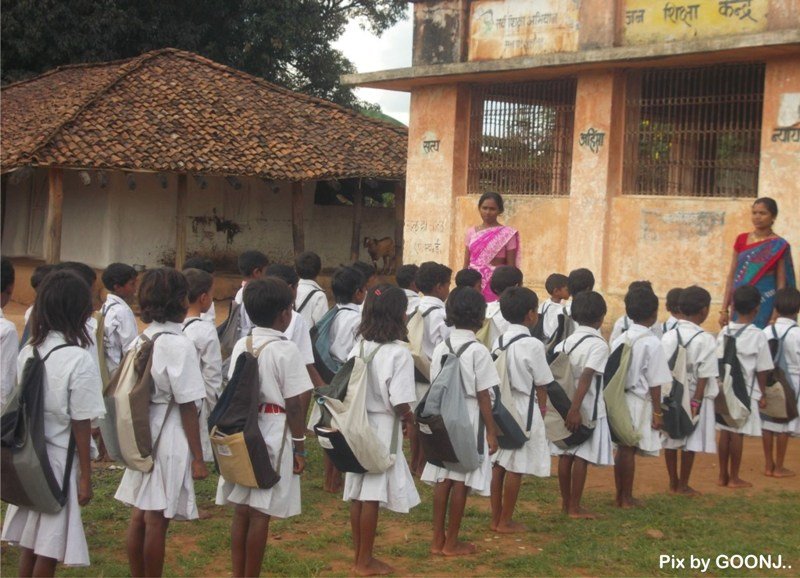 Latest update - Over the years, in our post disaster rehab work we have brought our focus on children dealing with disaster related trauma by bringing in recreation and play into their lives. This we do with material we collect from urban schools. In 2013 whether it was the massive floods in Uttarakhand or the riots hit children in the camps in Muzzafarnagar in Uttar Pradesh its things like soft toys, games, books etc contributed by urban schools from all across that helped nurture the lost childhood of the disaster victims. Our work in Uttarakhand is ongoing and here we are connecting deeply with the gaps in the local education system.
'School to School' (S2S) initiative provides a unique solution to a problem faced by thousands of remote village schools, which lack infrastructure and basic facilities, critical for a child to have basic experience of schooling. GOONJ's S2S initiative is addressing the educational needs of thousands of remote & resource starved village/slum schools by channelizing under-utilised material of city's affluent schools. While connecting the two extreme ends of the society, it opens a space of interaction between the two as well. Without burdening anyone, 'School to School' makes channel cost effective and easily replicable concept, evolved on the basis of prevalent practices in urban schools.
The Process & Social Impact: The idea is to motivate urban school kids to contribute the material that they are not using anymore, as every year most children buy a new set of uniforms, copies, stationery, water bottles, shoes, lunch box etc. when they move on to the next class. The urban children, parents & school authorities are getting sensitized to the needs of their less fortunate counterparts; Materials like old books, uniforms, shoes, school bags, etc. are channelized to thousands of village children, motivating them towards learning. It is not given as charity, but as a reward after a regular monitoring on a series of behaviour, attitude and performance aspects.
Through S2S school materials, toys and educational aids reached children studying in government schools, aagandwadis and chehak centres in areas like Rajnandagaon (Chhattisgarh), Lalitpur, Fatehpur, Farukhpur (Uttar Pradesh), Mehrauli (Delhi), Chhindwara, Rewa, Mandala (Madhya Pradesh), Kolkata (West Bengal), Balangir, Nabarangpur, Bargarh, Dhenkanal, Cuttack (Odisha), West Champaran, Saharsa, Patna, Nawada, Banga (Bihar). The children who received the materials belonged to families of remote villages, slums, migrants, tribal communities etc.
Addressing the educational gap areas in Uttarakhand - A Goonj's 'School Kit' (made out of waste material) has a school bag, pencil pouch, bottle bag and a mat to sit apart from stationary, biscuits etc. These have been reached to over 400 kids.
Shoes, Sweaters, Books and other educational materials were also channelized to various Anganwadi & Schools. Goonj has supported and in some places initiated computer centres and children are trying their hand at new technology and exploring new ways of learning through these centres… Goonj also supports remedial centres for improved quality of learning. Most parents in Uttarakhand take education as priority but most government schools are in bad conditions while private schools are trying to fill the gaps.. Goonj is taking care of teacher's salary in tuition centers at Sangrali, Sanglai, Hurri & Bhangeli…
Through an international shoe manufacturing company we now have access to a big quantity of new shoes which we are systematically reaching out to the most far flung areas. So far, we have reached over 25000 pairs of shoes to children in Fatehpur, Madhuban, Muzzafarnagar, Lucknow (Uttar Pradesh), Guptkashi (Uttarakhand), Delhi, Gurgaon, Madhya Pradesh, Bihar and many other places.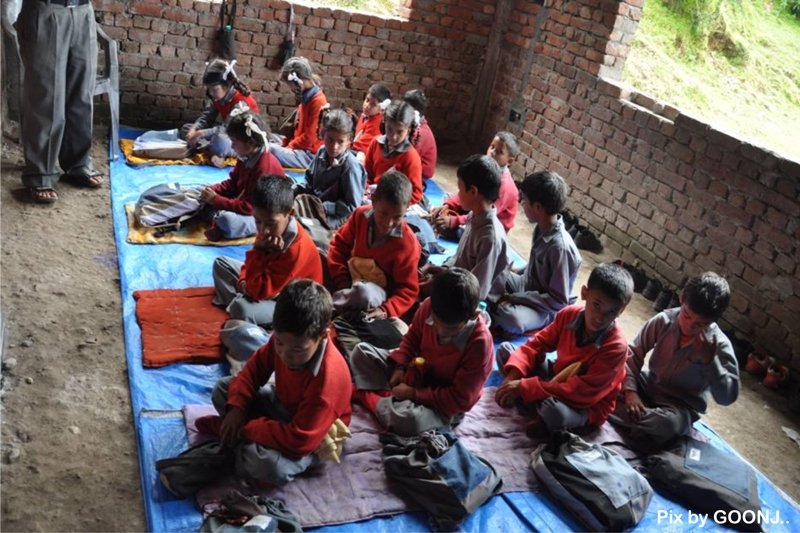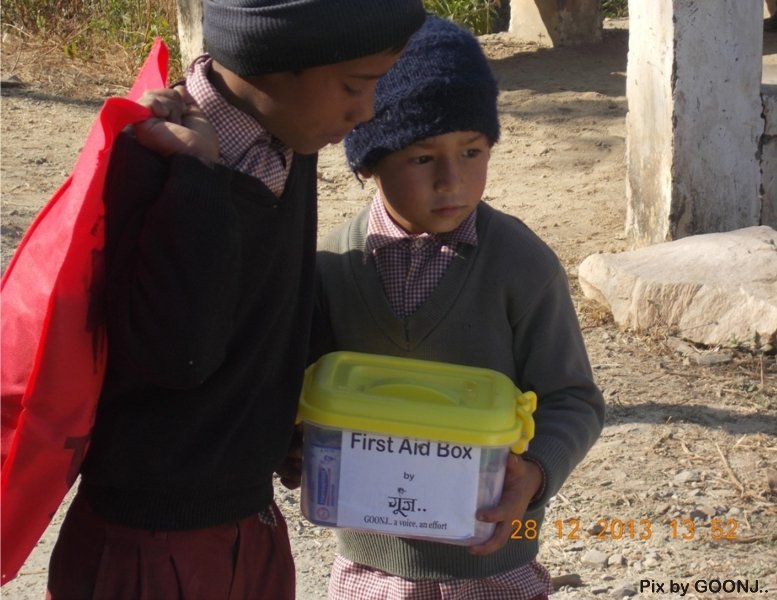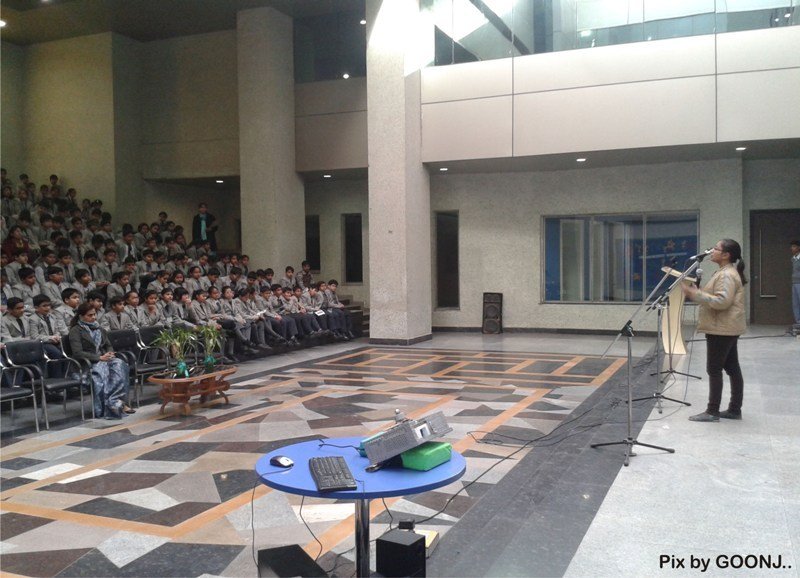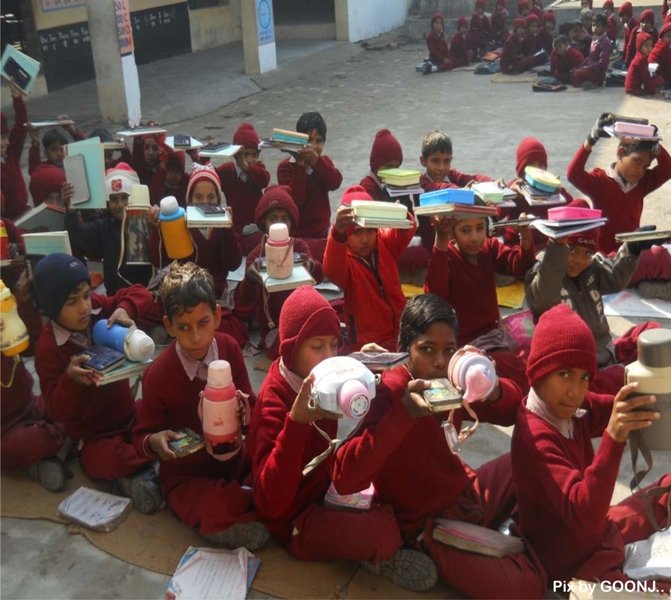 Links: