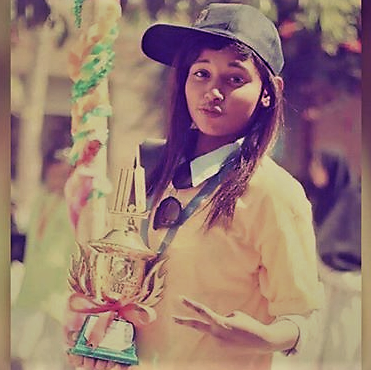 The path to a better future can only be paved through education. Quality education is not accessible for many and we would like your help in bringing it within reach of every child in Pakistan. Better education will enable children in rural and urban slums of Pakistan, who are generally the most vulnerable and susceptible to poverty and exploitation, develop to their full potential and lead a dignified and meaningful life.
DIL has and will continue to work towards achieving this goal of enabling every individual, girl or boy, to realize their right to educ[ation. Our goals are set, but we need your continued help in bringing them to life. On behalf of the school community, students and teachers, DIL would like to extend a huge thank you to all who have contributed so generously.
THANK YOU!
Meet Shafaq - DIL School, Orangi
My name is Shafaq and I completed my studies from DIL Junior School, Orangi. I don't remember the age when my father bought a bat and a ball for me but I can still recall that day, when I felt like the richest person in the world. I started playing cricket on the streets with my friends in the neighborhood when I was a kid. During my childhood there was nothing else on my mind except cricket. I was so passionate about cricket that I didn't care about my health or routine tasks. I feel so reluctant to say that I never completed my homework on time. With a little encouragement and guidance from my teachers I realised that I was a good manager, keeping a balance between studies and my passion. I gained confidence in myself when I got very good marks in my exams.
With the blessing and support of my parents and confidence building in my school, now, I am assured that I can turn my dream of being an all-rounder cricketer into reality. When I got admission in DIL Junior School, I heard that about the sports period which made me feel 'OH yes!!!' I used to wait for Saturday so that I can enjoy that period. I remember that how I gradually improved at cricket by playing at school and with friends. I performed better than the boys in both batting and bowling. Although now I am a DIL graduate, my school principal still supports me. I took admission in Customs Cricket Academy under the management of Mr. Jalal-u- Din and Shahid Khan Afridi, and was supported by the Pakistan Cricket Academy. It was 27th December 2016 when I got the best all-rounder award from the Customs Cricket Academy (C.C.A) and on 11th February, I got the best performance award from Karachi's No.1 College "Saint Lawrence's Government Degree College". Now, I dream to play for the Pakistan Women Cricket Team and become world's no 1 all-rounder player.