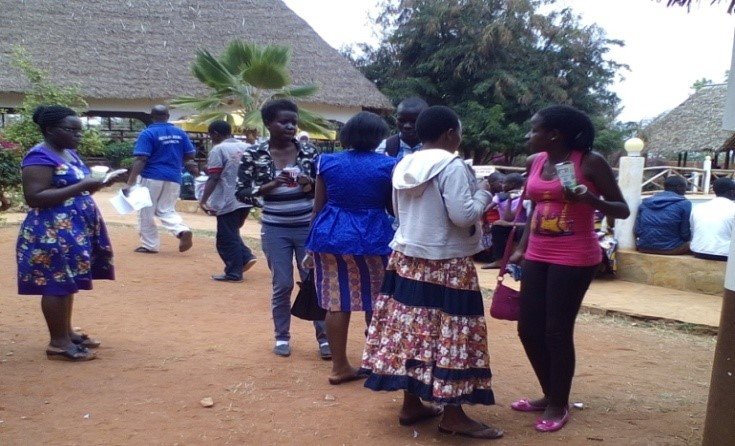 As the holidays approach, we extend our sincere thanks for your support this year. Your support of our school program is so important in our work with HIV+ infected children and youth. I would like to share a special event our youth experienced this year.
Youth enjoyed a trip to Galaxy Voi Resort where they met with youth from three other facilities. This was a joyful moment for them as they interacted with each other. They were able to share their experiences and the challenges they face being HIV+. Our youth had fun! It helped each of them to see himself /herself as important and one who should live his life fully as there many people living with the HIV+ virus. Some of the youth have even volunteered to be the peer mentors in the facility!
During the visit, the youth had time to be in groups and share their challenges and successes in life. Many of the youth have been able to live their life positively. Most of them have been able to attend school at the primary, secondary, universities and also vocational training levels. They were given time to discuss the challenges they face going forward. Some of these challenges include:
-Time management
-Fear of disclosure
-Stigma
-Discrimination by friends
-Lack of support by the family members
-Being rejected as they want to enter into a relationship after they disclose their status to their partners
-Fear of asking permission for apppointments and bosses asking questions about their sickness
Consider how difficult it must be to face these challenges at such a young age. Your generosity is making a difference in lives of these children and young adults. Thank you for supporting our work! As you make your end of the year giving decisions, please keep us in mind so we can continue helping children in 2017 and beyond. We wish you the best year ever, full of every blessing and happiness imaginable, knowing you are a hope-giver. If you'd like to learn even more about what we do or how you can meet some of the children you have helped, please contact Tanya Weaver at tweaver@AFCAids.org.