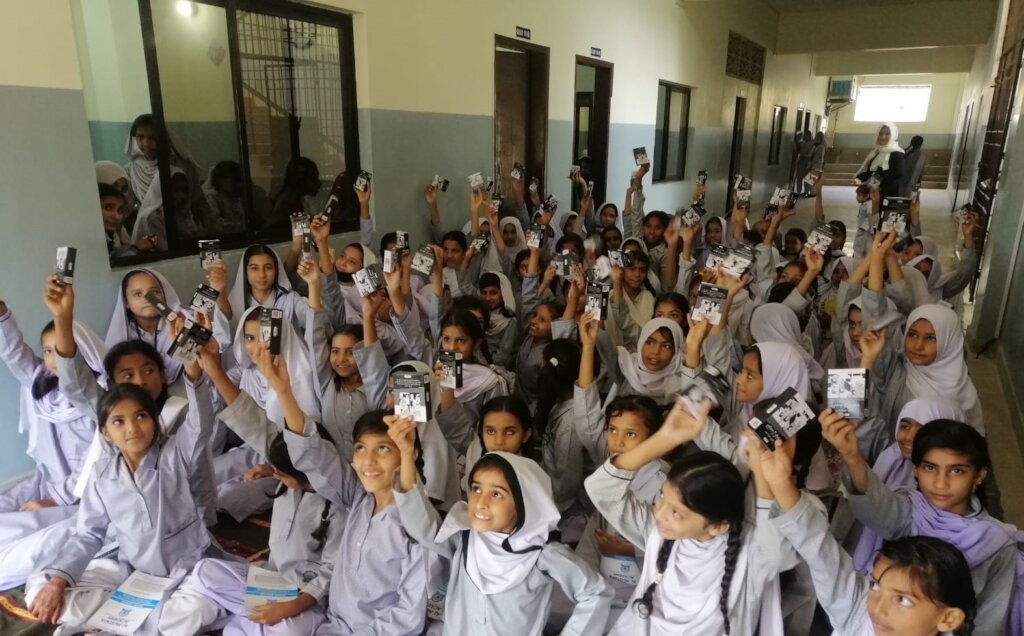 Dear friend,
While discussing modern-day learning techniques, experts can not stress enough on the importance of co-curricular activities as part of a child's learning process. Co-curricular activities fuel students' learning by stimulating creative thoughts, improving their social and organizational skills, developing interests and talents, and offering them the chance to switch off for a while and do something they enjoy.
Following is a glimpse of co-curricular activities organized at Al-Mustafa Academy in the past couple of months.
Awareness Session on Internet Safety and Media Literacy
Nowadays, the world is all about the internet and media, and everyone's prone to its harmful effects. Children are the most vulnerable users who could be easily harmed or misguided by anyone or anything online. It is the need of the day that we equip our children with information and tools for their protection and safety while accessing the internet and digital media.
Story kit.com conducted an awareness session on Internet Safety and Media Literacy through storytelling and distributed story kits among students as a material resource for further reading and understanding.
Awareness Session on Covid-19 Vaccination
It was not long ago when Covid-19 took the whole world by storm. In many cases, the governments struggled to convince people to get vaccinated, and officials had to implement strict rules to ensure the vaccination of people. Many people didn't have an idea how vaccines work, and that's why it created waves of fear among the ignorant ones. So we decided to educate our children about the importance of Covid-19 vaccination and organised an awareness session.
IRD Health Officers conducted a fun awareness session to educate school children about the importance of Covid-19 Vaccination for individuals and their families by performing drama.
Picnic at Winter Land
Winter's magic lies in the snow, but luckily or unluckily, Karachi is a coastal city and snowfall for us is a fairy tale. One of the most common children's fantasies is to play in the snow with their friends. All the children can't go to areas where it snows, especially the less privileged ones, so some cool people brought snow to Karachi, and we took our kids there. A picnic for children was arranged at the Winter Land PAF Museum, and the kids made a lot of sweet memories with their teachers and fellas.
Quiz Competition
A Quiz Competition is one of the most exciting and effective ways of increasing general knowledge and enhancing brain activity. We organized an Islamic Quiz competition on the Life of Prophet Muhammad (Peace be upon him) among the grade IX and X students.
Allama Iqbal Day Celebration
Allama Muhammad Iqbal is the National Poet and thinker of Pakistan. He was the very first person who presented the idea of a separate state of Pakistan. 9th November is his Birth Anniversary, and our students performed the following activities at a school gathering.
Quran and Naat Recitation
Speeches
Poetry Recitation
Crambo (Bait Bazi)
Tableaus
Performances on National Songs
Science Exhibition
A science exhibition is a wonderful tool that engages students in learning scientific facts, increases their curiosity towards nature, and develops research skills. Such displays also encourage children's brains to think out of the box, ask questions and look for the answers. So a science exhibition was organised where students presented their science projects, posture presentations and models on microorganisms, scientific measurements, the periodic table, nervous systems and nephrons etc.
Women Empowerment Activity
In today's society, a false impression of history has been emerging where we are told that the women in the older times were not empowered or not strong enough to play their part in bringing change in society. But when we look into history, we find many women playing the most influential roles and turning the course of history with their vision and steadfastness. The founder of Pakistan, Quaid-e-Azam Muhammad Ali Jinnah was not alone in his struggle; his sister Dr Fatima Jinnah fought with him side by side. Mr Jinnah believed in women and expressed at many forums that it is only women who can bring change from within the society, and so they did.
It is essential for boys and girls to know the importance of women in building a society, and native examples are the most effective. So we arranged different activities in this regard:
First Aid tableau performance,
Speeches & Presentations on Women's role in Pakistan's independence movement.
Awareness Workshop on Children's Rights
One of the most effective ways of eliminating oppression of any sort is to make the oppressed aware of their rights. Children could be the most vulnerable and easy to victimize targets because, in many instances, they are unable to recognise the kind of violence they are facing and if they can report it. The predators exploit their innocence and prey on them. Not only the adults but children themselves must be taught their rights.
With the collaboration of the Legal Aid Society (LAS non-profit organization), an awareness workshop was organized at Al-Mustafa Academy on Child Rights to empower our children with the proper knowledge of their rights.
Sindhi Culture Day Celebration
Culture is the essence of a society. This is what brings beauty and charm to a community. it was Sindhi Cultural Day, and we had a bash; from colourful dresses to caps, all the children wore and displayed cultural attire.