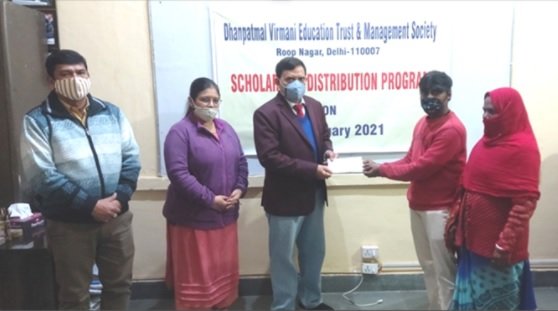 DhanpatmalVirmani Education Trust & Management Society
Roop Nagar, Delhi-110007
Email: virmanitrust@gmail.com,Website: www.virmanieducationtrust.com
Date: 17-02-2021
Scholarships to Deprived Children (44197)
A progress report for the ending May 2021
"Virmani Trust is working for a life of Dignity and self-Reliance for the Disadvantaged"
The Scholarship scheme has been very successful with the formation of a permanent corpus. We have received a total of Rs.77 lac up to 17-06-2021 this has been invested in Govt. of India Bonds and Banks. The interest received from the investment is the available scholarship amount that is awarded to students.
Case Study: Sandeep
Mr. Sandeep was a student of Dhanpatmal Virmani Sr. Sec. School. He had completed his class 12th session 2018-19. He secured 67% marks in the 12th class Science stream from CBSE. He has a financially weaker background and even unable to pay his college fees. His monthly family income is only Rs.8000/month. He got admission to the School of Planning & Architecture, Delhi, to complete his graduation with a Bachelor of Architecture. (Course Duration: 5 YEARS)
Dhanpatmal Virmani Education Trust has granted him a cheque of Rupees One Lac for pursuing his graduation. Also, the trust will provide 50% of his college annual fee for the entire course duration. A total of Rs.5, 00,000 will be provided as a scholarship to him during the course.
He has 5 members in his family, father, mother, sister, and brother. His father is working as a cycle & bike mechanic. His mother is a housewife. His sister has just graduated with a Bachelors's of Architecture, and his brother is currently studying in 9th standard.
His parents feel so heartfelt about the scholarship program. They never thought that their child will be able to get higher education in his desired field of study.
We would also like to have a larger network so that we become a part of global charitable funding initiatives and plugin mainline organization that manages these initiatives across the world. We are looking for a contribution to all this and are grateful for your support, which enables us to carry this forward. We express our gratitude to our donors for making the change in society happen. Even a small contribution is more valuable and very useful for our society.
We all thank our well-wishers and supporters for their donations and request them to also help us with constructive ideas and thought to take this program forward.
Project Leader
Mr. Dileep Kumar
E-mail: virmanitrust@gmail.com
Links: