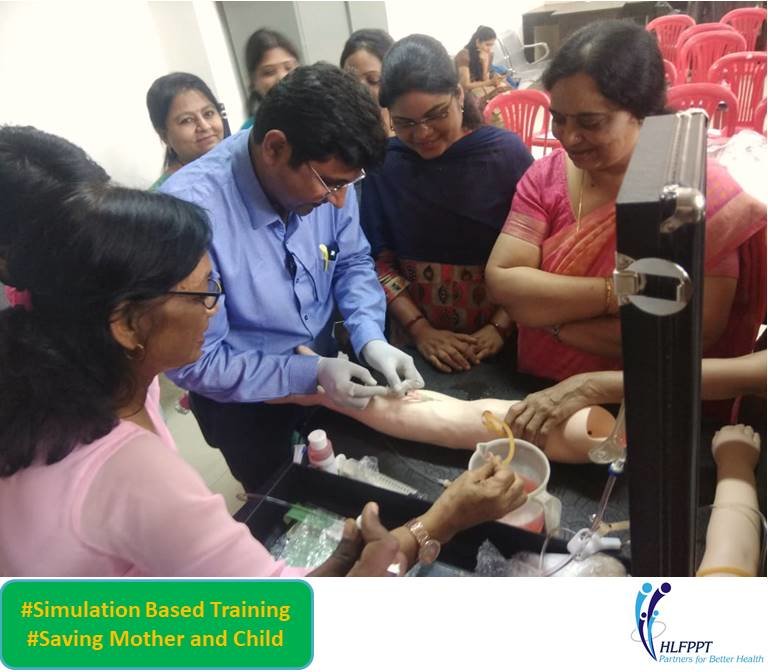 Dear Friends,
Greetings from India!
We would like to thank you for all your support. We value the contribution that you have made through your generous donations for Saving Mothers and Babies with Innovative Tools in India.
HLFPPT is working hard continuously to improve the quality of care by enhancing healthcare provider skills through simulation-based trainings and to strengthen facilities with life-saving tools in India. As a result, healthcare providers and facilities are better trained and equipped to deliver quality care that enable better survival outcomes for both mothers and newborns.
We would like to share the details about the recently organised Training of Trainers (TOT) on Skill Labs. After the training, these health care officials are providing simulation based capacity building training for their team using mannequins in skills labs.
Medical and Paramedical staff of the hospital has been capacitated to deliver quality care by using the innovative tools- MamaNatalie and Neonatalie which have been used for demonstrating very compelling simulations of normal to more complex birthing scenarios.
About the Project:
We at HLFPPT are working tirelessly to provide quality healthcare services by providing simulation-based training to the Hospital Administration, Staff Nurse, Doctors, and Technicians, who are dealing with the patient on a daily basis. The objective of these training sessions is to improve maternal and child health by providing high impact, low-cost training tools for health workers and facilities.
What this Project does:
Your generous donation towards this project is helping HLFPPT to train the Healthcare Professionals and also to provide free aid to the children. The Nifty Cups, which is a lifesaving tool to enable mothers and children for easy feeding; is the most affordable solution adapted by the healthcare sector. The main purpose of this project is to provide simulation-based training to healthcare professionals so that at the time of delivery at the institution, the possibility of Maternal and Infant mortality can be reduced.
Thank you so much for standing with HLFPPT. It could not be possible without your support. These Innovative tools are the need of the time. We are also incredibly grateful to you and to all our donors who continue to support the vital work we are doing. But we are falling short of funds to capacitate more Healthcare Providers since last quarter. Thus, we seek your constant support.
To support the cause, click here to donate online. At this page, we have the list of how worth your donations will be. This value list will help you to understand the initiative and also will help you to choose the correct amount for donation.
Note: This is just a matter of fact that, due to some administrative issues, GlobalGiving is not able to release the donations which may receive in coming days. This will be sorted out soon and disbursement of fund will be resumed back at normal.
Links: