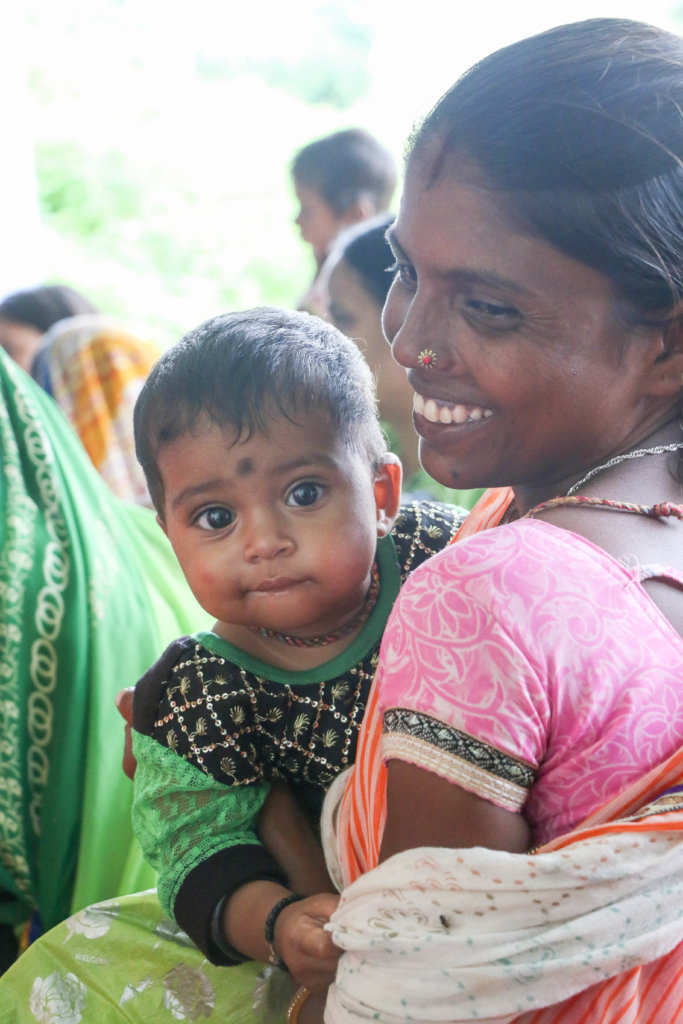 Dear Friend,
When 2-year-old Kamla arrived at Seva Mandir's Community-based management of Acute Malnutrition (CMAM) camp she was in a desperate state. Urmila and Sushila, two of the nurses who run the CMAM camps, were shocked at her awful condition and immediately rushed to her aid. Kamla weighed just 4.5kg and was only 65cm tall - far below the average for her age. She was brought by her mother and father to seek help from the nurses, and it quickly became clear that both the parents were suffering from an alcohol addiction.
Urmila and Sushila conducted various tests to assess her health, and it was found that Kamla was in the category of Severely Acute Malnourished (SAM) - the most life-threatening. The nurses provided her with immediate treatment and Ready-to-use Therapeutic Food (RUTF - a revolutionary method used by CMAM camps to provide food that ensures rapid weight gain in SAM children). The nurses gave medication and RUTFs to Kamla's parents to take home and told them to return to the follow-up CMAM camp 15 days later. They were given clear instructions on what to provide Kamla and how to look after her before returning to ensure that she would begin her recovery out of malnutrition.
15 days passed and Urmila and Sushila opened the follow-up CMAM camp in Kamla's village to conduct checks on children they previously treated, and they hoped that Kamla would return healthier and on the road to recovery. The day went on with children and parents reaching the camp to seek treatment - but Kamla and her parents were nowhere to be seen.
They never came. The nurses were worried that something had happened to Kamla as her condition was so extreme and they decided to find them in the village. Urmila and Sushila contacted one of Seva Mandir's community health workers who knew the family, and they made their way to Kamla's home - though what they found shocked them even more.
When they arrived at Kamla's home, they found her mother lying on the floor, drunk, and her father was nowhere to be found. The nurses managed to rouse the mother so that she was aware that they were there, and they began their follow up checks to test Kamla's health. They found that not only had her condition worsened, but that she was also suffering from a urinary tract infection (UTI) and other complications. Eventually, the father arrived, and the nurses made clear that they were appalled at the condition and made immediate measures to send Kamla to the government run Malnutrition Treatment Centre (MTC) located in a hospital. The parents initially didn't want to take her, as the mother would have to be by her daughters side for at least 10 days, leaving the household to be managed just by Kamla's father. The nurses and the community health worker did not give up and they managed to persuade them to take Kamla to the MTC.
Kamla is now at the MTC, on the road to recovery. Seva Mandir's Balsakhis (women trained by Seva Mandir to provide care to children) make daily visits to her to monitor her improvement. She has already begun to put on weight and is moving in all of the right directions to escape the life-threatening effects of malnutrition.
Seva Mandir's CMAM camps are crucial in providing treatment to prevent malnourishment in the heart of villages to children who might not have the chance to seek treatment elsewhere. Urmila's and Sushila's quick thinking coupled with their comprehensive knowledge and ability ensured that Kamla will live to see another day. The nurses are hired and managed by Seva Mandir and are trained by Basic Healthcare Services (BHS), experts in rural healthcare. Their knowledge and compassion to help children are saving lives.
We have been able to do all this only with the support and motivation from well-wishers like you. So a heartfelt thanks goes to you and all our supporters.
Our best wishes to you. Stay safe and keep social distancing.
Thanks & Regards
Atul Lekhra & the Seva Mandir Team
Follow us on www.facebook.com/sevamandir
Links: