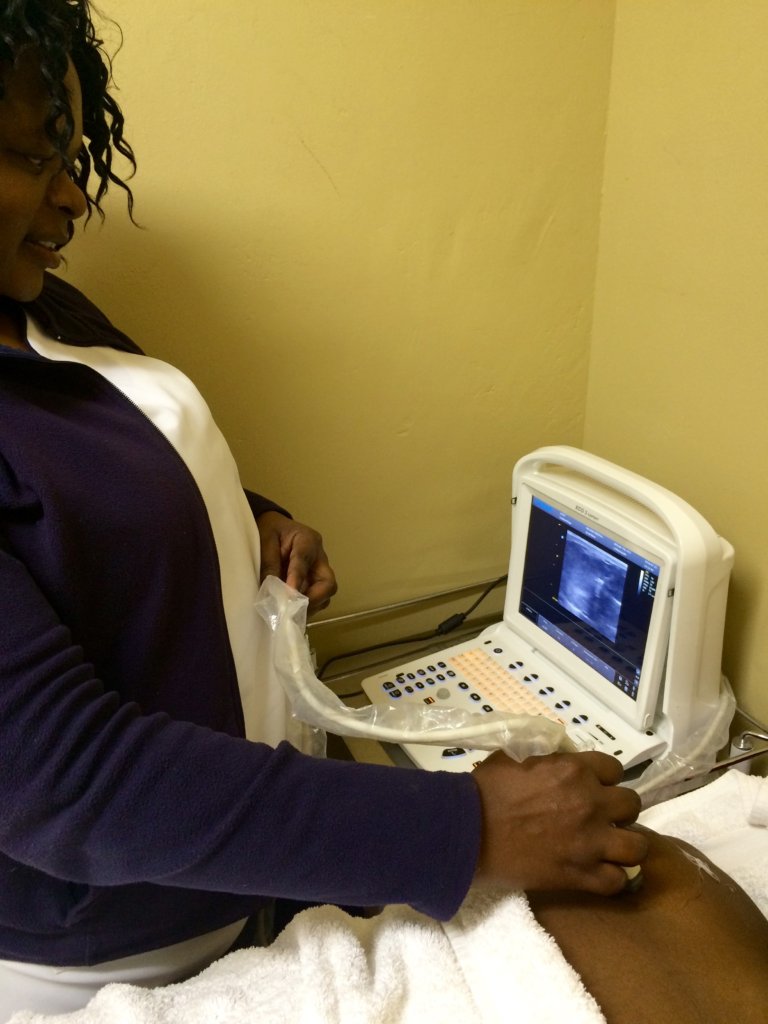 I'd like to start by again expressing our infinite appreciation for your generous donations and continuing support of Hoedspruit Training Trust and the breast cancer project. We have secured Hlokomela's very own-multi-purpose ultrasound machine, which we believe will be an invaluable asset for local communities in detecting breast cancer earlier, and a critical first step toward improved treatment and survival. Importantly, the purchase of ultrasound equipment has nurtured collaboration with RAD-AID, an internal radiology NGO. This will allow access to a large number of trained radiology volunteers to continue breast ultrasound education at Hlokomela, with the potential for the machine to be used in the future for general ultrasound work such as prenatal scans and in patients with TB- or HIV-related symptoms. This incredible opportunity could not have happened without you—we are extremely grateful.
The health worker training program kicked off in late June with a breast health education session at Hlokomela's staff retreat. Our team—Drs. Susan Lucas, Palesa Mutshutshu and Tarryn Murfin,from the Department of Diagnostic Radiology at Wits University in Johannesburg, and myself—spoke to Hlokomela's staff about breast cancer in South Africa and the potential for breast ultrasound to bring positive change to the community. We even demonstrated how to conduct a monthly breast self examination, and encouraged staff members to spread the word to family, friends, and patients!
On July 5th, we officially launched breast ultrasound training. Twelve health workers from the Hlokomela and Bavaria clinics attended the didactic portion of the training, which consisted of presentations and handouts covering breast cancer facts, the project's vision, training objectives, indications for ultrasound, breast anatomy, technical factors, lesion characterization including how to differentiate between benign and malignant masses, and the review of over a dozen cases. The following two and a half weeks were devoted to hands-on training with a portable ultrasound machine—generously lent by Chison to use until the full-sized machine arrives—which involved tutorial sessions as well as performing breast ultrasound scans for more than 20patients. Each patient visit involved asking about personal and family history of breast cancer, screening for common breast cancer-related symptoms, performing a full breast ultrasound scan, and counseling patients on how to perform monthly breast self exams. The health workers have shown an incredible investment in promoting breast cancer awareness and early detection using ultrasound, and have expressed a strong desire to augment training in order to better serve the community. As one health worker stated: "Knowledge is power. The more I learn, the more my facility will survive."
Looking forward, we will strive to provide sustained support as this exciting program grows. Dr. Susan Harvey and two biomedical engineering students from Johns Hopkins will visit Hoedspruit in August to follow up on ultrasound training and strengthen connections at Hlokomela and surrounding clinics. The larger project vision is to use available proven technology—ultrasound for detection, fine needle aspiration for diagnosis, and cryotherapy for treatment—to transform breast cancer care by making each step accessible to the community, demonstrating the project's feasibility and ultimately obtaining funds to scale a cost-effective and locally available breast cancer detection, diagnosis, and treatment program.