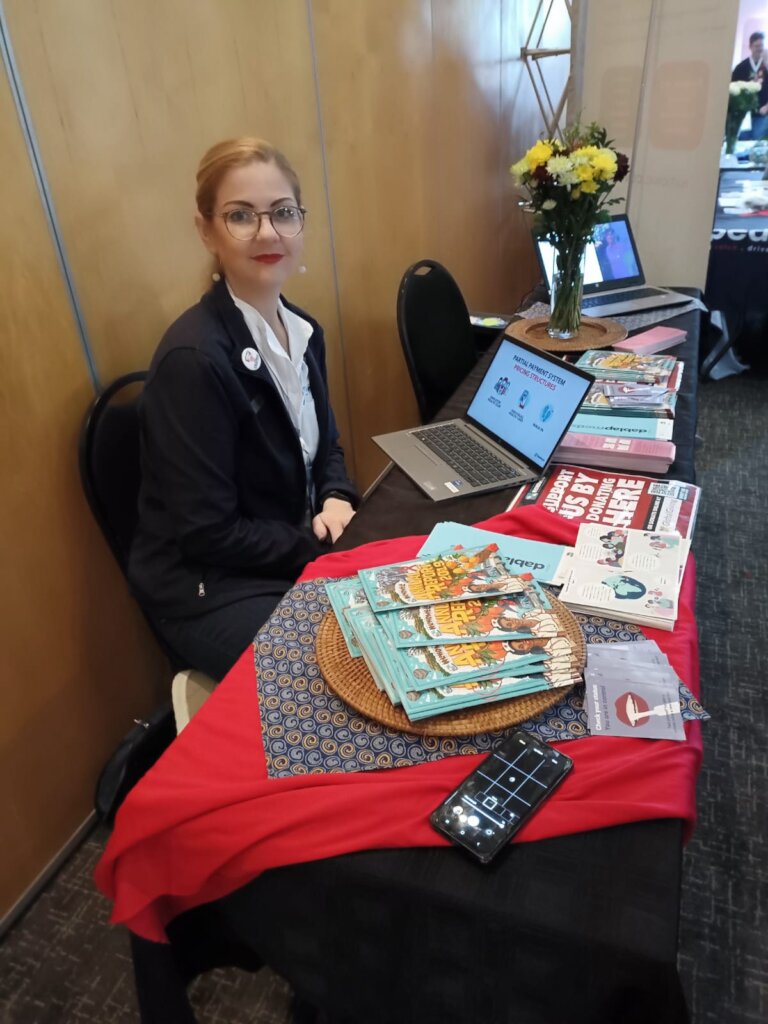 The past three months at Hlokomela went by in a flash. What we realized once again is the dire need in our communities for support to breast and cervical cancer patients to access lifesaving treatment. Something as simple as this is not readily available and we dare not rest in trying to achieve dignity for our patients. We thank our GlobalGiving family for all your support over the past year. Without you we would not have been able to support our patients at all. In 2023 we will carry on with renewed energy for the women who need us the most!
Cervical cancer patient failed by government healthcare system
During the last year, we referred many patients to the government system, with the hope that they will receive the treatment they need. One such patient is *Pretty Nkuna. Pretty came to the Women's Clinic in the first quarter of 2022. She suffered from severe vaginal bleeding, lower pelvic pain, and anaemia.
After doing a Pap smear, Pretty was diagnosed with HSIL, which basically indicates that she has cancer of the cervix and needs immediate surgical intervention or possibly chemo/radiation therapy first.
After sending her to her local hospital, with her going back and forth for months without getting help, we decided to call a gynaecologist friend who works in the private and government sector in Polokwane. This doctor is an Oncology gynaecologist.
After Pretty got financial help from her employer, she was finally able to make a trip to Polokwane to see the doctor.
She was examined and depending on her blood test results, she would start chemotherapy the following Monday. Unfortunately, when Pretty arrived at the hospital on that Monday, she was told that she would not be able to start with chemo due to a low white blood count. Pretty travelled and spent money that she did not have, to and from the hospital several times without being contacted prior to her date regarding blood results. All of this caused stress and delayed her treatment.
When she eventually was admitted, she was so sick that she received palliative care. Her time was up, she was too sick to receive chemotherapy.
Pretty lost her fight against cervical cancer. Our hearts go out to her family, friends and the people she touched through her journey.
Unfortunately, this is not the last time a woman will die as a direct result of a failing healthcare system in South Africa. Without medical insurance the chances of survival are slim to none.
Teenage pregnancies
A 35-year-old patient visited the Women's Clinic this month with complications related to an abortion done at a "back street" abortion clinic. The procedure left her with an infection and possibly a damaged womb.
After counselling this patient, she revealed that her 15-year-old daughter had a 2-month-old baby. She just did not have the finances to take care of her own baby and her daughter's baby. When she found out her daughter was pregnant, it was too late for an abortion, besides that, her daughter wanted to keep her baby. The only way out of this situation was for her to have an abortion herself.
This story just sheds some light on the very difficult task we have and the challenges we are dealing with regarding teenage pregnancies. More needs to be done at primary level, in schools, at community level, in churches and at youth centres.
GoodX Expo
On 12 November 2022 Sonja Botha from the Hlokomela Women's Clinic attended the GoodX Expo in Boksburg, Johannesburg. The event was hosted at the Birchwood hotel, spa and conference centre. Many stake holders and related companies in the industry attended. It was an opportunity for Hlokomela to share with all the attendees the way that we implemented the GoodX practice management system and integrated it with the Ideal Clinic and Hlokomela's sustainability project, the Partial Payment System (PPS).
Sonja's presentation about the Hlokomela model was very well received. This was a great networking opportunity for us and we thank GoodX for extending the invitation to us.
Donations
We have been very grateful to have received a continued flow of donations from local volunteers and visitors to our town. We would like to thank everyone who has donated to Hlokomela.
Dr Majoie Hemelaar
Dr Hemelaar has been involved with the Hlokomela Women's Clinic for the past 5 years. She recently came back to Hoespruit after 3 years in Klerksdorp. She is currently volunteering in the Women's Clinc on Fridays. Seeing patients where the women's clinic staff have identified the need for a gynaegologist. She, like in the past, uses each opertunity to train our staff and better equipped them to improve the care we provide to our patients.
Tekkies4Tieties
On 5 November 2022, Hlokomela Women's Clinic hosted a fun walk in aid of breast cancer awareness and fund raising to support patients with breast cancer.
This event was held at the Kamogelo Centre in Hoedspruit. The main attraction was the walk between the centre and the four-way stop on the R40 and back.
The atmosphere was one of standing together for a cause. Laughter and some sadness as many people came to support family members, and friends of patients still fighting the good fight, or who have lost the fight.
The Hoedspruit Café had milkshakes, juice and mini cupcakes available to everyone at the finish line and the first 30 people to finish each received a goodie bag from Hlokomela.
The morning ended with a prize-giving ceremony. Prizes were plenty and given away to the best-dressed male and female, dog, girl, and child. Team prizes and a lucky draw were held. We thank all the amazing people who attended and sponsored items and prizes for the day!
Links: