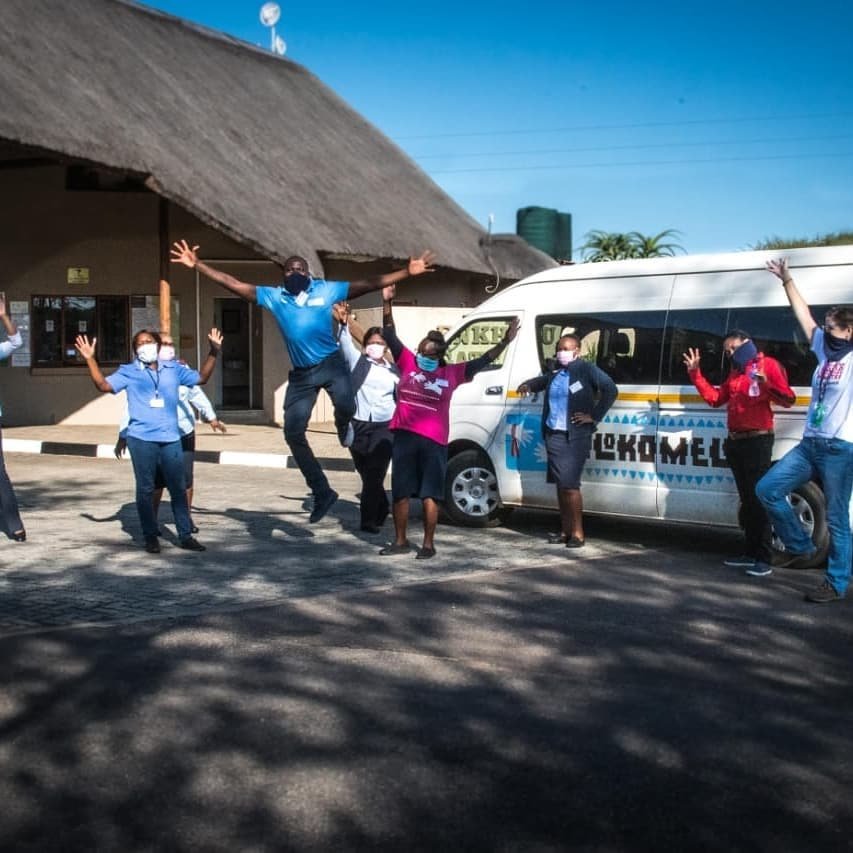 We gladly share with you, our reader and faithful supporters at GlobalGiving, what we have been up to during the last 3 months in the Hlokomela Women's Clinic.
At the start of March, when COVID-19 started making its way into South Africa, life as we know it changed completely. In this report you will read a lot about what we have been doing to flatten the curve, educate, train and screen the larger community of Hoedspruit and surrounds in the rural area of Limpopo Province.
Risk reduction training for sex workers
During the last two months, the Hlokomela Women's Clinic has been actively involved in outreach campaigns in conjunction with the Hlokomela Sex Worker Programme. We have gone out into taverns and villages to conduct Pap smear tests, teach about breast cancer awareness, breast self-examination as well as teaching and education on COVID-19. Special hand wash demonstrations were given to ensure that people understand the correct way of using hand sanitizer and how to wash hands effectively.
Patients on treatment
We currently have one patient on chemo. *Mrs Wilson (50 years old) came into the Women's Clinic with a previously diagnosed (by her GP) abscess. She did not respond to antibiotic treatment and asked that we do a breast ultrasound on her just to make sure that there was not some underlying problem that may have been missed initially. After the ultrasound was done, a biopsy/fine needle aspiration was indicated and Dr Inez Allin, a volunteer from the Tshemba Foundation, performed the procedure. The cytology results came back as positive for breast cancer. Mrs Wilson has since started chemotherapy and is doing well.
*Mrs Moore, is a 60-year-old patient who was diagnosed with breast cancer 15 years ago. The mass was detected very early and she was in remission shortly after a round of chemo. Two months ago she felt a lump in her right breast and came to the Hlokomela Women's Clinic for an ultrasound. Nothing suspicious was found in the right breast, but we did find a highly suspicious mass in the left breast. After a core biopsy, test results came back positive for breast cancer. She has since undergone a double mastectomy and she is recovering well.
*Mrs Nyati is a 50-year-old patient who felt a lump in her left breast while taking a shower one morning. She decided to have it checked and came for an ultrasound. The mass looked suspicious on ultrasound and a biopsy confirmed that it was breast cancer. She underwent two rounds of chemo and is now cancer-free and in remission.
*These are pseudonyms used to protect the true identity of our patients.
Production of buffs and masks
To date, the Hlokomela Sewing Project has made over 7000 buffs and masks to protect farmworkers on their daily commute to work. The Sewing Project has also made masks for Hlokomela's healthcare workers in the Women's Clinic.
Outreach and awareness
From the beginning of March, we have reached more than 5000 people with demonstrations on the correct handwashing technique, social distancing measures, how to protect oneself from contracting the virus and personal hygiene. The Women's Clinic staff played a vital role in these outreaches.
Preparing clinic for COVID-19
Our clinics have put in place measures on how to deal with COVID-19 cases who attend our clinics and are ready for receiving these patients and transferring them to the closest hospital for testing and treatment. We have implemented outdoor handwashing stations where all staff, clients and visitors wash hands before entering the clinic. Additional outdoor client waiting areas have also been implemented to adhere to social distancing standards.
Distribution of food parcels
From 14 to 30 April 2020, Hlokomela distributed 700 food parcels containing food items such as mealie meal, beans, tinned fish and cooking oil with basic items such as candles and soap. These food parcels were distributed to farmworkers along with more than 30 tonnes of citrus fruit donated by local farms.
Links: