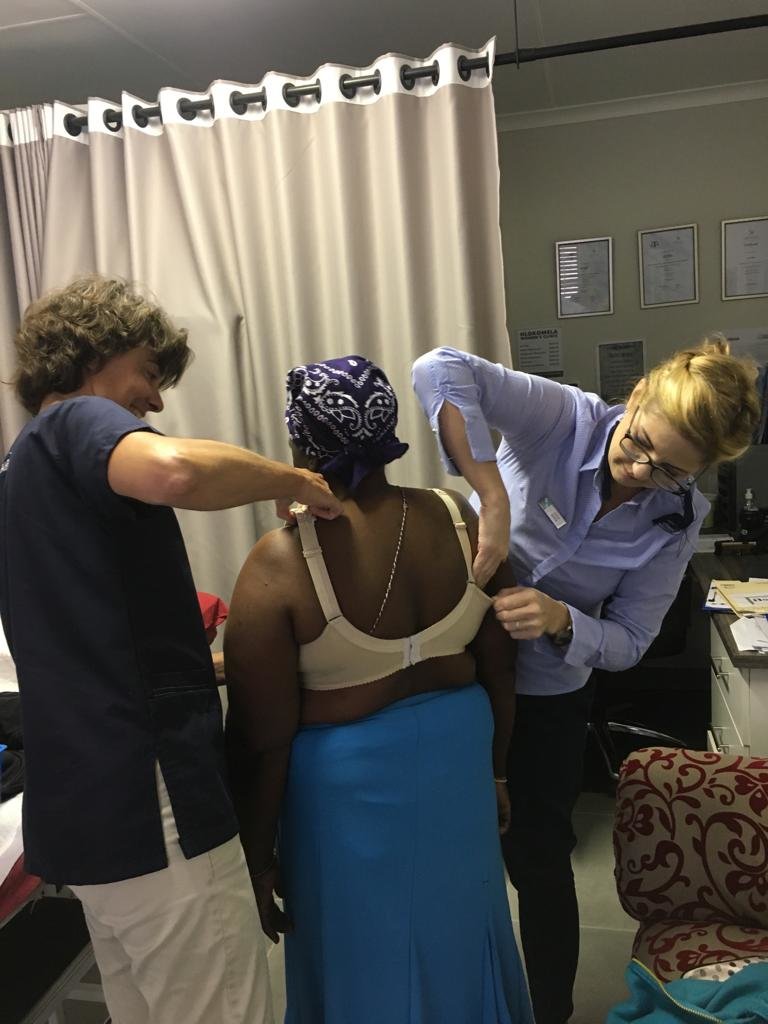 It would not be possible for the Hlokomela Women's Clinic to function and provide much-needed services to members of the greater Kruger to Canyons Biosphere, had it not been for each and every donation received from you, our GlobalGiving family! Our heartfelt appreciation goes out to each donor!
Only 2 breasts for *Penny!
It gives me great pleasure to share the story of one of our sex workers with you. *Penny came into the women's clinic with a condition called poly-mastic breast tissue. This means that she has excess breast tissue under both her arms that looks like two extra breasts. Penny also had cystic breasts and a few other pathologies that were concerning.
After consulting with the Breast Health Foundation, it was decided that Penny should go to the Breast Clinic in Johannesburg to consult with the team there.
The consultations confirmed that she had no malignancies. Penny, however, was still "stuck" with the aesthetically unappealing extra breast tissue. This influenced all aspects of her life and income. The doctors at the Helen Joseph Hospital decided to provide *Penny with surgery that would remove the extra breast tissue.
*Penny has since recovered from surgery and is doing very well!
(*Penny is a pseudonym used to protect the identity of our patient.)
Volunteers improve diagnosing process with new software
Early in June, sisters, Madeleine and Samantha, started volunteering with Hlokomela. Samantha is 21 and is starting dentistry in September 2019. She is volunteering at the main clinic, Charity Shop and Herb Garden, she also helps out in the Women's Clinic when needed.
Madeleine is 20 years old and she is a third-year Biomedical Engineering Student. Madeleine came to introduce a system called Koios. This is a software program specifically designed to assist in categorising breast ultrasound images into the international BIRADS rating system. The system rates masses from BIRADS 1 – 6. In other words, it rates a mass as benign, suspicious or malignant, with different criteria for each rating. Koios allows you to load an image of concern onto the program, the image is then run against thousands of images in the database. It then gives you a "second opinion" and assists with a BIRADS classification. Madeleine received a scholarship and a big part of her trip to South Africa and Hlokomela was made possible through the Koios company. Madeleine is teaching me and assisting me to get to know this program so that it can help me in the Women's Clinic as a second opinion on difficult images. This program is user-friendly and FDA approved. It is used by many radiologists and Ultrasound Technicians in the USA.
Current patients
We currently have 10 patients who have gone for further testing and/or biopsies for suspected Breast Cancer. Three of the patients are currently in the process of receiving treatment plans.
Into the lives of patients
On May 2nd, a camera crew (initiated by the Breast Health Foundation and the Tshemba Foundation) visited the Hlokomela Women's Clinic. The aim of this visit was to conduct interviews with some of the staff members and patients. The crew joined me at the bus stop where patients started their journey to Johannesburg from Hoedspruit to receive treatment at the Helen Joseph Hospital. They also visited some of our cancer survivors at their homes and captured a glimpse of their daily lives.
Bravolution update
I never imagined that this initiative would take off the way it has! I am overwhelmed by the generosity and selfless support from women from all over the world! As mentioned in previous reports, Dr Hemelaar took the Bravolution to her friends and colleagues in the Netherlands. Around mid-June Dr Hemelaar's friend from the Netherlands, J. Zaal came to visit South Africa. With her came a suitcase filled with 14kg of bras!! Wow, this was quite a handover!
We have had wonderful moments in the Women's Clinic during bra fittings. Every woman receiving a bra also receives a little bit of dignity and pride. This is what caring does to people. I am super proud to be a part of this organisation!
Links: