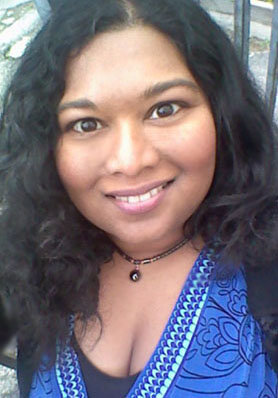 Dear Friends,
American actress Thushari Jayasekera has been invited as an ambassador to Rainforest Rescue's Sri Lanka Plant a Rainforest Project. Thushari will help create awareness about why it's important to help protect the natural resources of the Sinharaja Rainforest located in the southwestern region of the island.
Thushari decided to take part because she cares about healing the environment as a whole. She has already written some paragraphs as to why she supports the long term preservation of this "hot spot" through Rainforest Rescue's profile on Global Giving.
GlobalGiving provides a portal for individuals to donate to worthy causes throughout the world. "For Rainforest Rescue it provides us with an opportunity to offer our US-based supporters an easy way to donate to our projects and receive a tax-deduction" said Erryn Stephens, Fundraising & Communications Manager at Rainforest Rescue.
"We are very grateful to Thushari for raising the profile of our work within the Sinharaja Forest Reserve" says Ms Erryn Stephens.
About the Sinharaja Forest Reserve Project:

Rainforest Rescue's Sri Lanka Plant a Rainforest Project is working in partnership with Rainforest Rescue International (RRI) to create a rainforest corridor between the two largest remaining rainforest areas in south-west Sri Lanka, the Sinharaja Forest Reserve and the nearby Kanneliya Forest. Sri Lanka's rainforests are one of the most threatened ecosystems on the planet with a total cover of less than a few thousand hectares. Continual deforestation has lead to one of the highest rates of threatened and endangered species in the world.
About Thushari:
She is best known, among other things, for playing Pinky on NBC Outsourced, for narrating the audiobook Love Marriage, and being a Golden Raspberry Awards Presenter
Thank you for your support friends. If you have any questions on this project, please feel free to send me an email at medicipj2@yahoo.com .
Regards,
Paul Medici