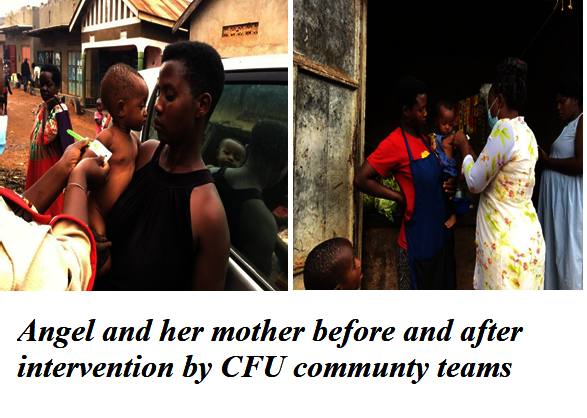 SAVE LIVES OF 600 MALNOURISHED CHILDREN IN UGANDA (48930)
In the last quarter, we continued to seek out those with malnutrition from the different parishes in Kawempe. We realize that prevention is better than cure, so when we identify children on the verge or those that are cases, we educate them on providing a balanced diet in their context or using the available resources in the households. Those that need medical attention are referred to CFU medical center for further assessments and management. In this report, we would like to share a journey we have taken with one of the children.
Angel's story would not have been possible without the extra hand given by you. We don't take that for granted and Angel could only say it by going back on the growth chart track. Angel was 11-month-old when we identified her from Kiyanja Zone, Kawempe Division. She is the last born of 4 children. Her mother, Eunice operates a fresh food kiosk in Kiyanja zone. The village health worker attached to CFU on one of her village assessments, during her door-to-door rounds within Kanyanya Parish, identified Angel with severe acute malnutrition on 30th August 2021. Kanyanya is an informal settlement with a fairly crowded population. Angel was linked to CFU for further management.
On further reassessment at CFU Medical center, Angel weighed 6.3 kg, height 68.7 cm and Mid Upper Arm Circumference was 11.4 cm. and categorized as severe malnutrition with a bad skin rash (severe seborrheic dermatitis) that had lasted for 2 months. She was enrolled in Outpatient Therapeutic Care (OTC) program at CFU immediately. The OTC clinic is where children with malnutrition are enrolled. She stayed on the program for about four weeks and was eventually terminated due to the plumpy nut stockout. Plumpy nut is a high-energy snack donated by UNICEF and every now and again it becomes unavailable. Angel was 6.9kg and with moderate malnutrition when she dropped off the program.
Following stockout, Angel deteriorated in a week's time into severe malnutrition. She had profuse developed diarrhea during this time and that could have precipitated her condition. She was then managed with oral rehydration salts and zinc.
High energy feeds (locally known as the kitobero) were prepared for her in the absence of plumpy nut. Ekitobero is a mixture of all the four food groups and is served after mashing it. The mother was taught to prepare ekitobero using the foods available at her home by the CFU team. She was further educated on hygiene practices and together with the health worker came up with a feeding plan. Within two weeks, Angel registered improvement while on kitoobero exclusively. She gained weight successively to 7.2kg, 7.8kg, and then 8.5kg by month three. The skin rash and diarrhea had resolved.