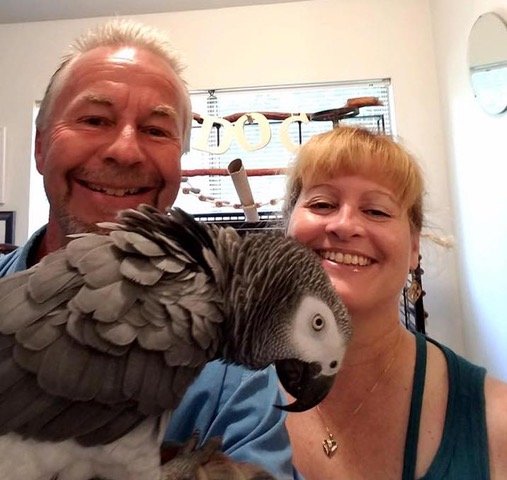 During this season of giving thanks, we are deeply thankful for YOU and your support of PEAC's mission and programs! Without generous patrons like you, parrots in need of homes would face a bleak future. Your abundant caring and compassion for our parrots, and what we do, are what makes PEAC such a success.
Many members have asked how to renew their annual membership, and one of the best ways to do so would be on "Giving Tuesday!" GlobalGiving will be providing "matches" for any qualified donation starting MONDAY, November 27th at 9:01 PM, Pacific time, through 9:00 pm on Tuesday, November 28th. Giving Tuesday kicks off our once-a-year fundraising campaign which supports PEAC's educational programs and medical costs for our adoptable parrots. The incentives provided during this short window allow us both to have the biggest bang for each buck donated!
PEAC's budget for 2018 will remain at $20,000, and although this year several grant applications have been submitted we remain primarily dependent on donors like you.
Another reason to give thanks! Recently "Doc," a Congo African Grey parrot adopted from PEAC, celebrated his one year anniversary with his wonderful new family Annie and Roger. Doc's family permitted us to share a story they'd written about their choice to adopt and how Doc has changed their life for the better:
"Although pet dogs and cats, who are in need of a home tug at the heartstrings of most people, our love lies with the small, beating heart of our Doc. After almost 30 years, our first African Grey Parrot sadly passed away. He had been our constant companion, and we had even passed on long vacations so we could be with him. After he passed away, we had a long discussion about whether or not we wanted to commit 30 to 40 years to another parrot. However, the house was empty. There were no background noises of a little voice saying my husband's name anymore. There was no more "suspicious" silence. There were no more parrot kisses. Our house was silent. Both my husband and I have dedicated our lives to helping animals, and we have found that a lot of support is needed for small animals, including birds. At the point we had decided to welcome another parrot into our lives, we reached out to the wonderful organization, Parrot Education and Adoption Center, where we met Doc. When he first entered our lives, he was confused and, we believe, a little sad. He had had the sad experience of watching his previous owner grow sick and die, and he seemed confused. Typically, he would spend his days hiding in our bathroom, but as time moved on, he slowly emerged from his sadness to join my husband and me as a member of the household. As humans, we understand our love and bond with the animals in our lives, but it can be easy to forget the bond that animals hold with us; especially the ones that we don't understand. How does a bird show love? For us, Doc was able to show his love with the simple words "What are you doing Doc?" The answer is, showing love and being loved in a forever home."
We think their smiling faces say it all and thank Roger, Annie, and Doc for sharing this meaningful follow-up with us.
Congratulations to our recent adoptees! Peanut (Jenday Conure), Niki (Senegal) and Rajah (Orange-winged Amazon, shown pictured with his new owner Judy,) are all settled in their forever homes. These three parrots very quickly stole the hearts of those around them, and we wish them many happy memories in the coming years.
Upcoming Events highlighting the foster flock!
December 2nd and 3rd will be a busy time for the PEAC volunteer elves. On Saturday, Dec 2nd, 11 am - 3 pm, we'll be showcasing select foster flock members at Santa Paws MEGA Adoption Event at Grossmont Center, 5500 Grossmont Center Drive in La Mesa.
On Sunday, Dec 3rd, 9 am - 3 pm, several foster birds will be participating in Doggie Street Festival. Location: San Diego's NTC Park Liberty Station. Address: 2455 Cushing Rd, San Diego, CA 92106.
We hope you can join us for at one of these events - our fabulous "rainbow wings" banner will be on display for taking all the holiday photos you would like, and perhaps we'll encourage our parrots to do a little "caroling" of their own.
We have several adoptions pending and look forward to updating you soon with their stories and also with the progress of our fundraising campaign.
We wish you and your family a warm and wonderful Thanksgiving holiday!