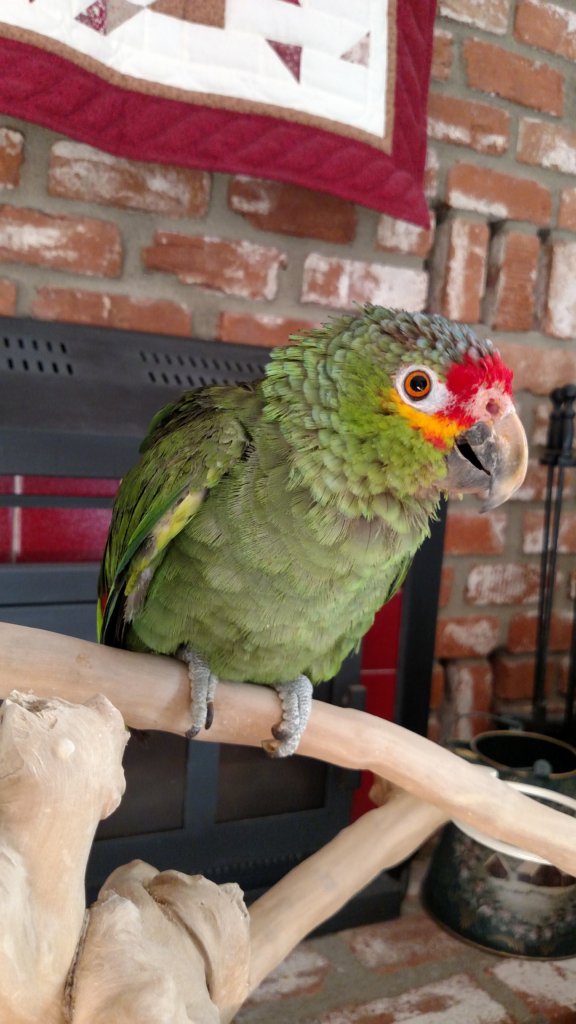 Looking at the calendar today, I cannot believe we are already at the end of February. Time seems to go by way too fast for those of us who work in rescue. PEAC is starting out 2017 in good financial standing, due to the great success of our year-end fundraiser. Not only did we have Globalgiving matching our donations on one of these days, we also had an anonymous donor who pledged a donation of $1 for $1 up to $20,000, which we took full advantage of. 2016 saw PEAC running at a deficit, due to some significant veterinary expenses that we had for parrots including Major, Blaze, and Beanie. With the large matching donation, we will be able to pay off all charges that we had incurred in 2016.
90% of our budget each year goes directly to veterinary costs. Each parrot that comes into the foster program undergoes a comprehensive veterinary evaluation, which includes various tests along with the physical examination. The cost for this is $300-$400 per parrot. Some of the parrots come to us with serious psychological problems, requiring the use of prescription medication to help ease their anxiety. Currently we have two parrots that are struggling with feather destructive behavior (FDB). On entering the program, KT and Rubio each had very little feather covering on their chest, abdomen, and legs; additionally, Rubio was destroying his wing feathers. After just a few months, the changes in them are quite amazing. Both are showing tremendous feather regrowth, and are preening naturally, without any signs of over-preening, which is part of FDB. PEAC, alongside its team of avian vets, has worked hard on a protocol that seems to show promise with parrots suffering with FDB, when they receive treatment at the early stages of the condition. The protocol is not only about using medication, but also includes dietary changes and environmental enrichment, which includes daily showers and plenty of time in natural sunlight and fresh air in our outdoor aviaries. Toys are provided which simulate the texture and design of a parrot's feathers, and we try to get them to use these to relieve their anxiety, instead of taking it out on themselves.
PEAC has a busy calendar with our outreach events so far this year. We have been invited to participate in the South Orange County Pet Expo, the America's Family Pet Expo, the Turquoise Animal Hospital Exotic Pet Expo, and Pirate Days at the Maritime Museum of San Diego, as well as our regular monthly outreach events at the local Petco stores. Additionally, we are working on getting approval to do a monthly outreach event at the local Petsmart stores. PEAC's main focus continues to be education, and we try to participate in as many events as we have sufficient volunteers to cover, as this is the best means of getting the message out about the plight of companion parrots in the USA. As we are all aware, cats, dogs, and fish are the three most common companion pets in our country; parrots have recently dropped to fourth place. Even though this may signal that fewer parrots are being purchased as pets, it does not reflect the large number of birds needing to find new homes, for a variety of reasons. PEAC's education focuses on providing information to people considering a parrot as a pet, so that if they choose to go forward with this, they are prepared for the longevity of the bird, as well as the cost and care of the animal. In the Spring of 2017, we will resume our pet therapy program that we offer to the local military personnel in San Diego. With San Diego being a big military town, PEAC feels it is important to give back to the community that supports us. We are also hopeful that in the Spring, Rady Children's Hospital will allow us to begin doing an outreach event, to provide the children there who are struggling with illness to have an afternoon of fun while learning information on these amazing winged wonders.
Each year your financial support goes toward purchasing teaching aids, such as the coloring book we use for kids 12 and under, which explains how to care for a pet parrot. This year with your donations, we will also begin to offer a "Congratulations on Your Adoption" care package, which among other items, will include two videos by a world-renown avian behaviorist: one on parrot body language and the other on basic training techniques using positive reinforcement. With the growth of the organization, we have realized the importance of liability insurance, especially when you consider that we are working with wild animals. Without your donations, PEAC would have been left open to liability, should an accident occur. Our webpage will soon begin to have links to PEAC-approved informational sites, so that when someone logs on to our webpage, they will have, with one click, a large resource library which we hope will answer most questions on parrot care.
I want to reach out to all of you and thank you for your support during our year-end campaign, as this is not an accomplishment of PEAC; it's an accomplishment of you, our supporters. Outside of financial support, PEAC is also in desperate need of volunteers, especially those who are willing to open their homes to a foster bird. In just a couple of months, we have gone from having no birds on our waiting list, to having to reopen our waiting list, as we just do not have the foster homes necessary to take in all the parrots that come to us looking for a second chance. Along with our growth has also come the need to form some new committees, including the event committee, the fundraising committee, and the committee on grants; and we are in need of volunteers to sit on these committees.
WITHOUT THE PHYSICAL SUPPORT OF A STRONG VOLUNTEER BASE,
PEAC WILL NOT SURVIVE OR GROW,
NO MATTER HOW MUCH MONEY WE GENERATE WITH FUNDRAISERS.
As spring approaches, we who have parrots will begin to deal with the breeding behaviors that come around for most birds every year. Keep an eye out for information relating to this topic, as one of our new monthly seminars will be about how to manage your feathered friends during what can be a very tense time of year, not only for them, but for you, their owners, as well.
In closing, I want to thank all of you for everything you do that helps keep PEAC moving forward. We are in the middle of celebrating our 20th year of service to the Southern California area and abroad, and we hope to be around for another 20 wonderfully successful years.