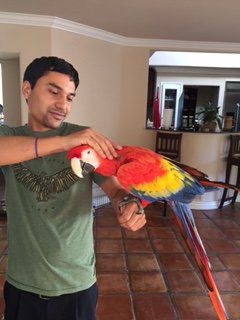 It is hard to believe that we are about to finish the first quarter of 2016. Lots of great things are planned for this spring and early summer. We have yearly events like the Turquoise Animal Hospital Exotic Pet Expo, Pirate Days at the Maritime Museum, and the largest event we participate in every year, the America's Family Pet Expo at the Orange County Fairgrounds in Anaheim, CA. All these events give PEAC a chance to spread its message of providing access to the latest up-to-date information on parrot care, both physical and psychological. I am happy to see so many of our volunteers step forward to help organize and run these fantastic events. PEAC only continues to exist because of its volunteers, members, and generous donors.
I am happy to mention we have had four adoptions so far this year. Two Amazons, Sunny and Hermione, came to us after their owner's age made caring for them no longer possible. This owner's son contacted PEAC and Barb Crouse and myself met the parrots and the son and determined PEAC was able to add them to our foster flock. Fortunately, in a short time, a couple with several years of parrot experience contacted PEAC and was interested in both of them. Though PEAC normally does not adopt out more than one parrot every 18 months to a new owner, it was the prior owner's wish that if possible that they remain together. It was wonderful to find a good home for both of them and to be able to adopte them together as was the request of the prior owner. Asha, a Scarlet Macaw who was with us since being a year old and now is going on 3, finally found his match with a couple in Arizona. The gentleman volunteers at his local zoo and has several other exotic companion pets. His experience with large parrots showed that he understood and uses positive reinforcement training with the birds he cares for at the zoo and in his neighborhood. It was such a good feeling knowing that Asha would be in good hands, as, if he lives up to his species he will be a bit of a challenge to say the least. Last but not least was Lola, a blue and gold macaw. Not only myself, but those who serve on the adoption committee, wish these parrots and their new caregivers the best, and as we promise for all parrots that are adopted from PEAC, we will remain available to help with any questions or problems their caregivers may end up facing. Again, this goes back to PEAC's first and most important mission, education.
Over the coarse of the last 2+ years as the director, I have worked to expand our work in Southern CA. Unfortunately, with not meeting our goal during our year-end fundraiser, much of the growth must be put on hold until the funding is available. Some of the work, though, will continue going forward. At the last advisory committee meeting, we discussed some of the issues we face with people looking to relinquish their parrots. First, we had to understand what it means to be a rescue and adoption organization versus a sanctuary. Simply put, we need to evaluate a parrot for its adoptability. As much as PEAC would like nothing more than to be able to say yes to every parrot that we get called about, that is not physically or financially possible. Many birds with, for instance, feather destructive behavior, where they have been doing it for such a long time that the feathers will just not grow back, is more than likely not very adoptable. So what do we do? Again, taking each case by case we would be willing to post the parrot with a bio on our website and Petfinder once the owner has had the bird receive a vet exam and blood work like all the parrots in our foster flock. We would also ask the owner to agree to bring the parrot to a seminar should we have a potential adopter interested in the parrot. This is one way PEAC can get exposure for the birds we are not able to physically take into our foster group. Of course, this is not for every parrot, as some birds are just not good candidates for adoption, in which case we would provide the owner with information on how to contact some sanctuaries that PEAC endorses. So to sum up our new "policy," we are still allowing people the opportunity to fill out a bird questionnaire and an at home evaluation of the parrot as the first steps in deciding if the parrot is a good candidate for being fostered. If, at the time, it is determined that the bird is a candidate, we would then let the owner know if we have an opening; and if not, we would agree to place the parrot on our website and Petfinder, and if a good candidate for fostering, on our wait list.
At the same meeting we evaluated the parrots in our foster program. Two particularly difficult parrots where discussed. It was determined that we have done everything possible starting with complete physical exam and labs and evaluations of behavior by a well respected behaviorist and animal trainer local to San Diego County. Both birds, we determined, belonged in a sanctuary and not in the PEAC foster program. As the director, I wrote letters to some of the sanctuaries that PEAC has networked with in the past. We where very pleased to hear back from the Oasis letting us know that at the end of April-beginning-of-May they would have openings for both of these parrots. The Oasis has very strict intake guidelines including an extensive list of lab work that is required. Each parrot is going to cost PEAC around $500 for the veterinary visits. Adding to that the costs of traveling, donation, and lodging to and from Arizona, the total estimate for providing these birds sanctuary is around $1500-2000. To maximize what we can take away from our visit with the Oasis, we have asked them to allow us to interview them and their staff, explaining their situation and involvement with parrot rescue. PEAC is working with Candice Thiem, a very talented film and writing professional, who has agreed at no cost to PEAC to put together several short video clips on a wide range of topics, but to also help produce a small documentary on the current issue of companion parrot over-population and all that goes along with that topic. We hope that from this point forward, we will not end up having to transfer parrots out of our foster program to sanctuaries with our more involved and detailed evaluation process.
Another change has been what once what was a suggested donation of $200 per bird being relinquished to PEAC to join its foster flock (each parrot entering the foster program costs on average $400 for complete veterinary work up) is now mandatory. In the event that the current owner states that they are not financially able to make this donation, we will then request that the owner email a letter to the director of PEAC which will then be forwarded on to the advisory committee along with any notes the director or volunteer involved may have to assist the committee in deciding to waive the fee or lessen the amount. Again since being the director, I have taken the approach that everything should be handled on a case-by-case basis and nothing is set in stone. As we teach in our seminar, though there are some similarities parrots share with their species, each parrot is an individual and may or may not have these common traits that are familiar with the species.
I often comment to the volunteers that one of the difficult things with being the director is with having to discuss financial issues, but I have come to realize over the course of my 2+ years as director that we cannot do the work we do without the support from all those who care about the plight all companion animals are in with over-population not only affecting dogs and cats but also the third most common pet in the USA, parrots. So I ask all of you who receive the newsletter to please take note of the "support PEAC" ad that we have included in this issue (and plan to have in all issues from here on out) and take just a few moments so send in even just a single dollar as with that single dollar PEAC may see a dream come true where rescue is no longer needed and all parrots are kept in safe, loving, and healthy environments. Do it now; just tear off the donation slip and mail it in with your check or credit card information. You may also go directly to Paypal and make a donation that way. Every penny we get with a donation goes directly to our work with education and the care of our foster flock.
Please feel free to contact me with any questions or comments you may have. You can either go to our website and send a message via that or drop me an email using membership@peac.org. I wish everyone a bright and happy Spring, and may all our companion parrots settle down a bit from this once again crazy breeding season.
In closing, I want to thank you for all that you already give, in both your time and finances, to our small but very important organization. We are not able to save them all, but to make a difference in one parrot's life is worth the efforts to keep PEAC up and running, so that the ones we are able to save have a chance at a wonderful new life.