Project Report

| Sep 18, 2015
PEAC 4th Quarter 2015 Report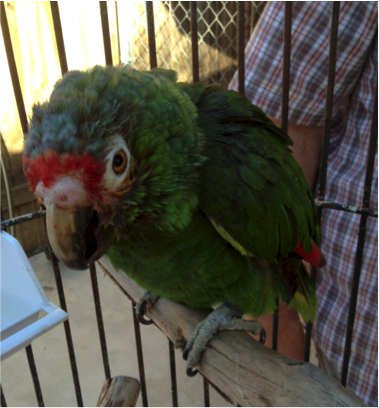 It has been a very busy and taxing summer for PEAC with some wonderful success stories that where only made possible with the donations you made and support you continue
to give to our project.
The first amazing case is that of Beanie. Beanie's story is truly remarkable…although his previous owner took Beanie to an Avian Veterinarian on multiple occasions they declined all lab work, cultures or other testing thus making a diagnosis and effective treatment plan nearly impossible. After 12 months of unsuccessful treatment with a variety of antibiotics their Veterinarian recommended euthanasia. Beanie's diet for 20 years prior to April 2014 consisted of seed, root beer and junk food
. In April 2014 his owner was advised to discontinue this diet, provide him with a pelleted diet augmented with fruits and vegetables, and fresh water. Initially, Beanie apparently ate the bird pellets well; however, in recent months he refused the pellets and was eating primarily fruit with the occasional bit of chicken or fish. He came to PEAC on 5/4/15 (Picture above was taken the day he came into PEAC) and was immediately transported to All Pets Animal Hospital for evaluation. Initial assessment yielded a grim prognosis after noting his thin, very weak condition with complete blockage of both nares and copious thick mucus in his choana – the result of a chronic severe sinus infection. Dr. Loudis recommended basic labs to evaluate organ function and cultures to determine the infective agent of his suffering. At this point, he was not optimistic that Beanie would even survive. His initial test results demonstrated poor liver function
, precipitously low blood protein levels; cultures identified his infection was due to E.coli. Not normally a disease causing bacteria this further highlighted the severity of his long standing malnutrition.
During the first two weeks of quarantine in his PEAC foster home it was clear that the mucus build up made swallowing of dry foods such as pellets extremely difficult. However, he consumed fresh bird salad (nutrient rich veggies, cooked brown rice and cooked beans), and homemade bird muffins (made with ground organic pellets, kale and pumpkin) with fervor. Beanie had been literally starving and was determined to make up for lost time! He was offered fresh foods at least 3 times per day and consumed a remarkable amount of food. After several weeks of antibiotics and frequent showers to help soften sticky mucus he no longer appeared to have difficulty swallowing and began eating bird pellets as well. Seven weeks after entering PEAC foster care, Beanie had a follow up appointment with Dr. Loudis who was astounded at the improvement in his overall appearance, 40 gram weight gain, near resolution of the swelling to both nares, and increased strength. At this point a deep nasal flush removed large amounts of secretions from deep in his sinuses. Beanie's foster volunteer learned to safely perform nasal flushing at home and continued
these twice daily for two months.
Do animals understand when we are trying to help them? Although Beanie doesn't enjoy the nasal flushing, he remains unafraid of being toweled and is one of the most sweet-natured parrots we've encountered. He steps right up after every medical procedure, solicits head scratches and is very loving towards everyone he meets. We think he knows.
Not only did we have Beanie with some serious health issues we also had another parrot that needed some serious medical attention. Yoshi, a Severe Macaw, has been in our foster program for several months and developed an abscess on his cheek. Twice he had to have it lanced, drained, and cleaned. He was prescribed two courses of antibiotics to clear up the infection.
It's often said things come in threes and this summer it did for high veterinary costs. Mia, a Moluccan Cockatoo, came back into our foster program as she developed a serious mutilation behavior and had created a wound in her chest the size of a half dollar. On exam it was found that a micro chip that had been placed years ago had migrated and had penetrated her rib cage. The Xrays not only picked up on the micro chip but also showed a very advanced case of arterial sclerosis. It is always hard to determine the cause of feather destruction behavior and mutilation. Her behavior could have been caused by either of these issues or could very well be an emotional response. Currently the wound has completely healed as you can see by the photo
and she is thriving in her foster home once again.
These three stories added up to thousands of dollars in veterinary bills for PEAC. It quickly drained our coffers and thus we launched a summer donation campain that has been sucessful in bringing PEAC back into the black and out of the red. It is only with your financial support that PEAC is able to continue its work both in education and rescue. Our attention is always on the care of the parrots that come into our organization but just like all other organizations we also can only do so much with the limited money that is available. PEAC has always stretched each penny and is so thankful to all its supports both individuals, and businesses that offer material donations or reduced fees on services.
It seems like we are always commenting on the over population problem we have with companion parrots. PEAC fields on average 5 or more calls a week from people looking to relinquish their parrot for a variety of reasons. The number of relinquishments definitely out numbers the number of qualified homes for adoption. Up and down all of CA and around the country rescue after rescue continues
to have to say we are full and until we have an adoption we can not take your parrot in. We wish people would take the time to really evaluate whether a parrot is a good idea for them as a pet. If they would have put the energy into seriously thinking about purchasing a parrot before they did so as they do with trying to find an organization to take their parrot we would definitely not have the serious issues that we currently have on hand. On television and in publications there is always talk about dog and cat shelters and rescues and how they are overwhelmed with the numbers of animals that continue to come through their doors
. Parrots unfortunately are in the same situation but get less press awareness.
I'm not sure what the solution to the problem is. I do know that PEAC does a great deal of work in educating the public as we did this summer with the reading program that sponsored us this year for the San Diego County Libraries. Children where introduced to some of our foster birds and given a coloring book
that clearly in child language spells out how difficult it is to have a parrot as a pet but it also comments on how rewarding
such an intelligent animal can be for many people., Despite the cost of aproximately $5 a book
we felt it was money well spent on educating the younger generations on the problems that surround us. It may take years for us to see the rewarding outcome of educating the younger generations but we have hope that it will pay off by having fewer parrots needing refuge with organizations like PEAC.
In conclusion I want to again thank you for your conintued support both financially and with your time. I want to thank Barbara Crouse our former director and current foster volunteer for helping to write this report and for all she continues to do to help the parrots in our area. Please take away with you after reading this report the comment make by Mother Teresa several years ago; "You can judge the morality of a nation by the way the society treats its animals."
-Mahatma Gandhi