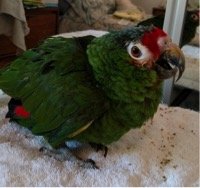 The second quarter of 2015 has proven to be busy as PEAC continues
to grow and provide services throughout Southern California. This quarter we had five siginificant events that your donations have supported.
First was the Pasadena parrot rescue. PEAC was approached by an individual whose wife had recently passed on. He was left to care for 4 macaws that he could no longer manage. On doing our intake interview, PEAC realized that these parrots were in desperate need of being rescued, as their diet was poor and unhealthy and the environment that they were found in was conducive to health problems. We later found out that these conditions had lead to all four of the parrots developing bacterial infections in thier mouths and crops. PEAC did not have the space or staff to manage four special needs macaws; we also found out during the intake interview that they were two bonded pairs and all four suffered from feather destructive behavior. PEAC reached out to Mickaboo, a parrot rescue located in the San Franscico Bay Area, and they put PEAC in touch with a private individual in Mesa, Arizona who had the ability to care for these parrots through her network of private individuals in her area. PEAC and this private individual arranged a date to meet at the Pasadena residence and she took custody of the four macaws, who then traveled to Mesa, Arizona where they received necessary veterinary care, and are finally on the mend and are doing well according to the last report we received. PEAC was able to give a donation to the Arizona individual and their vet, toward the care of these parrots.
Many times PEAC, during our intake interview of a parrot, realizes that our foster program
is not set up to meet the needs of that particular parrot. Instead of just saying, "No, we cannot help," we do offer to work on finding a location that has the ability and space to care for these special needs parrots. Over the last year, we have had three rescue candidates that where suffering from severe feather destructive behavior, and one was exhibiting mutilation behavior to his legs and feet. Best Friends Animal Society, who in the past as worked with PEAC on taking in these special needs parrots, recommended a 501(c)(3) non-profit named Macaw and Cockatoo Rescue of New Mexico, located in Albuquerque. Anna, the director, has years of experience in working with and treating birds with these serious behavioral issues. After working out the logistics, one of our volunteers and I arranged for these three parrots to be picked up by PEAC and transported to Albuquerque. PEAC was able, again, to provide a donation toward the care of these three parrots.
Bam Bam, one of the New Mexico parrots, is an umbrella cockatoo who for many years suffered with feather destructive behavior and over-vocalization behavior. She had been on Xanax for a very long time, which stopped her from producing adequate amounts of feather powder, resulting in her looking greasy and developing dark-colored skin. On arriving at the New Mexico rescue, she received a vet exam and was taken off the Xanax. Within just a couple of weeks she was once again producing powder and no longer shows any feather-destructive behavior or over-vocalization. A couple who volunteer for this rescue has, within the last year, lost their umbrella cockatoo; and they fell in love with Bam Bam. They currently are fostering her with the intent to adopt, which is wonderful news for Bam Bam.
Raine, a greenwing macaw with feather-destructive behavior and some aggression issues, also went to New Mexico. On arriving, Raine immediately did a 360-degree change in personality. She has become friendly and loves to be handled like most greenwings tend to be. Her FDB has been going on for many years so most of her feather follicles are permanently damaged and she most likely will never grow feathers back in those areas. Raine has a beautiful cage and play area at the rescue and is doing very well in her new environment.
The last parrot to go to MCRNM (the New Mexico rescue) was Gelano, a Hahn's Macaw. He twice has mutilated his feet and legs, and his former owners felt that they did not have the experience to continue
trying to treat his condition. The vet who saw him at MCRNM, after doing some diagnostic blood work, realized he was suffering from gout, which causes severe pain in his feet and legs, resulting in his mutilating behavior. The collar he had on for three months has been removed so he may once again preen himself, as he looked like a little pin cushion with un-preened new feathers on arriving there. WIth some medication, the gout is clearing up and he shows no further evidence of self-mutilation. He is a sweet little guy who, again, is doing well in his new environment.
At home within PEAC, your donations have helped with veterinary costs associated with two very sick parrots that are in our foster program. Beanie, an Amazon parrot, was relinquished to PEAC after her owners had exhausted all finanical means in treating her chronic sinus
infection. On taking custody of Beanie we realized how serious the issue was, as she was lethargic with lots of discharge from her nares and just looked very sad and sick. After several nasal flushes and courses of antibiotics, she is now on the mend and showing lots of progress. At one time we thought we may have to have surgery performed to remove the infection within her sinus cavites, but it looks like she is pulling through without having to go that route. We hope and have our fingers crossed that she will continue to heal, as she has a wonderful spirit to survive, and we truly believe that attitude is what has helped her pull through this serious illness.
Another parrot that recently had serious vet bills was Yoshi, our Severe Macaw who has just been adopted and will soon be going to his new home. After being in the foster program for a short time, his foster volunteer noticed what at first looked like a rupured airsac. It turned out to be a serious abscess. Twice Yoshi had to have it lanced and drained with some intensive hands-on followup treatment at home. The home treatment included flushing the wound daily and applying medication to the area, as well as oral antibiotics. Yoshi, with his wonderful personality, was such an easy patient, his foster volunteer stated. We are so happy that he has found his new home and we wish him and his new caregivers the best.
A few months ago, PEAC participated in the America's Family Pet Expo that was held at the Orange County Fairgrounds. The attendance was amazing. This was the first year we had a triple-sized booth space, which really worked well for showcasing the parrots, our parrot painting raffle, and our information tables. Our volunteers did an amazing job answering questions from the public and working with the foster parrots. A young girl who donated two dollars for two raffle tickets
won the raffle and her mom sent us a video of the day she received her painting. It was a special weekend and still remains the main event for PEAC each year.
PEAC also was asked to participate in the Pirate Days at the San Diego Maritime Museum. The first day was a bit slow as the weather was not very inviting for an outside event. The second day was a huge success and many children ended the treasure hunt at our little hut with the parrots. As with any issue at hand if we start with educating
the younger generations, the chances are we will have some solutions to the problems we are facing. This is why this quarter PEAC has agreed to participate in several children-oriented events.
PEAC continues
to do its outreach events at the Petco stores in Temecula and San Diego once a month. This gives us exposure to the general public and raises interest in companion parrots. It also gives our foster parrots a great opportunity to be socialized in a different environment, as socializing our foster birds is very important in the rehabilitation process with those that have some behavioral issues.
Finally, this quarter PEAC was chosen as the sponsored non-profit for the San Diego County Library System summer reading program. With your donations, PEAC was able to purchase coloring books that tell a story about the proper care of companion parrots. The book was intended for children under the age of 12 and at the kickoff event for the reading program we where able to hand out 60 coloring books to the children who attended. Since we were chosen for the reading program, PEAC has also been invited to give a talk that covers the endangerment issues that surrond the wild parrots of the world but also touches on the opposite situation in our country, the over-population problem with companion parrots. We currently have 4 libraries that have asked us to do this presenation at their locations, which will give PEAC a wonderful opportunity to educate
the public on all issues surrounding parrots, as we all understand that education is the first step in finding a solution to the problem that parrots are facing.
PEAC continues to grow, which, in addition to the good, unfortuntely also translates into more expenses. This July we will be starting our second fundraiser of the year, so please look for your letter in the mail to participate in this fundraising drive. Without your continued
support, we could not do the work we do and would not have the means to help find a solution to the overpopulation problem facing our beloved companion parrots.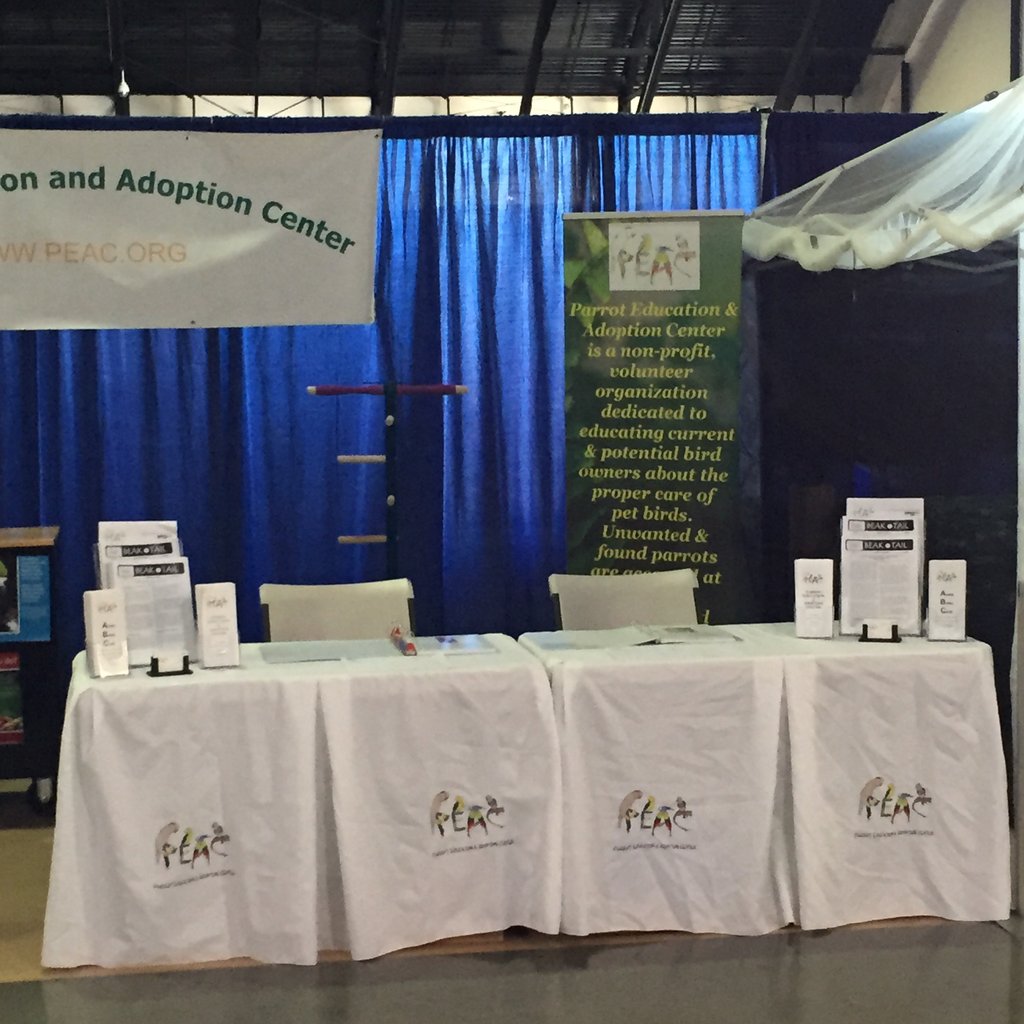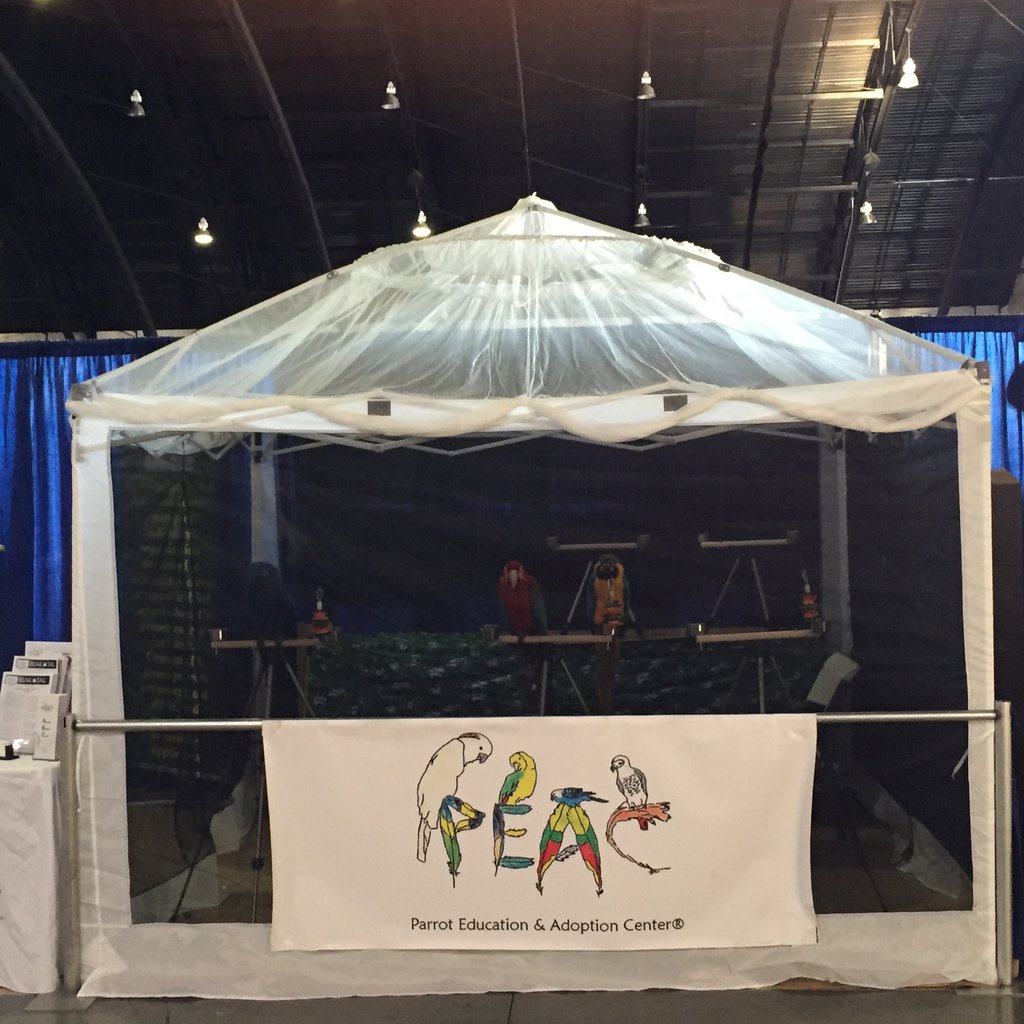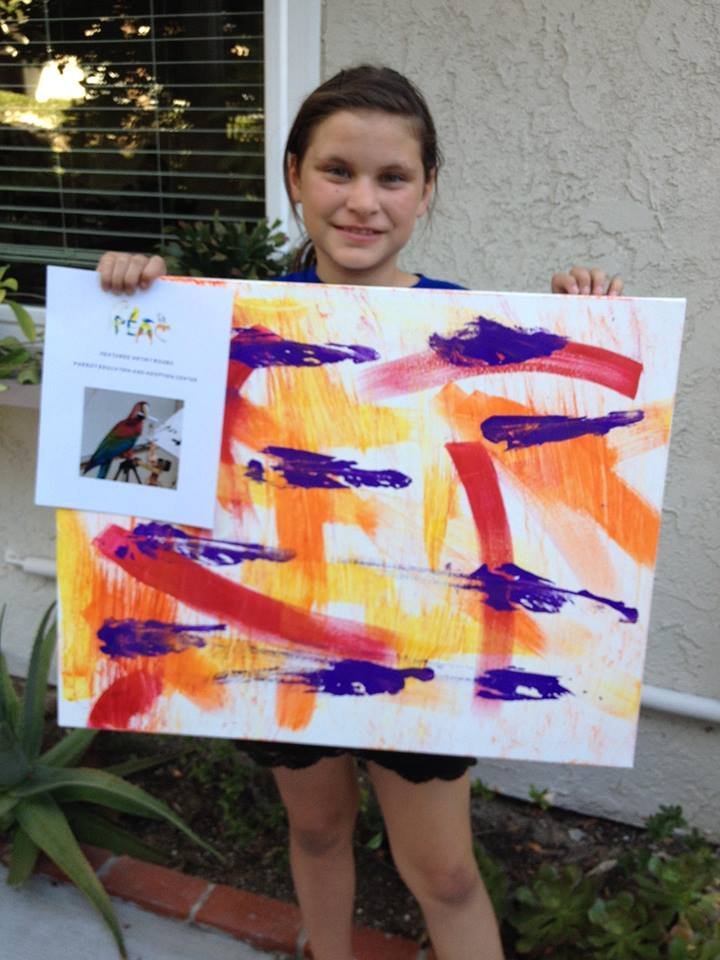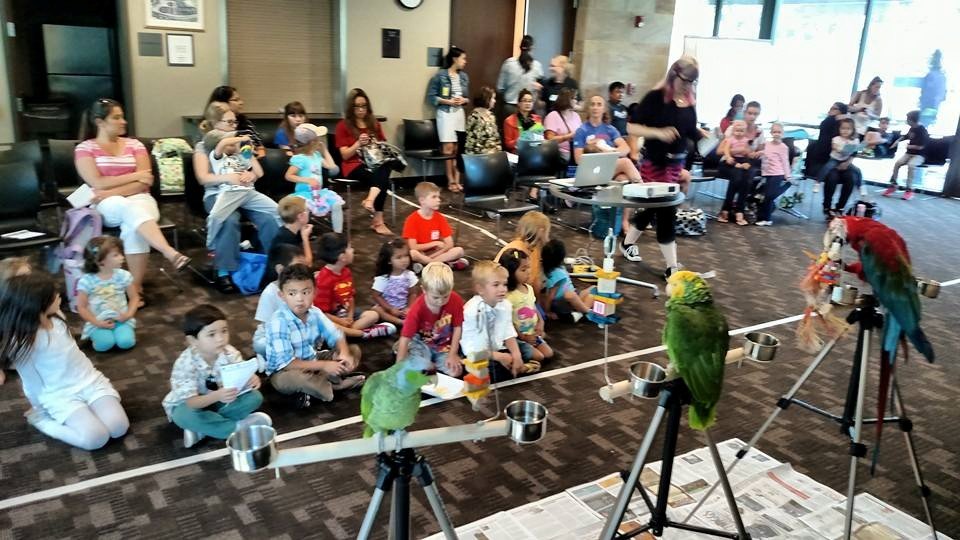 Links: