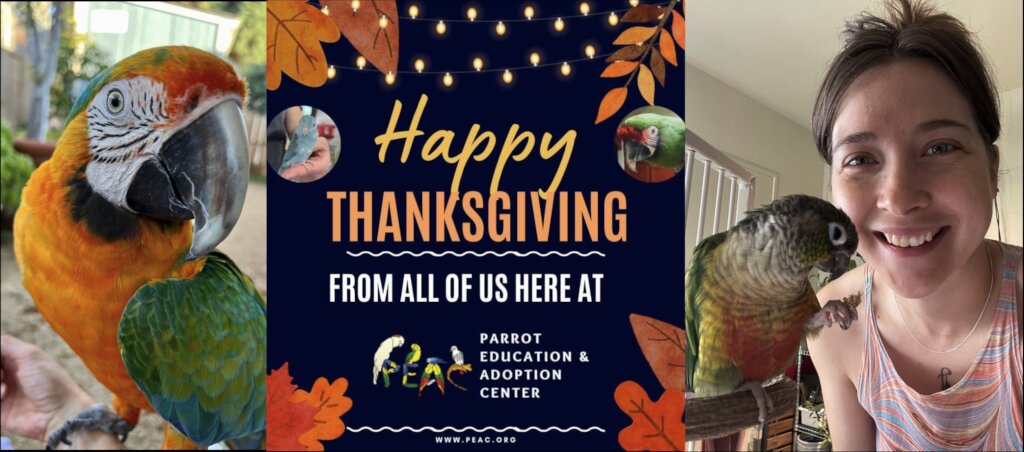 Dear Friends and Supporters,
On behalf of all our volunteers - we are THANKFUL for your support and the "second chances" you have provided to our adoptive parrots.
We hope you had a wonderful Thanksgiving and will enjoy this update which includes an article about foraging!
Upcoming events!
Friday, December 2nd, our volunteers will be at Vegan in San Diego's Holiday Fair from 5:00 pm to 9:00 pm at 5500 Grossmont Center Drive, La Mesa, next to Barnes & Noble.
Our foster parrots will be home getting ready for bed but stop by our table to say hello to our volunteers and learn more about our programs. This free event will be part of the First Friday Night Market at Grossmont Center. PEAC will be one of several beneficiary organizations, and we're accepting donations of parrot food, nuts, or toys for our foster flock. It will be a festive evening with music, food, and fun!
Tuesday, November 29th is Giving Tuesday!
This global day of celebration focuses on giving back to our communities, and for PEAC, it's the kick-off of our once-a-year fundraising campaign. Every year our goal is to cover the veterinary costs and care for our adoptable parrot program, which has helped rehome many companion parrots into educated and loving households.
For 24 hours, starting at 9:00 pm (Pacific time) on Monday, November 28th, through 9:00 pm Tuesday, November 29th, GlobalGiving will award $1,200,000 in bonus money to projects like ours. The more you give, the more they will match!
Your caring and kindness for our flock make PEAC successful in rehoming parrots and educating our community. We could not do any of this without YOU.
Success stories!
Since our last newsletter, seven more parrots have found new families and will share their first holiday season with them! Congratulations to Buddy (male, African grey,) Skye (male, Indian Ringneck,) Riney (male, Red-headed amazon,) Maria (male, Yellow-naped amazon,) Copi (male, Catalina macaw,) Pastorita (male, Greencheek conure,) and Shiloh (male, African grey.) Some of their adoption photos are sprinkled throughout the newsletter.
Additionally, we felt that Poncho (a 42-year-old, Double yellow-headed amazon) would do best in a long-term sanctuary and are so grateful to SoCal Parrot in Jamul, California, for stepping up to provide him a home (and one filled with many new parrot friends!)
Get Nerdy with Us - Foraging for Companion Parrots
I want to introduce one of our newest volunteers, Dr. Stephanie Rosenbloom, who has written the following article about the importance of foraging activities for our companion parrots. Dr. Rosenbloom received her Ph.D. in Chemistry from Cornell University and co-founded the Nerdy Bird Collective. She advocates for seeking knowledge from evidence-based sources and believes in the benefit of asking more questions and giving others the benefit of the doubt. You can follow Stephanie's journey with her Alexandrine parrot, Petrie, on Instagram (he's adorable!) We will share her recommended links and sources from this article via our "linktree" at the end of this newsletter. On with the foraging (and nerdy) fun!
Why is foraging so important?
In the wild, parrots aren't simply provided food—they spend hours actively searching for it! The act of searching for and finding food is referred to as foraging, and in some parrot species, it can constitute up to 75% of their day. That said, just because something is a certain way in the wild does not mean it's the ideal situation, nor does it mean that it needs to be that way in captivity. For example, parrots encounter variable weather and predators in the wild, but we as companion parrot owners aren't exactly in a rush to incorporate these aspects of the wild into our parrots' lives! So, where does this leave us with foraging?
It is important to keep in mind that pet parrots are, for the most part, only a few generations removed from the wild. This is in stark contrast to other commonly kept animals, like dogs and cattle, having been domesticated over the course of thousands of years. Parrots are at the end of the day challenging animals to live with, in part because they act on their wild instincts (such as flying to the top of curtain rods to chew on window frames). It is not unreasonable then to assume that providing our birds with opportunities to engage in natural behaviors is not only beneficial, but possibly necessary. There even exists some scientific evidence for this! For example, parrots will choose to work for their food even when the same food is freely available, a behavior called contrafreeloading. Parrots have demonstrated contrafreeloading in numerous studies, which suggests that the actual act of foraging (and not just the result of getting food) is a behavioral need amongst parrots, including those raised in captivity.
Another indication of the necessity of foraging is the observation of reduced "problem behaviors," such as excessive screaming or feather picking, when foraging opportunities are introduced. Though there are many factors that can contribute to such behaviors, the tendency for foraging to reduce their prevalence suggests that foraging plays a critical role in the psychological wellbeing of our birds. There are many other benefits of foraging, as well. For example, foraging can be physically challenging and thus increase physical activity levels, which is especially beneficial for clipped birds or other birds that for one reason or another may not fly. Even for birds that are flighted, there are potential physical benefits of foraging, such as increased grip strength. Foraging also provides an easy avenue to introduce your parrot to new things! With my own parrot, I noticed both an increase in grip strength and comfort around unfamiliar objects only a few days after I began actively encouraging foraging.
Foraging opportunities come in many shapes and sizes, ranging from complex puzzle toys to simply covering a bowl of food with paper. Several parrot toy companies make toys specifically designed to encourage foraging, and there are many different textures to choose from. My personal favorites are toys from Planet Pleasures and parrotJOY (in our linktree). DIY foraging options are also great, just be sure to only use parrot-safe materials. Keep in mind that although foraging is a natural activity for our parrots, they may need to be introduced to it. Set yourself up for success by starting off easy and then slowly increasing difficulty. A favorite starting point of mine involves showing your bird a treat inside of a bowl, covering their food bowl with a piece of paper, and then allowing your bird to interact with the covered bowl. It's also good to keep in mind that easier challenges can be equally as successful for experienced foragers! For example, filling a clean paper egg carton with foraging stuffers (like crinkle paper, pinecones, and so on) and sprinkling some treats throughout isn't the most challenging foraging set up, but it is a crowd pleaser! As always, whenever you introduce your bird to something new, observe their behavior to make sure they are engaging in a safe way. Happy foraging!
Thank you Stephanie! We've included some photos of our volunteers during a summer party, crafting foraging toys (and the results,) to get those creative juices flowing.
Once again, during this season of giving thanks, we are deeply thankful for YOU and your support of PEAC's mission and programs!
With gratitude,
Kelly Flynn, President, Parrot Education and Adoption Center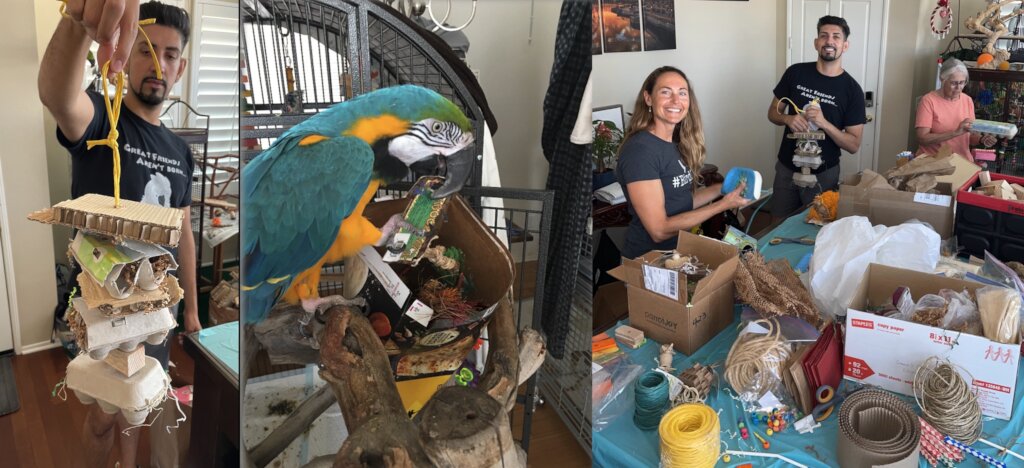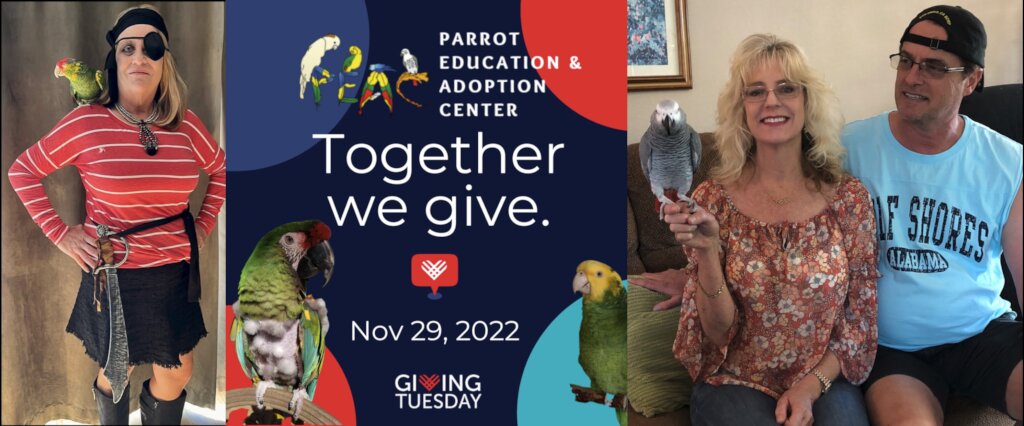 Links: