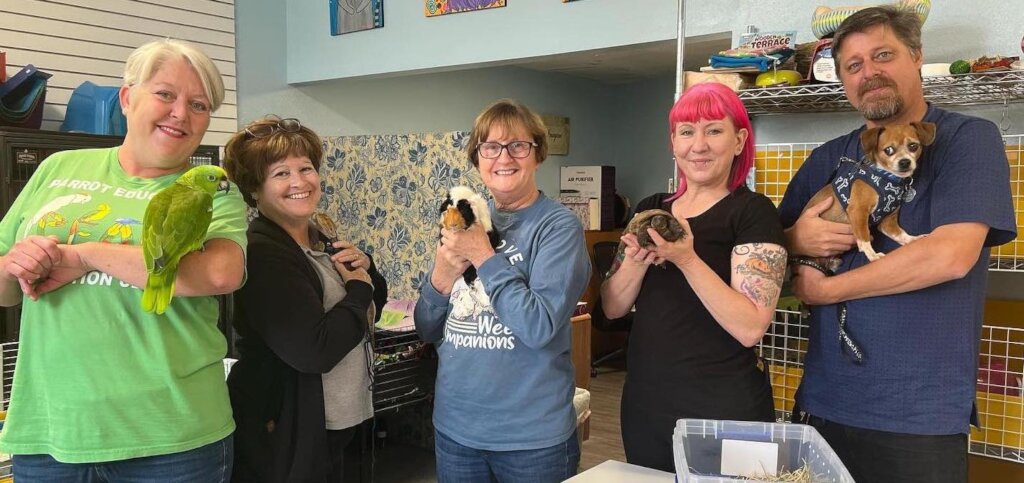 Dear Members and Friends of PEAC,
Did you catch PEAC's Paulina the Amazon Parrot on TV?!
NBC San Diego's "Down To Earth" Segment with Dagmar Midcap
Last week, PEAC was thrilled to join other local pet rescues Wee Companions, San Diego Small Breed Rescue of Southern California (who also re-home reptiles,) and Animal Bond Academy to appear on "Down to Earth" with Dagmar Midcap on San Diego's NBC 6 pm news! Todd Strain interviewed PEAC board member Beth Lipski who brought adoptable parrot "Paulina" to meet and greet.
Our biggest message (which was echoed by the other rescues,) is that our greatest need is for volunteers, especially those who are willing to foster an adoptable parrot. Did you know that May is "National Foster a Pet" month? So now is a perfect time!
Todd, Dagmar & NBC did a great job with their reporting and all the rescues and animals were wonderful:
Just CLICK THIS LINK to watch the recording!
We've also placed the story as the top-click on our link tree HERE!
Celebrating National Volunteer Week!
You may not be aware, but PEAC is run on 100% "volunteer power!" Everyone who fosters our parrots in their own homes, takes them back and forth to veterinary exams, feeds and cleans up after them, attends educational classes and meetings, and spends their free time engaging the public and answering questions about parrot care at the events we attend, is a volunteer! (Whew, that was a mouthful, but they really do it all!)
Should you encounter one of these extraordinary people in the wild, please share a hug or pat on the back for the services they perform. And…if any of this sounds like fun, please join us! We always need help with social media, office administrative duties, foster care, and educational outreach programs. You can help out as much or as little as you like! Visit our website to learn more and use the "Contact Us" form. Or say hi on any of our social media profiles - we can't wait to meet you!
Meet 3 Parrots Who Still Need a Loving Home
PEAC has 9 parrots who are currently available for adoption. You can find all their bios and photos at peac.petfinder.com. Meet the three we're featuring this month!
Garcon, is a charming 40-year-old DNA-sexed male Blue-fronted Amazon. He was in the same home for 36 years and his owners were devastated when health issues forced them to relinquish him to PEAC. He talks and babbles throughout the day including such expressions as "Helloo, Garcon", "Hi", "Whatcha doing?", "I love you" and so on. He takes a few days to warm up to new people like most parrots. He has learned about a pelleted diet and we're also busy teaching him about foraging for his pellets. He is very people-oriented and just wants to hang out with his human flock. He seems to pay little attention to the other Amazons in his foster home. Do you have room in your heart for this little guy?
Kermit, is a 20-year-old female Military Macaw. Having been in only two homes, Kermit really enjoys hanging out on her play-stand during the day, chewing up wood toys, and has shown a preference for women. Just like any parrot, she likes to be a part of your phone conversations! Some of her favorite words are, "Hello, Kermit, and come here." Being a silly girl, she also mixes up the words "cracker" and "Aflack" to "Aflaker!" Once Kermit gets to know you, she is a big lover and loves to just sit on your arm. Kermit is known to do well with children and other animals but prefers other companion birds to keep their distance. Do you have room in your heart and home for this precious little girl?!
Paulina, is a female Yellow-naped Amazon who is in her early to mid-20s. She was in her last home for 15 years and speaks a little Vietnamese and Spanish. When you get her going, she is a hoot and says things like, "Hello Paulie!", "How are you?", "Okay," "Okay, bye," "Who loves you Paulie?", and a children's cry that turns into a devilish laugh! Paulina is a hearty eater and went from peanuts, corn, and celery to fresh chop and Nutriberries. Given her previous diet, she's a bit on the heavier side and her foster mom is working hard on helping her lose weight by loads of foraging.
Paulina has had some damage to her toes and is missing three toenails. As a result, she does not grip well and needs someone with steady hands. She can navigate her cage well but will need her next person to make some accommodations to make things a bit easier for her. She also enjoys showering with her person, just sitting on an arm, mumbling sweet nothings, and head scratches (on her terms). Will you be the next person to give this sweet girl all the love she deserves?
Adoptions are Springing-Up!
So far in 2022, we've had seven adoptions! Diva, Austin, Sarge, and Smokey Joe (all Congo African Greys,) Pappy a Double Yellow-headed Amazon (who now has a best-buddy "Norton,") Bandit, a Lilac-crowned Amazon, and Lucky, a Greenwing macaw. We've compiled a group shot of our graduates below.
It is always hard to see them leave but knowing that they are with a person or family who took the time to educate themselves and work through our process, makes it a little easier. Congratulations to everyone!
We love staying in contact with our adopters and watching their relationships deepen and grow over time. Often, we are sent pictures, videos or get to follow their social media updates. Last year, Rocky, our 50-year-old Blue and Gold macaw was adopted. He is quite the character and loves saying "Rock rock" in the cutest voice!
His dad added a new nickname for him: "Rockcardo" and we wanted to share their latest picture as our parting shot. The joy they share really sums up what keeps us going.
Thank you for supporting PEAC and making such a huge difference in our birds' lives!
With deepest gratitude,

Kelly Flynn, President, Parrot Education and Adoption Center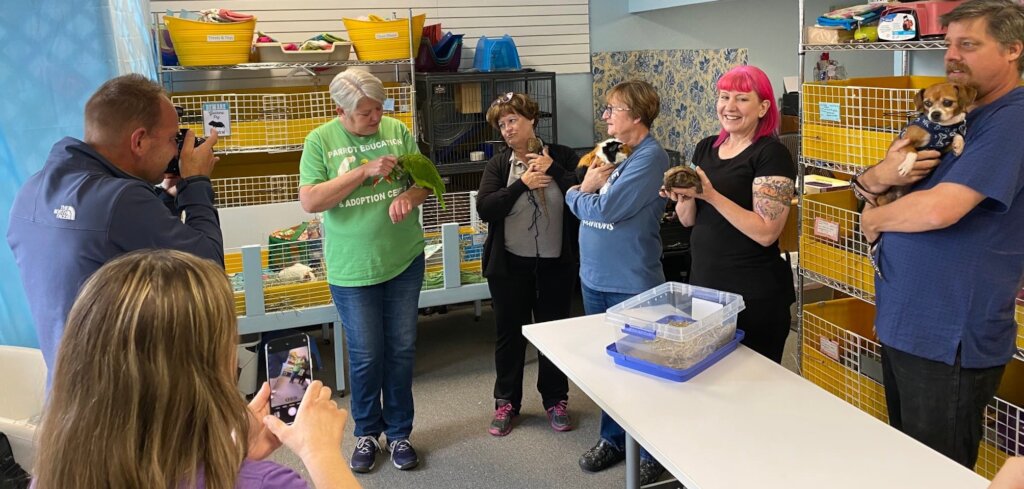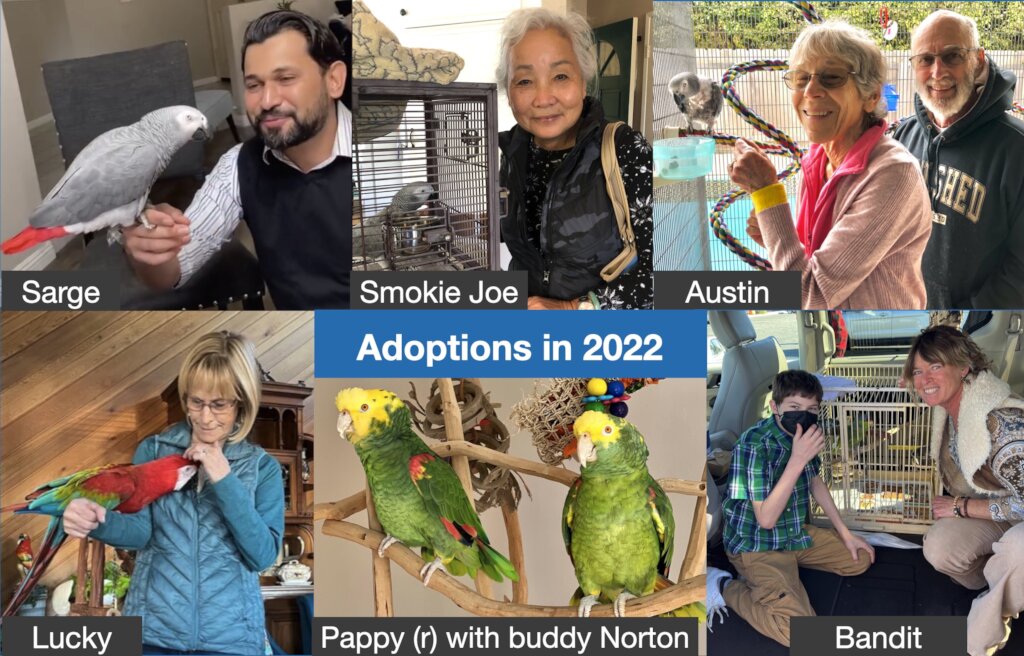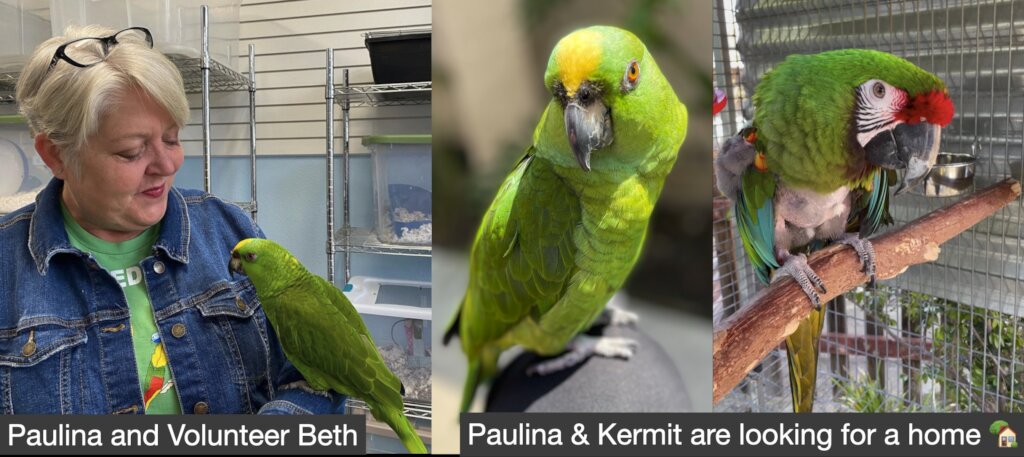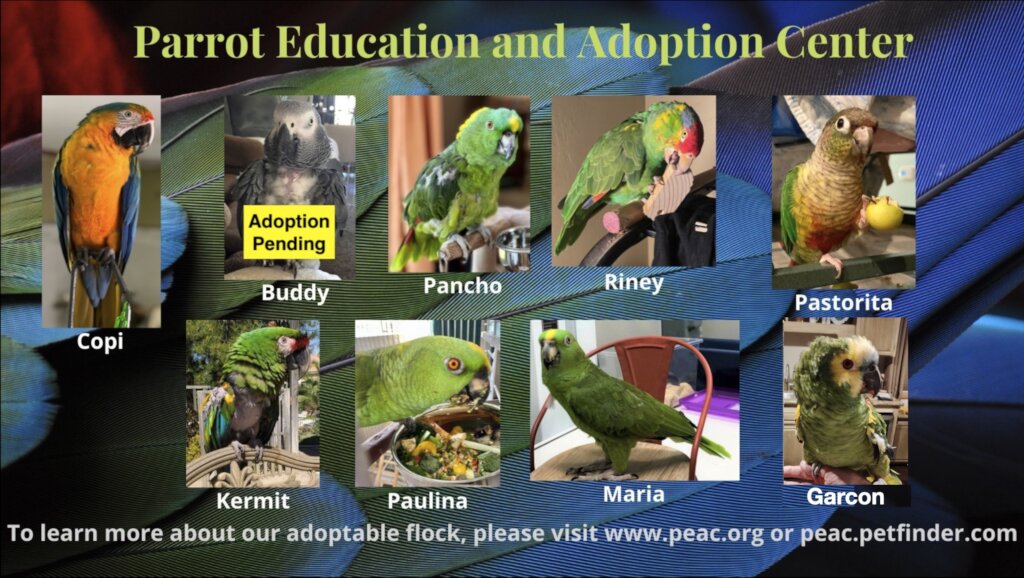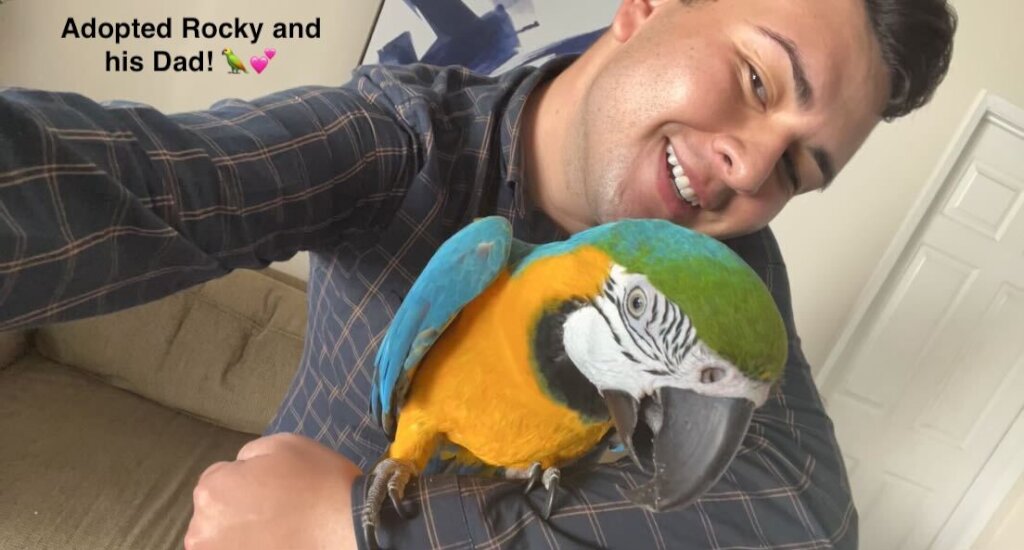 Links: