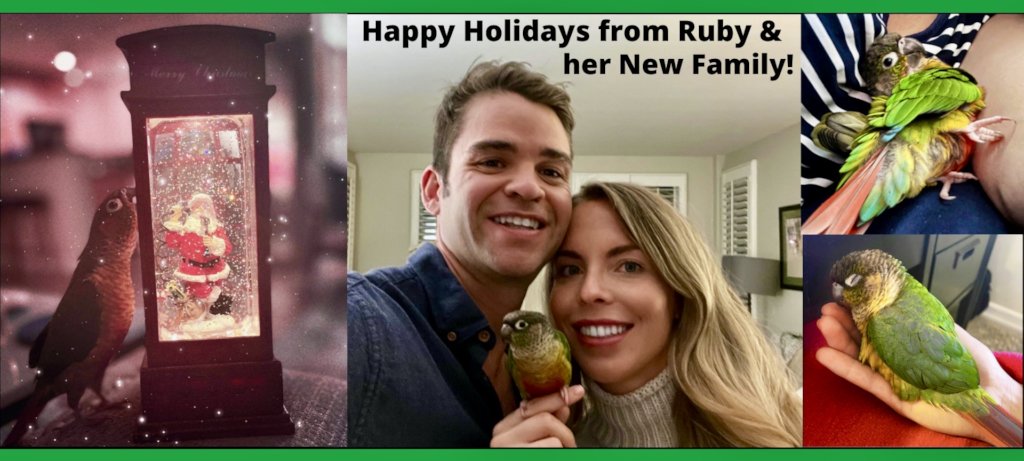 Dear Members, Supporters, and Friends,
First a heartfelt THANK YOU to all who have donated during our year-end campaign or who regularly contribute to support PEAC. We can't thank you enough for your generosity; YOU are what makes PEAC able to continue the work we've done for over 24 years. We're honored by your giving and trust.
Time is running out for last-minute contributions should you wish to make a gift or renew your membership by the end of the year. We are still several thousand dollars away from our year-end goal to keep PEAC and our work going.
If you are in a position to help financially, please know that the CARES Act makes charitable gifts entirely tax-deductible, even for taxpayers who do not itemize their deductions. And many employers have ramped up charity donations through their "employee matching programs." Ask your human resources department if there is an opportunity for your company's generosity to benefit our parrots either this year or for the next! A donation of any size will always be gratefully welcomed.
However, we know this is a difficult time for many families, so there are other ways to help PEAC besides a financial gift and that is by spreading the word about PEAC to your friends and family! Let everyone know about the work we do and the classes we have coming up in the new year!
SHARE one of PEAC's adoptable parrot profiles in your community or on social media, forward this newsletter to a friend, or tell us your story about parrot adoption, and don't forget to tag it with #PEACsandiego. Eighty percent of individuals are influenced to take action by a peer's suggestion on social media – YOUR VOICE makes a difference, and together we are an unstoppable force for parrot rescue and education!
Don't forget to follow us on @peacsandiego (Twitter,) @peac_sandiego (Instagram,) and @peac.org (Facebook,) – all of our adoptable parrot profiles are available at peac.petfinder.com, just click on "view our pets".
Thank you for being a voice for our adoptable parrots!
Lucky # 17 = Ruby was Adopted!
I bet you've been wondering how we got to seventeen parrot adoptions this year… Here is our special surprise: Ruby was adopted! This sassy Green-cheek conure is being spoiled by her new mom and dad, Cait and Doug, and they sent us some adorable pictures we hope you enjoy.
Because of our members and supporters, you have changed the lives of Skye, Tiki, Winnie, Baby Lou, Amos, Pierre, Carmen, Twiggy, Picasso, Crackle, Mango, Albert, Hobbes, Masuru, Georgie, Arthur, and Ruby - who were all cared for, loved and rehomed this year thanks to you!
Congratulations on helping EVEN MORE parrots find a home this year than last year!
A Special Thank you to The Purring Parrot!
For those of us lucky enough to live in San Diego, you are probably familiar with "The Purring Parrot" in Mission Valley. They specialize in boarding parrots and cats, each in their own enclosed and fully customized and temperature-controlled areas. Many of the areas are 'themed' to reflect fun locations (Paris! Egypt!) and the staff love to provide enrichment and exercise throughout the day for their charges. Additionally, they keep a good supply of toys and toy-making parts/pieces for sale, food, and just about anything a parrot needs. (All the crazy bits and bops of the toy-making area have to be seen to be believed! Every time I visit, I find something new to entertain my picky macaw and never leave empty-handed – Kelly.)
Throughout the years, The Purring Parrot has constantly supported PEAC by donating supplies and multiple cages of all sizes to our parrots, including another two just this past weekend. I truly don't think we've done enough to say "thank you" to Maria and her skilled team who have never forgotten us. Thank you all!
Have a Holly Jolly Holiday!
We are excited to continue into our 25th year of serving our community, and we hope you will join us to help even more parrots and parrot owners in 2021! Our monthly classes (via Zoom) start January 30th, and you can sign up at PEAC.org!
Wishing you and your family health and happiness in the New Year,
Kelly Flynn, President, Parrot Education and Adoption Center