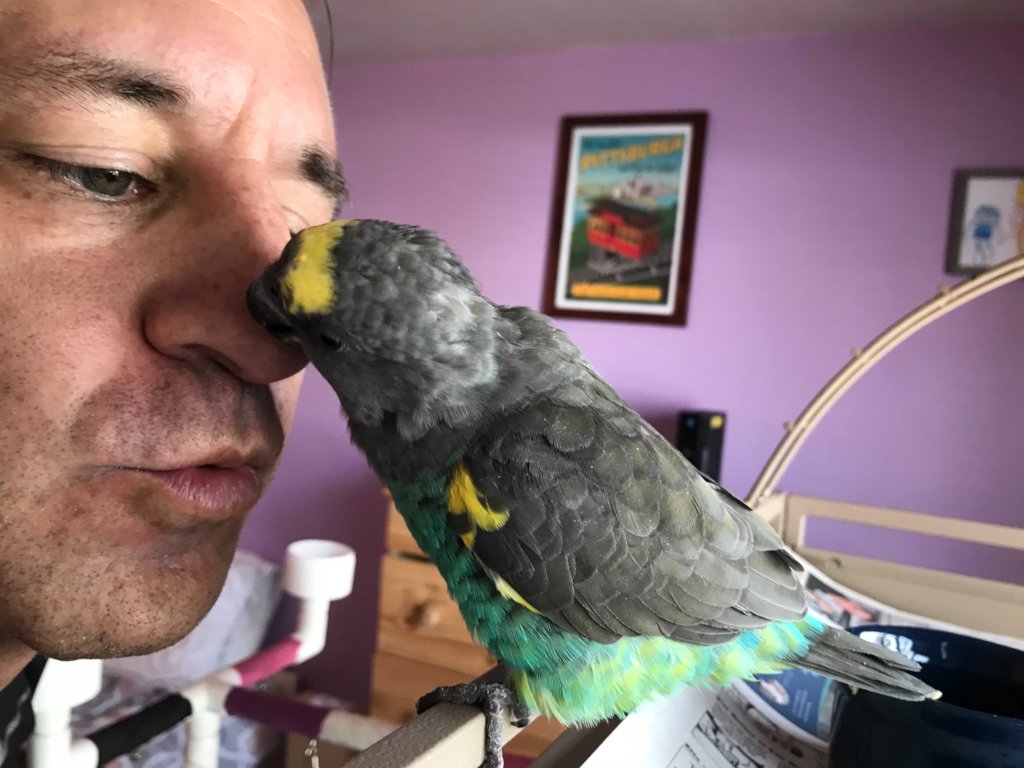 Dear Supporters and Friends,

This Thanksgiving, whether you share a meal with your loved ones at the table, or share a laugh and toast with them over the phone, we want you to know how thankful we are for YOU.
Your compassion and continued support for PEAC, even through this challenging year, has made all the difference to our adoptable parrots. And I think the best way to really show you how, is to let Carey -- who adopted a Meyer's parrot, "Conner" from PEAC last November -- tell you her story. (Spoiler alert: Carey is also one of our newest volunteers!)
Conner's Story by her Adopted Mom, Carey:
"When asked to write something about Conner, who we adopted from PEAC last year, I jumped at the chance. She is such a special little girl, and Keith and I can't gush enough about her! Conner has been the perfect addition to our rescue family, which also includes Lola, the Camelot Macaw, and two pitties, Rupee and Nalu.
Conner is so much fun to be around. She is a tiny girl with a huge personality, full of sass and humor. Conner's favorite activities include preening her dad (Keith), pigging out on healthy foods, and chewing lots and lots of wood, toy shoes and corks. Thank goodness we have a few friends who kindly sacrifice and drink wine just to donate the corks to her! We like to keep it classy here, so she has learned to blow spectacular raspberries, which never gets old, and makes us giggle every day. We celebrated Conner's 21st birthday in July and are looking forward to many more!
I was so impressed with PEAC during the adoption process that I decided I wanted to become a volunteer. Yes, it is a lengthy adoption process, but making a commitment to become your bird's staff (chop veggies, clean, cook, clean, entertain, clean) should be a very educated decision.
The foster care these birds get is absolutely incredible. We owe a huge thank you to Conner's foster parents who really helped her bloom, from a neglected and cage-bound bird to a completely interactive family member with her own aviary, play gym, and a cage for essentially only sleeping.
I'm honored to be a part of such a caring, knowledgeable group who are doing such wonderful things for parrots in need." – Carey N.,
Conner wasn't just "lucky" in finding Carey and Keith's loving home. Each step of her journey was hard work that could not have happened without your support.
Thank you for giving Conner her "Happily Ever After!"
P.S. You haven't just helped Conner – you helped SEVENTEEN parrots find new homes so far this year!
Stay tuned for Giving Tuesday on December 1st to learn about your latest impact!
I hope you are able to spend meaningful time with your loved ones this Thanksgiving, no matter where they are or whether furred, feathered or scaled! (smile)
With deep gratitude,
Kelly Flynn, President, Parrot Education and Adoption Center