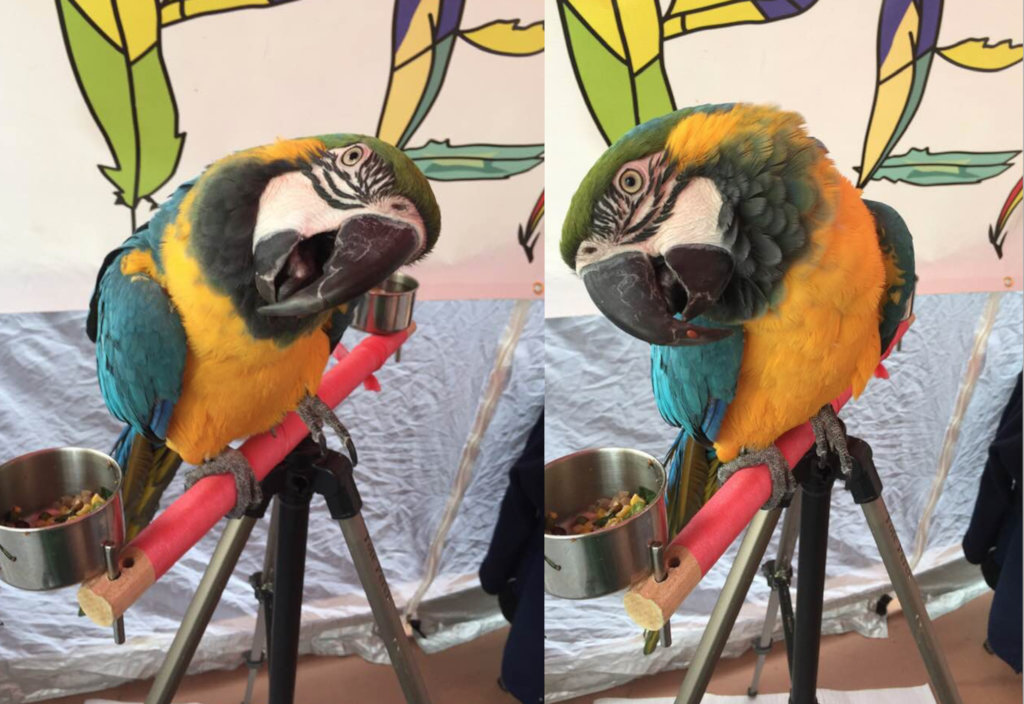 PEAC Celebrations and Paw-tys!
First a heartfelt THANK YOU to all who have donated or regularly contribute to support PEAC. We can't thank you enough for your generosity; YOU are what makes PEAC able to continue the work we've done for over 23 years. We're honored by your giving and trust.
Time is running out for last-minute contributions should you wish to make a gift before the end of the year or renew your membership.
We are excited to continue into our 24th year of serving our community, and we hope you will join us to help even more parrots and parrot owners in 2020!
KUSI Appearance for Traci's Paws "Paw-ty" Fundraiser
Did you catch our new celebrities on KUSI? If not, we included some fun photos. Volunteers Carrie, Michelle and Beth joined hosts Elizabeth Alvarez and Sandie Lampe for her Pet Patrol segment! Avian veterinarian Dr. Jeff Jenkins (Avian & Exotic Animal Hospital,) discussed parrots' unique needs and care, while Traci from Traci's Paws shared all the details of her "Paw-ty" fundraiser to benefit PEAC!
Our adoptable Blue & Gold macaws Carmen, Albert and Picasso were complete pros… except every time the camera would try and show a close up of their beautiful faces, they would turn at the last minute and show the back of their head instead! Ha ha! (#birdpranks) We want to thank everyone at KUSI for letting us take over the green room for a little while (three macaws take up a lot of space!) and Sandie, Elizabeth, Traci and Dr. Jenkins for their incredible professionalism and allowing our birds to shine. We appreciated having the chance to discuss parrot adoption and showcase our wonderful birds to all of San Diego County.
Traci's Paws Fundraiser for PEAC!
Last Sunday had our event booth surrounded by the cutest doggies (and their peoples!) in costume as part of Traci's Paws "Paw-ty" Fundraiser for PEAC at the Laurel Street Dog Wash. Many participants dressed up in holiday-themed outfits as part of the fundraising contest and dropped off bags of food, toys and gift cards for our adoptable parrots! Thank you donors and Traci for this amazing event! All our parrots got a little extra "sumthin" in their four-toed stockings thanks to your gifts.
And we have to mention Mike of Jungle Toys who sent two big boxes of toys via sleigh for all our birds on Christmas eve! We know who the real Santa is - Thank you Mike and Jungle Toys for your generosity!
Parrot Sponsorship
A lovely donor inquired about sponsoring adoptable Green-cheek conure Tiki as a gift for the holidays and our media-pro volunteer Leandra quickly responded by making an adorable certificate to honor the occasion! If you're interested in sponsoring any of our parrots, just drop us a note and we'll get her right on the project.
Love playing games on your phone?
So do we! And we're kinda addicted to the cutest game called "Too Many Birds" which you can download from the Google Play or Amazon Game Store. The developer not only included information about each parrot species but also parrot charities including PEAC! Each bird in the game comes with its own bio, so you can learn how big it is, where it comes from, what it eats, what kind of personality they have, if they are endangered and more. Name your bird and solve puzzles to win levels and items to care for your bird. Learn more at toomanybirds.com! Special thanks to developer MaddieMichael for featuring parrot charities, including PEAC, in their game and drawing attention to parrot adoption as an option!
Keep following us on social media for all the latest videos, photos and news about our upcoming classes and parrots available for adoption.
We'll have one more issue and update headed your way before the end of the year, so stay tuned!
With gratitude,
Kelly Flynn, President, Parrot Education and Adoption Center