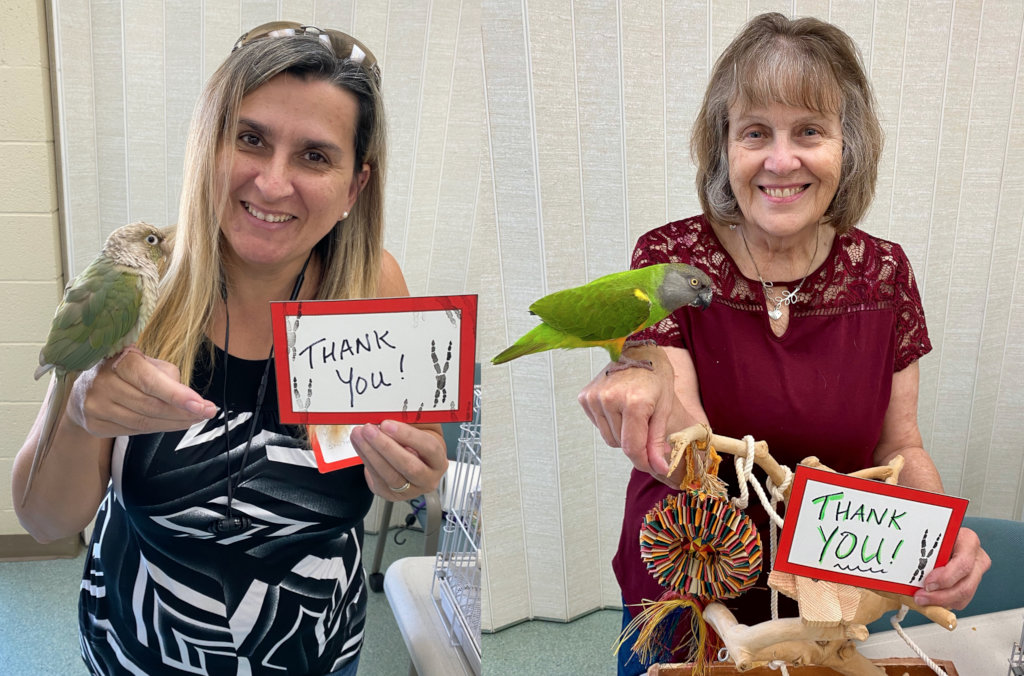 Dear Members,

For Tuesday's national day of giving, we wanted to take a moment to express our gratitude to our many donors, volunteers, and supporters and give our thanks to you.
Through your support, 12 parrots have found homes so far this year, and on their behalf, (Lance, Sunny, Mango (Alexandrine,) Kiwi, Ollie, Elvis, Ruby, Lucy (Alexandrine,) Polo, Conner, Buddy and Rico,) we share our deepest gratitude for making such a difference in their lives! You were there when they needed someone the most and helped them transition to a new safe and loving home. "Change" isn't easy for anyone but you helped ease their uncertainty and provided for the medical and physical care they needed.
Your compassion and support for our parrots didn't stop there and neither did the adoptions! Baby, who had been with PEAC for 3 years, was transferred to Best Friends Parrot Garden where he met the nicest family and was adopted by them! (Yay!)
And still, you kept going (!!) because we also wish to thank you on behalf of Sammy, a 15-year-old cockatiel who came in along with Amos this year as a "cage-mate" and companion. We honestly haven't mentioned Sammy before, because his health has been so poor, we weren't sure how long he would be with us. Your support has provided for his veterinarian visits and Sammy has responded well. He is comfortable, and solicits head scritches, and has surprised us all with his tenacity. I know he would want to thank you for your warmth and generosity!
Did your support slow down then? Nope! Because so many of you volunteered to help with our events, we were able to attend 8 adoption fairs this year and teach 12 educational classes (that's over 552 donated hours, not counting driving!) So for each of you who helped to set up our tents, drive our parrots back and forth, and still enthusiastically answer all the questions of curious onlookers - we thank you! Your involvement allows us to reach so many individuals in our community and for that we are grateful.
But - still - you didn't stop there either. Some of you chose to open your homes and hearts to our foster birds themselves, catering to each unique personality and helping them feel more confident each day. You encourage them with healthy activities and diets and prepare yourself to do the hardest thing ever: to let them go to their forever homes when they're ready. We are truly honored by your service and dedication.
Though I'm starting to wonder if you're really the "Energizer Bunny" because you - still - kept - going! You shared our social media posts and newsletters, and sent our parrots donations of nuts and toys! You told your friends that they should come to our educational classes and choose to adopt a parrot! You left our brochures with businesses in your neighborhood and had your office or coworkers match your donations - Wow!
I'm not sure if "thank you" is a big enough word for the support EACH of you has provided for PEAC, but it is the closest thing I can put on this electronic paper to express our gratitude since we just can't reach through and hug you directly.
Wouldn't that be great if we *could* just reach through and hug each of you directly?! Ok, everyone: close your eyes, and I'll put one right here: ~ ~ ~ ~ And if you ever see us at an event or in person, please come by and collect it in person.
"Giving is not just about making a donation. It's about making a difference." (Kathy Calvin.)
And what a difference you have made! Bless you, for hearing our call and for responding. By taking action and helping our parrots, you have made such a difference in their lives, in our community and in the lives of our community member's parrots…
…AND in each of our lives too because there is no better feeling than knowing someone always has your back. Thank you.
Happy Giving (Thanks) Tuesday!
With gratitude, Kelly Flynn, President, Parrot Education and Adoption Center
P.S. Last year, our veterinarian bills alone totaled just under $8,000. Which is almost exactly how much was raised during 2018's Year-End campaign. Did you know that Global Giving will match 100% of your first month's gift for all new regular monthly donors? It's a great way to provide for our parrot's medical care throughout the year.
P.P.S. Should you wish to make an additional gift or renew your membership on Giving Tuesday, Global Giving will be matching a portion of donations starting at 9 pm, Monday, December 2nd Pacific Standard Time.

P.P.S. I'm not kidding about the hug. Join us THIS SATURDAY, Dec 7th, at Grossmont Center for "Santa Paws" Mega adoption event from 11am to 3pm, and hug a volunteer (or high five, or just say "hi" - whatever makes you happy! We look forward to seeing you and our parrots do too!)