By Kelly Flynn | President of the Parrot Education & Adoption Ctr.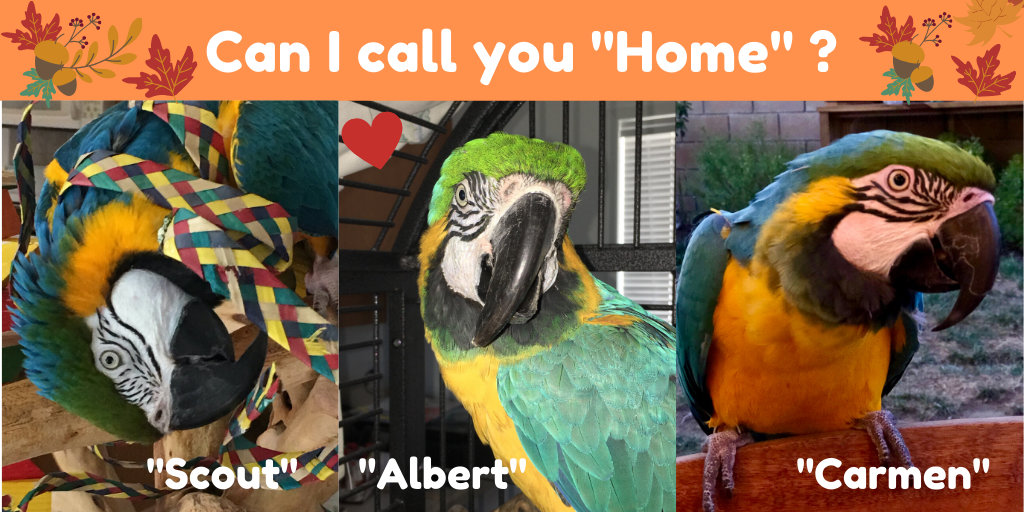 We are Thankful this season for the Difference YOU Make in Our Parrots' Lives!
The holidays have arrived and Thanksgiving is just days away. After your family gathers to give thanks, we hope you'll also remember our parrots and PEAC on Giving Tuesday, December 3rd. Global Giving will be providing donation matches and we'll update you on our year-end fundraising campaign in the weeks to come. This is the one time of year when we ask you to renew your memberships and consider an additional donation to support our flock throughout the coming year. No gift is too small - especially the gift of your time! Volunteers and fosters are ALWAYS needed and worth their weight in gold to us. Come spend a couple of hours at an event sharing your enthusiasm for parrots or teach a class, help with social media, articles, outreach, website maintenance, fundraising, etc., - you are only limited by your imagination! Email us directly at secretary@peac.org and we'll get an application right out. Jumpstart your new year's resolution with us and support your community and parrots in need.
Adoption Announcements!
Let's get to our favorite part - telling you about all the latest parrot adoptions!
Rico, our Greenwing macaw has a new dad! He will be part of a family that has other adopted parrots and dogs as part of his flock, which is something he enjoyed being part of in his mixed-species foster home. Rico has become quite an enthusiastic dancer, matching the rhythm of any music being played almost perfectly. We all enjoyed his videos shared to our social media and no doubt he'll have plenty of time for more disco every Saturday night with his new dad! We wish them many happy tuned together!
Polo the 33 yr old Red-lored Amazon has a new family too! He charmed a lovely couple Sal and Jasmine and now shares their home with several other parrots for companions. His new mom and dad were able to demonstrate that they will be an excellent home for him with lots of attention and love. They are very knowledgeable and interact very well with all their parrots, respecting and understanding what the parrots are trying to tell them with their body language. We wish them the very best and lots of love and kisses to Polo, who found a home a second time through PEAC.
Ralph, our Lilac Crowned Amazon parrot, was transferred to Best Friends Parrot Garden, in Kanab, Utah. Ralph is a very vocal bird, and had been hesitant to step up for his foster, although he just recently began stepping up with his foster-dad. He was not "unfriendly", but he needed someone to be very patient and slow when working with him. (Which is ok and not abnormal for parrots.) It was decided he would do better in a longer-term "sanctuary" with less pressure to be extremely friendly with strangers and be adopted into a family. However, shortly after arriving at Best Friends, Ralph surprised us all by charming a new family and was adopted shortly after. We couldn't be happier about this surprise turn of events! Thank you Best Friends for again helping to make a special connection for our parrots.
We have three more adoptions pending as I type - oh the suspense! They will be announced in an upcoming newsletter once final. Keep the mojo going and help our parrots get adopted by telling everyone you know to "think adoption first" and about PEAC or a parrot rescue close to you - there are parrots waiting to be rehomed throughout the US. If you're not in Southern California, check Petfinder for one near you. (And if you'd like to share our brochures with your local community or invite us to speak at an upcoming group meeting, please reach out to us at secretary@peac.org.)
Featured Adoptable Parrots - Still Looking for a Home
Carmen is an 8 yr old, female, Blue and Gold macaw who has been spoiled by one family her entire life. Carmen would call over her family's dogs by name, and also says "I love you" and "poopies" with enthusiasm. Carmen is a little suspicious of men and tends to go to women first. She's always had a good diet and enjoys time outdoors in her aviary in addition to spending time in the home.
Amos is a 16 yr old, female, Congo African Grey who enjoys head-scritches and does very well with baths from a misting bottle. She has a large, sweet vocabulary, enjoys staying busy by chewing up her toys and actively climbing on her cage or play stand. She is also not afraid to leap off her cage and has strong flight muscles, so keeping a close eye on her is a must.
Mango, a 19 yr old, female, Senegal parrot who enjoys "woodworking" (splintering any available wooden toy into bits,) and head scritches. She will go to just about anyone and step up if a special yummy treat is involved. Mango also enjoys making quite a splash during regular baths! She has grown quite attached to her long term foster mom and is often seen snuggled under her chin while getting head rubs. Mango prefers a home where she is the star and will make a wonderful loving companion for the right person or family.
You can find all of our adoptable parrot profiles on our website at PEAC.org and petfinder.com! Check back frequently, we never know who will be showing up on our "doorstep" next (hint: it could be the next love of your life!)
Events! Parrots! Problems Solved and Fundraising!
Stuck on what amazing photo to include in your annual family holiday card? Problem solved! Just stop by our event booths and pose in front of our "Rainbow Wings" - it's the perfect backdrop for your annual holiday greetings or Instagram! You can find our banner and smiling volunteers ready to take your picture at the following places:
This Saturday, November 23rd is "Doggie Street Festival Adopt-a-thon" at Liberty Station's NTC Park in Point Loma from 9:00 am to 3:00 pm! It's our fourth time attending, so get ready to holiday shop and adopt! This beautiful location will be filled with hundreds of pet rescues from all over San Diego County - make us part of your day as you peruse the booths and nearby restaurants and shops!
Saturday, December 7th from 11:00 am to 3:00 pm, we are back at Grossmont Center for the MEGA Adoption event "Santa Paws!" You know the drill: See a movie, do some holiday shopping, and meet hundreds of adoptable pets, including our parrots! You might find someone special to kiss under the mistletoe and ring in the new year with!
We have a FIRST TIME fundraising event coming up Sunday, December 22nd that you will want to join us for - Traci's Paws is hosting a "Paw-ty" just for PEAC at the Laurel Street Dog Wash, 425 Laurel Street, in San Diego, California, 92101, from 11 am to 1 pm. Traci's Paws is a wonderful nonprofit that supports local pet rescues with fundraising and by throwing monthly parties to collect donated items. Bring a bag of pelleted parrot food (such as Caitec, Zupreem, Harrisons,) whole raw nuts in the shell, parrot toys, or a gift card from a local grocery or pet store to participate - all donations will be benefiting PEAC and our adoptive flock (and their bottomless appetites!)
One More Thing...
As I wrap this up, I want to encourage you to follow PEAC on Facebook and Instagram where the story of a new parrot that just arrived, Larry, a 51 yr old Yellow-naped Amazon, is being shared through video by one of our volunteers April and her YouTube channel "Parrot Playhouse." Larry came to us via the San Diego Humane Society who accepted him and provided immediate medical assistance when his owner could no longer care for him.
Larry requires quite a bit of medical care and just had a large granuloma growth removed from his throat. He is already breathing much better, eating well, and is in the care of one of our newest fosters, Val. (Val adopted Coco the African Grey from PEAC two years ago!) Larry is already stepping up for his foster and his personality is just starting to peek through with silly vocalizations and "hello"s! We are all pulling for Larry and will keep you updated on his progress. Links to our Facebook and Instagram pages are on the front page of our updated website PEAC.org.
A special donor and long-time member of PEAC, who wishes to remain anonymous, has stepped up to provide for Larry's care, with a generous donation specifically directed to his veterinary bills and the medical care of all our parrots. We cannot begin to express our gratitude to this amazing individual for their thoughtfulness and compassion. Thank you from the bottom of our hearts. Without this donation, it would have been a challenge to take on Larry's care, and your gift is making his recovery possible. THANK YOU!

On behalf of all the volunteers for PEAC - we are THANKFUL for your support and for the "second chances" you have provided to all of our adoptive parrots. Your abundant caring and kindness for our flock are what make PEAC a success in rehoming parrots and educating our community. We could not do any of this without YOU.
We wish you a warm and wonderful Thanksgiving holiday!
With gratitude, Kelly Flynn, President, Parrot Education and Adoption Center