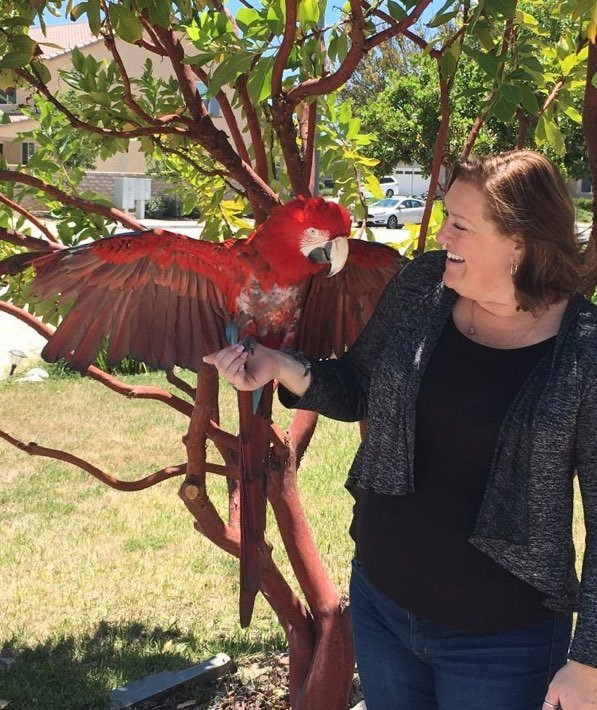 Hello Members!

Our summer in Southern California has finally kicked into full gear with clear skies and warm evenings. You could even say its the "Dog Days Of Summer" which was also the theme of the most recent Mega Pet Adoption Event we attended at Grossmont Center and hosted by San Diego Animal Support Foundation. One of our fantastic volunteers April shared her videos showcasing PEAC's parrots at the event on our Facebook page ("@peac.org" in the search bar,) so be sure to check them out!
Classes on June 30th!
We have two classes back that you may not have seen in some time, in addition to our regular adoption classes. Join us Sunday, June 30th, at the San Diego Humane Society on Gaines Street in San Diego. Some parrots that are available for adoption will be at these classes.
"My Parrot Won't Eat That!" Gain insight into teaching your bird to accept new foods! As prey animals, parrots are instinctively wary of new things, however with various methods you can teach your parrot to eagerly consume a healthier diet. (11am - 11:45am)
"Managing Reproductive Behaviors in Companion Parrots" Does your parrot lay eggs? Act aggressively towards you or family members around his/her cage? Insist on pleasuring themselves on toys, perches or you? Come learn what triggers these seasonal urges and strategies to minimize these behaviors. (11:45am - 12:30pm.)
Also on June 30th, we will have the classes required for parrot adoption:
"Parrot Behavior, Foraging and Enrichment" Learn how to keep your couch potato parrot active through positive and interesting challenges AND how to observe and reinforce positive behaviors in your companion parrot. (1:30 - 3:30pm)
PEAC Members are FREE! Annual membership with PEAC is just $20 a year. Please visit www.peac.org to register by clicking on the "Calendar" tab or contact us if you have any questions!
So many adoptions!
Ruby was adopted! Ruby, PEAC's Greenwing macaw definitely chose his new family and Jenell shared with us that "It's amazing how the trust starts from the beginning. We are so lucky that he loves us as we much as we love him." Don't worry - we made sure Ruby took his favorite toy with him (the cute little toy we saw Ruby holding in the last newsletter - a little stuffed red parrot…aw!)
Mango our Alexandrine was adopted! Mango's new family was woo-ed quickly by Mango's attention during their visits with him. We haven't really shared his photo much before now, because he charmed them so quickly and so thoroughly. We know they'll have many happy years together.
Ollie our Cinnamon mutation Green-cheek conure was adopted! Ollie's new mom April was persistent and patient with her interest in Ollie, who was a bit shy initially. However, Ollie loves anyone with food, and perhaps sharing some treats together was when love began to grow between them for the first time. Ollie began to preen her hair and woo her, and that was that! Since Ollie's adoption, April has been sharing adorable photos and videos of the adventures they've been having and clever enrichment ideas where Ollie has to find where she has hidden a snack. Totally adorable together!
Elvis, the Congo African Gray, has left the building! Well, actually, Elvis is staying... because he was adopted by his foster family! Do you think he enchanted them with renditions of "Love Me Tender" or "Don't Leave Me Now" ? Because they just "Can't Help Falling in Love" with him! Congratulations to Elvis & his family - we are "All Shook Up" for your happy ending!

Kiwi our Green-cheek conure was adopted! More congratulations are in order as he has found his forever home with a wonderful family. He is absolutely the king of his new castle with lots of fun to have and love to share.
Mango the Senegal parrot was adopted! What's the first thing you do when you've won the family lottery? Have a shower and get all cleaned up to make a good first impression apparently! The photos did not come out very clear, so you'll have to take our word for it that a splashing time was had by all. Congratulations Mango!! (His video is on Facebook and Instagram!)
But even with all of these adoptions, new parrots are coming in every week to find their happy endings too.
Such as... Tiki a female Cinnamon mutation Green-cheek conure who is so sweet and lovable and looking for that special person or family to share their life with.
Picasso and Albert are kind, male, Blue and Gold macaws, and Carmen is a female Blue and Gold, all from separate homes, who have recently arrived and are getting used to their new surroundings.
Buddy is a gentle-natured male Congo African Grey and Amos (a female Congo African Grey,) is still with us, both looking for a home.
Polo a Red-lored Amazon parrot, who truly loves children and is so gentle, is still here as is Conner (Meyer's parrot) and Skye (Grey mutation Indian Ringneck - so fun and curious!)
Perhaps you know someone who needs "a little more parrot" in their life? If so, point them to our website www.peac.org, where a link to our adoptable parrot profiles is on the front page. Or visit www.peac.petfinder.com - and we're always here to answer any questions. Please keep spreading the word about adoption so that all pets waiting to be adopted will find that special someone and get to go home.
Gratitude for Donations!
Thank you to our generous parrot diet donors!! Thank you Philip for all of the bags of Harrison's diet you provided, our parrots have loved it!! Abril, thank you so much for your donation sent directly from Nuts.com, of course always popular as Amos immediately dove into the Pistachios upon arrival! And thank you to the London family for sending a huge bag of Soak n Serve from Christine's Chop!
Thank you Marcin & Jana for your gift of two HUGE bags of Christine's Chop for our adoptable parrot flock! They LOVE the Soak and Serve Chop and it gives our fosters a night off from cooking while still providing a warm delicious & nutritious meal. We are truly grateful for your amazing generosity and for the lovely note that Christine and her elves always include in the box,
We always welcome donations! If you are interested in sending our parrots some treats, the following websites will send your donations directly to our PO Box and have our pre-selected preferences on their charity pages: Nuts.com - search under "gifts" and then "charities" and look for PEAC! ChristinesChopShop.com - Click the tab on her homepage for "Rescue Wish Lists" and find our name to find our preferences.
We also accept donations of pelleted parrot diets like Harrison's, Caitec, Zupreem natural and Mazuri parrot diet, and toys - toys - toys! You can ship them directly to our Post Office box at:
PEAC's Parrots - PO Box 600423, San Diego, CA 92160. Should you need to send your donation directly to a physical location, please let us know and we will make arrangements!
Did you Celebrate World Parrot Day on May 31st? We sure did - but we love celebrating our parrots every day…. Because WE ARE our parrots' WORLD every day!
Thank you members, and keep spreading the word about parrot adoption!
With gratitude,
Kelly Flynn, President
Parrot Education and Adoption Center