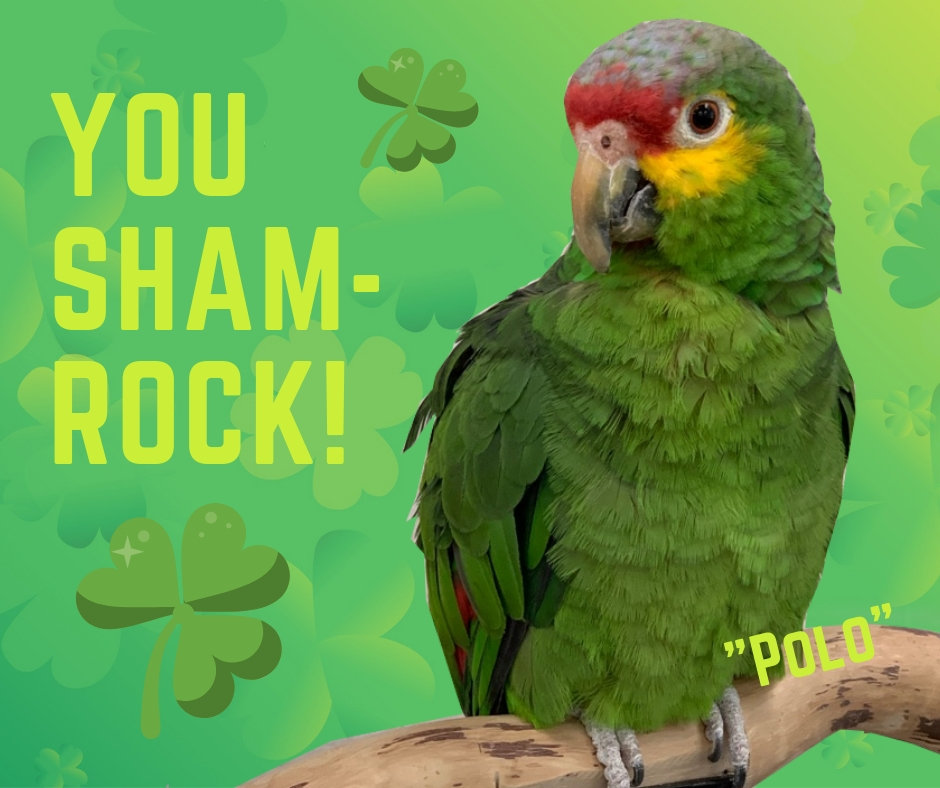 Top O' The Mornin' this fine spring day! Southern California has had *quite* the drenching of winter rain (with occasional hail,) keeping us mostly indoors. But finally (!!) we are enjoying mother nature's payoff - Painted Lady butterflies in droves have set our skies aflutter chasing after a record-breaking wildflower bloom along the entire state. We hope you're able to get outside this weekend and enjoy a little Irish-luck and spring green in your neck of the woods.
You Sham-ROCK!
We feel like the luckiest leprechauns to have YOU, our members, supporting our parrot adoption program and educational classes. Because of your support, we're happy to announce THE FIRST TWO ADOPTIONS OF THE YEAR!
Our little Lance (Senegal parrot,) has found his home with wonderful mom Amanda! Amanda says Lance is doing great playing with his toys and sharing special snuggle movie-nights with her. Congratulations Amanda and Lance, we're thrilled you each found your new best friend!
Sunny, our White-bellied Caique also got lucky with love and found a permanent home with his foster family! Sunny may have set a world speed record for "foster-failure" with his family who instantly fell in love and put in adoption paperwork faster than you can say "Cheers!" in Irish ("Sláinte!") We can see by the look on Klair's face that she feels just as lucky to have found Sunny too.
Update on Virulent Newcastle Disease Outbreak in Southern California
Well, this is the one "unlucky" story we wish we didn't need to share, but the outbreak for Virulent Newcastle Disease (VND) that started last year, has not yet ended. New cases have been found in Utah (traced to a bird moved from Los Angeles,) and most recently, in San Mateo County in Northern California.
VND, formerly known as Exotic Newcastle Disease, is a serious, highly contagious viral disease that can affect poultry and other birds. In rare cases, humans that have exposure to infected birds may get eye inflammation or mild fever-like symptoms. There is no effective cure for virulent Newcastle Disease.
The virus is found in respiratory discharges and feces and may cause high rates of sickness and death in susceptible birds. For poultry, chickens are most susceptible and ducks and geese are the least susceptible. Mortality rates for Psittacine birds (parrots) can range from zero up to 75%. Certain parrots, especially Amazon parrots, can shed VND virus intermittently in excess of one year and thus transmit the disease to chickens and other pet birds. Once VND is introduced into domestic avian populations, subsequent spread is normally caused by domestic bird-to-bird contact or through contact with contaminated people, feed or equipment.
What can you do to keep your companion pet parrots safe?
If you are residing within the regional quarantine zone set up around Los Angeles and Riverside Counties, keep your birds indoors and keep your pet birds away from any and all other birds.
Additional ways to protect your birds (and best-practice procedures for all companion parrot owners,) include:
Don't visit poultry farms, farms that may contain other domestic fowl or any bird mart or fair that may have domestic fowl, pigeons, doves, geese, ducks, ratites (like ostriches,) or quail on site. Should you bring a new bird onto your property, quarantine them for 30 days before bringing them in contact with any birds you may have.
Try to keep people who also have birds, from visiting your property. If you should visit family and friends with birds: shower, wash your clothes and change your shoes before handling your birds. Don't visit them without taking these same steps if you have handled your bird. And share information about VND with family and friends.
Most importantly: Stay informed! To view the regional quarantine map and learn more about biosecurity measures you can take to keep your birds safe, please visit the California Department of Food and Agriculture's website at www.cdfa.ca.gov or call the Sick Bird Hotline at 866-922-2473, for more information.
Featured Adoptable Parrots - Ruby and Mango
PEAC's foster mom for Ruby the Greenwing macaw told us the cutest story about his latest accomplishment. She said that Ruby never climbs down off his cage, but when some new toys were given out, Ruby noticed that one of them was a stuffed toy parrot that looked just like him! Ruby snuck down to claim it as his own and proudly took it back to his cage all by himself. We think he looks especially pleased in the picture she shared with us, what do you think?!
If you couldn't make it to our Volunteer meeting last weekend, then you missed one of our newest volunteers, Tori, creating beautiful artwork of each of our adoptable parrots! We just had to include a picture of Mango (a Senegal,) who is enchanted by what she is seeing! It was a real treat and we'll do our best to share more of her drawings in future newsletters!
If you would like to learn about some of our other parrots who are looking for a home, please visit our adoptable parrot profiles at PEAC.petfinder.com to learn more about each of our birds.
And follow us on Facebook (@peac.org); Twitter (@PEACsandiego) or Instagram (@peac_sandiego) for more cute photos and stories about all of our adoptable parrots (and more of Tori's artwork!)
What's It Like to Foster a Parrot for PEAC?!
We asked one of our newest fosters, Daniela, to tell us about her experience fostering one of PEAC's adoptable parrots and to catch us up on how Baby, our adoptable Yellow Collared mini macaw, is doing. This is their story.
——
Last year, when I attended my first Volunteer Meeting and Parrot Behavior, Foraging & Enrichment Class, it was basically just to learn more about the organization. I was not thinking that pretty soon after I would foster a parrot for PEAC.
However, being a foster is very rewarding for me, not only to provide shelter for a parrot I can take care of until they find a loving forever home, but I also get to work with different parrots and their unique personalities, backgrounds and stories. And while giving those intelligent and challenging beings love and security, they show me their gratitude in so many ways.
When Baby came to me a few weeks ago, he wouldn't really step up or want to engage, especially during the day. I was still a stranger to Baby, and he needed time to get to know me and I respected that. But I also wanted to challenge him (probably more myself) and see how far we could come. At first, I just visited him during the day in his bird room, talked to him, offered him treats (which he gladly accepted) and left his cage door open whenever I was home. It took him only two days to come out and explore his new environment. But still no stepping up.
So, I decided to try and use target training with him. Target training can be a great way to communicate with your parrot and build trust. To my surprise, he picked up on it very quickly. One morning using the target stick (a simple chopstick) he stretched his foot out and tried to step on it. Maybe you can imagine how clumsy he was considering his weight and how much he must have trusted me to hold him on that little tiny stick.
That was the breakthrough for us. We found a way to communicate and get him out during the day without having to step up on my hand. Since then I give him an option every single day - "hand" or "stick." I now use a stick that is similar to his perch. He also got to experience fun things during the day whenever he steps up on the stick, as a reinforcement. He is going outside in the yard (protected and secure of course), watching the food preparation in the morning, he is able to hang out on different play gyms in the house, etc.
Baby has come a long way in a few weeks. He talks, is with my other parrots and me in the living room during the day whenever I am home. He is trying new foods, steps up more and more on the hand, and he lets me touch his head and beak. We also went to our first vet appointment for grooming where he charmed the whole staff and stepped up for the vet with no hesitation! Sometimes we laugh and sing together and he has started to say "I love you."
Of course, I love Baby too - he melted my heart from day one with his sweet face and deep eyes. I learn so much every day from fostering him and growing with him. Although it will be hard to say goodbye when he finds a forever home, I know he will be going to a family who will also love him and enjoy hearing him say "I love you" too.
———
PEAC can always use more fosters for our adoptable parrots. If you are interested in becoming a foster, please reach out to us at parroted@peac.org or secretary@peac.org and we'll be thrilled to discuss this volunteer opportunity with you!

Our Next Event

Meet us next Saturday, March 23rd at Turquoise Animal Hospital in Pacific Beach from noon to 4pm (950 Turquoise St, San Diego,) for their FREE and FAMILY oriented Exotic Pet Expo! Last year we had so much fun and there will be other exotic animal representatives like San Diego Turtle and Tortoise (and many more!) plus raffles, face painting, and surprises! We hope you can join us!
Wishing you a Happy St. Patrick's Day with this Irish Blessing,
"For every petal on the shamrock, this brings a wish your way - Good health, good luck and happiness, for today and every day!"
Sincerely,
Kelly Flynn, President, and Barbara Crouse, Board Member