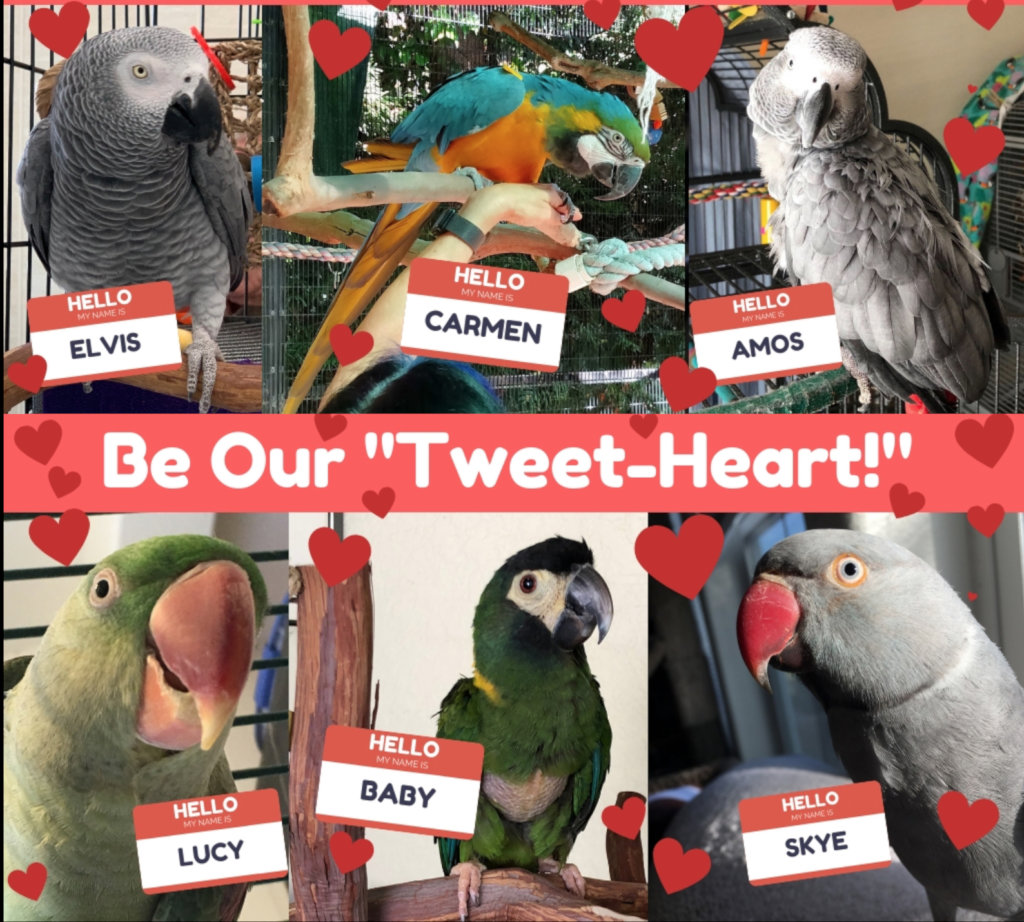 Are you still looking for a "tweet-heart" this weekend? Join PEAC, our adoptable parrots and friendly volunteers this weekend at "Cupids and Canines Mega Adoption Event" at Grossmont Center on Saturday February 16th, from 11am to 3pm! We love talking about companion parrot care and giving high fives to all our members and supporters! You'll definitely make our hearts flutter when you stop by our booth! And don't forget to snap your picture with our Rainbow Wings to become "Insta-famous!"
On March 23rd, we're returning to Turquoise Animal Hospital in Pacific Beach for their exciting "Exotic Pet Expo" which is a blast! Meet your local veterinary staff who will have raffles, face painting, snacks, and representatives from Project Wildlife, San Diego Turtle and Tortoise Society, unusual pets and US! (Because it's not a party without the parrots to spice things up!) Completely free and fun from noon to 4pm on Saturday, March 23rd.
Upcoming Volunteer Meeting and Classes
We're still having our monthly parrot educational classes which are FREE to members! It's a great place to meet our adoptable parrots AND like-minded friends to talk about our favorite subject (parrots!) Find our class listings and register at our website PEAC.org. Just click directly on the label "Seminar Schedule and Registration" page under the "Calendar" tab and you're there! (If you have any problems, just email us and we'll make that magic happen )
Have you thought about becoming a volunteer or foster? We would love to tell you more - reach out to us directly, or just stop by our next Volunteer meeting March 10th, starting at 11am at the San Diego County, North Animal Shelter in Carlsbad, and please RSVP for specific directions and so that we'll have enough treats for everyone in honor of National Volunteer Week!
Year End Campaign Report
We had an excellent response to our year-end campaign, bringing in $7,379.86. We can't say it enough - THANK YOU - to everyone who has contributed to PEAC this past year!
Because of your support, in 2018 we adopted 17 parrots, placed 2 parrots with sanctuaries, participated in 15 outreach and adoption fair events throughout Southern California, answered hundreds of calls and emails and taught over 33 hours of classes! (whew! ) It takes *tremendous* support to make all of this happen and the need for our work continues. If you have not renewed your membership for the upcoming year, please visit our website PEAC.org or Global Giving to do so today! We can't do this without OUR tweet-hearts - that's YOU!
If you have any feedback on what we're doing, or ideas and thoughts on what you would LIKE to see us do, please share them with us by responding to this email or reaching out directly, we are always interested in what you have to say.
Coming Soon to a Theater Near You: Blaze!
Imagine our surprise when we learned that our little Blaze, (a Red-bellied parrot who was adopted in 2017,) will soon be a movie star! His mom, Rachel, was hired as his "wrangler" and she was with him every day on set. "Everyone fell in love with him," Rachel said. And she let us know that there were "animal protection people from Hollywood" to ensure everything was done ethically and with Blaze's safety placed first and foremost as a member of the cast. Blaze had a custom "double" made to stand in for any filming that could be hazardous. The film is titled "The Sweet Taste of Souls" and is described as a psychological horror. Filmed locally in Julian, California, it is expected to be released this year. We hope the cast is used to being upstaged by a parrot because we know that Blaze will set everyone's hearts on fire once he's on the big screen!
Our Adoptable Flock
We have some new additions to our adoptable flock!
Carmen is an 8 yr old, female, Blue and Gold macaw who has been spoiled by one family her entire life. Carmen would call over her family's dogs by name, and also says "I love you" and "poopies" with enthusiasm. Carmen is a little suspicious of men and tends to go to women first. She's always had a good diet and enjoys time outdoors in her aviary in addition to spending time in the home.
Kiwi is an 8 yr old, female Green cheek conure who is very well socialized and will step up for just about anyone. Kiwi loves dancing to music and receiving head-scritches. She has always had an excellent diet but will do just about anything for an extra bite of walnut. Kiwi just wants to be doted on by a loving family and be the center of attention!
Elvis is a 24 yr old, male, Congo African Grey parrot who enjoys carefully watching absolutely everything going on around him! He's recently conquered a complex foraging toy and is sweet and gentle with his foster mom. He says "wanna cookie" and "hello" in the morning when his foster mom greets him or when the phone rings.
Amos is a 16 yr old, female, Congo African Grey who enjoys head-scritches and does very well with baths from a misting bottle. She has a large, sweet vocabulary, enjoys staying busy by chewing up her toys and actively climbing on her cage or playstand. She is also not afraid to leap off her cage and has strong flight muscles, so keeping a close eye on her is a must.
But don't forget about…
Mango, a 19 yr old, female, Senegal parrot who enjoys "woodworking" (splintering any available wooden toy into bits,) and head scritches. She will go to just about anyone and step up. Mango was aggressive to another smaller bird in her previous home, but has been a good girl in her foster mom's home and will make someone a wonderful, loving companion.
Skye is a 3-4 yr old, male, Indian Ringneck (Grey mutation,) who was found by the Department of Animal Services. Skye is just a joy to have in your life - he is energetic, inquisitive, gives kisses (complete with kissing noise,) talks in a squeaky voice, loves to bathe (especially in someone else's water bowl,) and receive attention. He expects to be in the middle of everything that happens and enjoys watching videos on your mobile device. He makes friends with everyone (or certainly tries to!) Perfect for the home who would love a nonstop nosy-buddy!
You may have noticed that Ollie, an older Green cheek conure (Cinnamon mutation,) is still with us after a year! Ollie is a SWEETheart! He loves to dance and step up (once he gets to know you just a little.) Ollie might have a bottomless stomach though, he is always eating, but always on the go too! You have to meet him to really appreciate what a wonderful, loving companion he would make for any family.
Remember, ALL of our parrots have had at least one exam to check their general health by a veterinarian that specializes in avian care. This incoming exam includes a physical review of their body and additional lab work for: a basic bloodwork panel, choanal (throat) culture, psittacosis test and, for old world species, a test for Psittacine Beak and Feather disease. Each of these exams is covered by your donations and our adoption fees. Although they may be costly, it's critically important to us that the companion parrots who are adopted into their forever homes be healthy and ready to begin that happy new chapter in their long lives.
As always, should you ever have any questions about our adoptable parrots or anything at all, never hesitate to reach out to us - that's why we're here!
Keep an eye on our Facebook pages ("@peac.org") Twitter ("@PEACsandiego") and Instagram ("@peac_sandiego") for the latest cute videos and photos of what our volunteers and parrots have been up to!
Wishing you a Happy Valentine's Day weekend!
With gratitude,
Kelly Flynn, President, and Barbara Crouse, Secretary
Parrot Education and Adoption Center