Project Report

| Dec 27, 2018
Congratulations! More Adoptions Because of YOU!
By Kelly Flynn and Barbara Crouse | President and Board Members of PEAC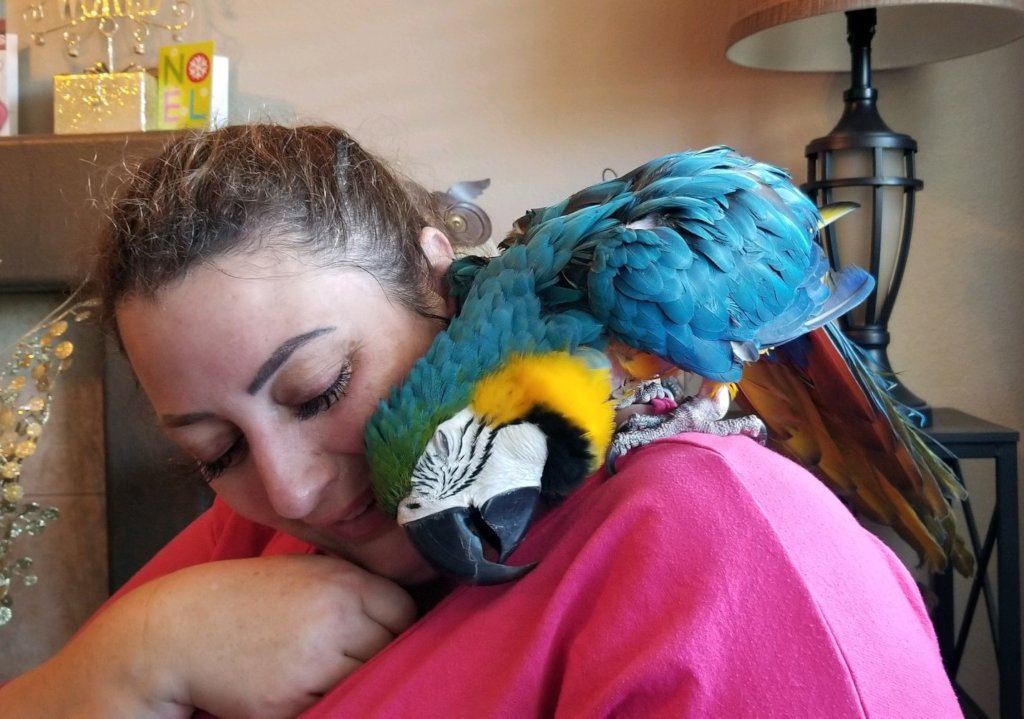 First a heartfelt THANK YOU to all who have donated or regularly contribute to support PEAC. We can't thank you enough for your generosity; YOU are what makes PEAC able to continue the work we've done for over 22 years. We're honored by your giving and trust.
Time is running out for last-minute contributions should you wish to make a gift before the end of the year or renew your membership! If you have any questions, please don't hesitate to reach out to us at any time.
Two Surprise Adoptions Before the Year's End!
Sparkle, the young Indian Ringneck (with cone-shaped eyes, whom we introduced in our last newsletter,) and Gonzo, the Timneh African Grey, have both been adopted! That means SEVENTEEN parrots were given a second chance and found a loving home in 2018 because YOU took action to support our education and adoption programs.

Everything we do is dependent on private donations from people just like you who recognize the challenges of owning a parrot and know that there are few places for them to go when they lose their home or family. Dogs and cats have city or privately run shelters, but parrots can often fall through the cracks unless specialized care is provided to ensure they find a prepared and educated long-term home.
For example, Polo, a 33 yr old Red-lored Amazon, has just returned to PEAC after being adopted eight years ago, because his family suddenly and unexpectedly lost the resources to care for him. Polo's family was heartbroken to let him go, especially since he loved being with their children. However, they wanted to make sure he found another good loving home and knew PEAC would provide for Polo until one was found.
A parrot's long lifespan, (upwards of 15-20+ years for smaller species, and 30-40+ years for larger species,) means that each parrot may have seven to eleven owners during their lifetime, according to a study by Best Friends Animal Society. PEAC's mission has always focused on educating those caregivers and thus enhancing and extending the stay for each parrot in one home as long as possible. However, when rehoming becomes necessary, and with your continued help, PEAC will be there for the families of parrots like Polo, who need us.
Willow Adoption Update!
Last month, one of the most anticipated adoptions of the year happened: Willow FINALLY found her forever family! Willow, a Blue and Gold macaw, had been with PEAC over three years, and to be honest, we all worried whether anyone else would see past her patches of missing feathers and find her beautiful heart as irresistible as we did. But Willow's foster mom never lost faith that it would happen for her, and it did! Willow's new family and mom Sherrie shared these photos with us and said she is "thriving" and thoroughly enjoying being spoiled during their first Christmas together.
Your gifts have changed Willow's world!
AND the worlds of Gonzo, Sparkle, Munchkin, Elvis, Buka, Sweetie, Baby, Dewey, Jakey, Louis, Lucky, Pickle, Tiki, Yato, Kasuku and Panee who were all cared for, loved and rehomed this year thanks to YOU -
Congratulations for helping EVEN MORE parrots find a home this year than last year!
We are still several thousand dollars away from our year-end goal to keep PEAC going through 2019. Any donation you can provide will always be gratefully welcomed!
Wishing you and your family health and happiness in the New Year,
Kelly Flynn, President and Barbara Crouse, Board Member.