Project Report

| Nov 26, 2018
Giving Tuesday is here and we need your help!
By Kelly Flynn and Barbara Crouse | President and Board Members of PEAC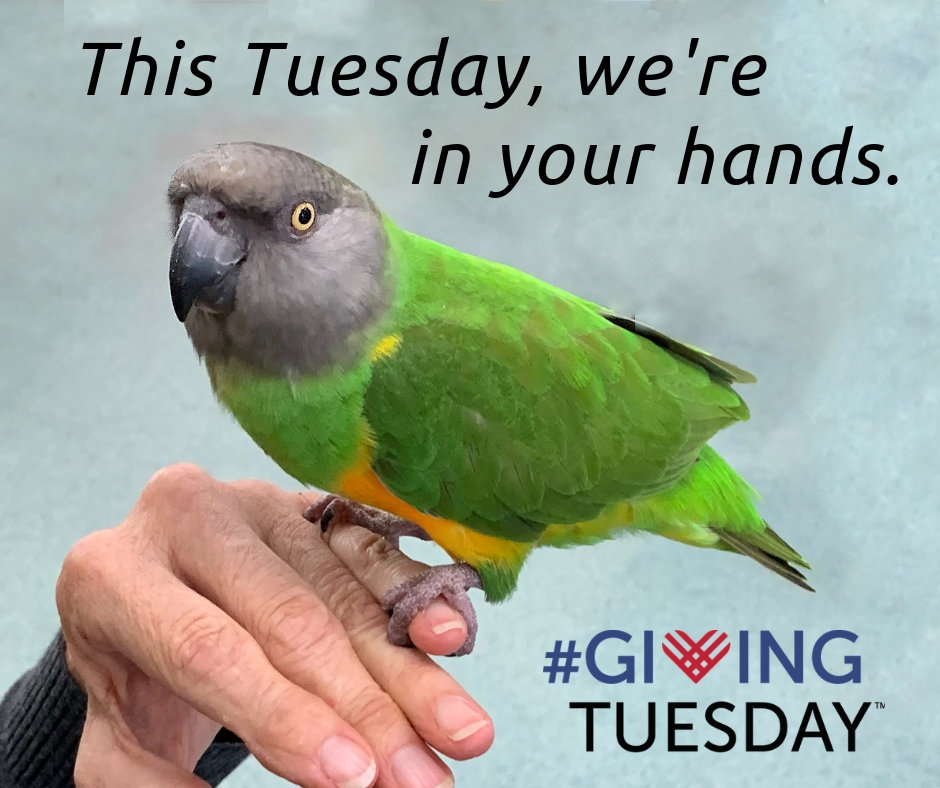 Giving Tuesday has become a global day of celebration focused on giving back to our communities. For PEAC, it's the kick-off of our once-a-year fundraising campaign. Our goal is to reach $20,000 to budget for the veterinary costs and care for our adoptable parrot program, which has helped many parrots receive a second chance to find a loving home.
Here's how you can help us reach our goal with this special bonus opportunity for #GivingTuesday:
Donations received by Global Giving, starting Monday, November 26th at 9:01 pm Pacific time, will qualify PEAC for a portion of an "incentive fund." Organizations which receive the most donations or most number of unique donations, receive the largest part of the fund. However, any new recurring donation will receive 100% match for their first donation!
Also, many companies have annual matching programs for their employees or provide grants! Ask your Human Resource department to learn about what opportunities may be available for our parrots. Should you have any questions, or need assistance in making a donation, or you would like to volunteer, please don't hesitate to email or call us anytime!
Stay Tuned for More Parrot Adoption Stories and Pictures!
This year we helped 15 parrots find a home or sanctuary, breaking last year's record - AND - we still have one more pending!
This includes recent adoptions for Elvis, Munchkin, Buka and Sweetie. But the adoption we are most excited to announce is… for WILLOW! After waiting more than three years in our program, Willow has found her forever home and settled in with her family last weekend.
AND… Munchkin also found his match! Munchkin, a Double yellow-headed Amazon, came to us earlier this year from the San Diego County Animal Shelter. We did not know anything about his history except that he would say "Hi Papa" and was interested in human interaction. Our veterinarian determined that his unique face was due to an under-formed upper-skull, that happened during his development in shell. Munchkin was shy and did not solicit his caregiver for preening. However his attitude completely changed when he saw his future mom! Munchkin had been talking to her "over the phone" and when she came and sat on a couch to meet him in person, Munchkin climbed down and over to perch on her chest and began to solicit her for head scritches while giving kisses. There wasn't a dry eye among all the volunteers and family present who saw this moment and it was directly made possible because of your support and donations.
Empty spaces in our foster program are filling quickly with new parrots like "Sparkle" a young male Indian Ringneck who has unique cone-shaped eyes that make him nearsighted. He will require some extra TLC and veterinary care and because of your generous gifts, we'll make sure he gets everything he needs to live a comfortable and happy life and find his new family.
We are excited to continue into our 23rd year of serving our community, and we hope you will join us to help even more parrots and parrot owners in 2019! Keep following us on social media for all the latest videos, photos and news about our classes and parrots available for adoption.
Everything accomplished this year was because of your compassion and continued dedication to supporting our parrots. Thank you from the bottom of our hearts.
With our deepest gratitude,
Kelly Flynn, President and Barbara Crouse, Board Member