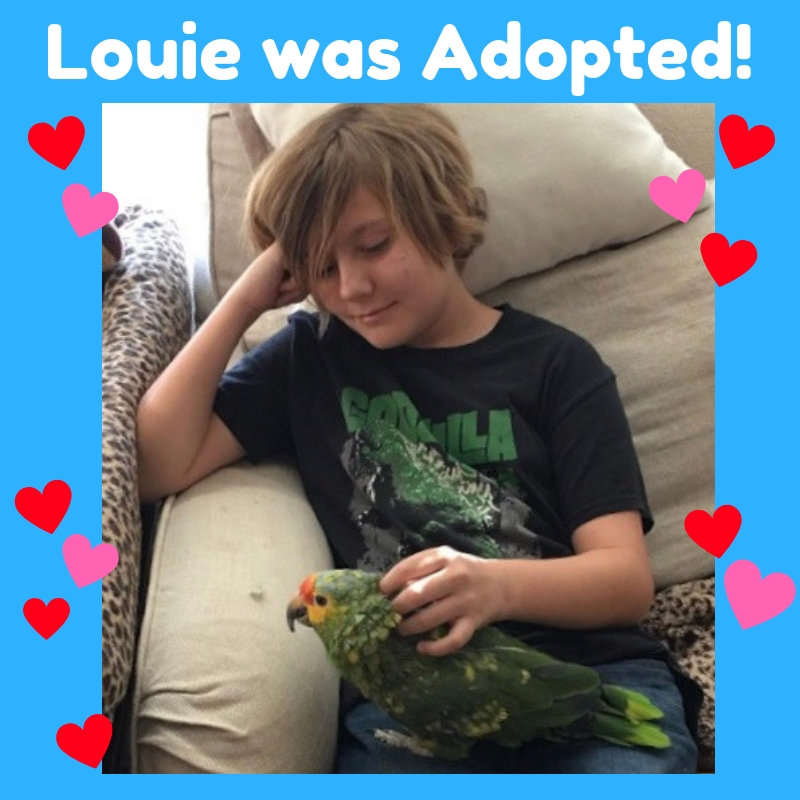 Grab a mug of tea and curl up with PEAC's latest update - Happy Fall!
Our Adoptable Flock:
Louie, our Red-lored Amazon has been
adopted!
He now has a whole family to call his own and they are completely smitten with our lovable Louie. The adorable photo above, says it all. This is why we work so hard every day, and are so grateful for your support and donations to our flock and educational programs. THANK YOU for making this moment and so many more, possible.
Panee, our hybrid Greenwing macaw who was introduced in our Summer newsletter, had come to us with a blind left eye. He had been kept outdoors and was no longer being handled in his previous home. Initially Panee was shy and defensive when we met him, but we hoped that most of it was because of an insecurity on his blind side. However after spending months in his foster home, with patient, daily interactions, Panee continued to avoid human companionship. We began to discuss the possibility of a sanctuary placement. Luckily, The Oasis (a sanctuary near Scottsdale, Arizona,) was willing to accept Panee as a long term resident, and he was able to join their flock. Panee will now be able spend the rest of his life in the company of other macaws. We are so thankful to The Oasis, to the volunteers who drove Panee there on their own time, and to his foster mom who gave Panee all her love and care for so many months!
Since our last update, we have several new flock members (of course!) Meet Buka (a male Eclectus,) Conner (female, Meyers,) Mango (female, Senegal,) Gonzo (male, Timneh African Grey,) Lucy (female, Indian ringneck,) and Ruby a male Greenwing macaw. Ruby was previously adopted out to a family in 2014, but has returned due to a significant change in their life. Our adoption contract stipulates that any bird adopted from PEAC, is to be returned should the adoptive family no longer be able to care for them. We welcome Ruby back to familiar faces and his foster mom says this silly boy is doing well.
Volunteer Corner:

At our last meeting, one of our long time volunteers Sue, shared her creative ideas for helping birds to step up.
Recently Sue fostered a disabled African Grey who was unable to perch easily and was insecure being handled. Sue came up with a creative and practical solution: she attached woven grass mats to the top of a ping-pong paddle! (See photo below.) Once she slowly acclimated her charge to its presence, he quickly learned how to step up and be safely transported to a new location. He felt secure with an easy grip of the grass mats and flat surface of the paddle. Sue enjoyed having a handle to balance him comfortably and provide precise control when moving him. Giving our parrots a predictable feeling of "confidence" and "security" in their experiences with us, leads to better long term relationships (and more fun!)
Sue also reminded us to never make an assumption about what might work, or not work with a parrot. She is currently the foster mom of Conner, a Meyer's parrot. Conner initially preferred men and would try to bite Sue when she asked Conner to step up. This made them both more hesitant to interact and somewhat fearful of an encounter (which was reinforcing Conner to prefer men.) Normally, we would not suggest a glove when handling a parrot, but Sue noticed that Conner was not afraid of a blue oven mitt. So she slowly and gently (through offering treats and positive encouragement) enticed Conner to hop on her oven mitt. Conner was fearless and it didn't take much to start using the oven mitt for transportation to fun new places with treats and toys waiting!
Slowly, Sue continued to work with Conner, letting her know that women can have wonderful treats, words of praise, and fun stuff to do too, and began to remove the oven mitt from the experience, using only her hands to handle Conner (after all, both parties had gained confidence that this would be a fun experience with a reward at the end.) With repeated practice stepping up on Sue's hands, and lots of positive interaction and special treats, Conner has become much less fearful of women. And Sue can be proud that patience, creativity and positive reinforcement has once again paid off in helping to reshape an insecure parrot's behavior.
Each parrot has a different personality and/or preferences. Come to one of our classes, volunteer meetings or outreach events to get your creative juices flowing. Maybe you need ideas for switching your picky seed-eater to a healthier diet, or to encourage them to play with toys (rather than destroying the couch.) We love "talking parrot" so please stop by!
Upcoming Educational Seminars in North County:

"Parrot Behavior, Foraging & Enrichment" is scheduled for Sunday, October 7th and Sunday, November 4th, at the San Diego County Department of Animal Services in Carlsbad (2481 Palomar Airport Road, Carlsbad, CA 92011,) from 1:00 pm to 3:15pm.
These are possibly the last seminars this year, so please join us for a little seasonal cheer! This general class is perfect for those thinking of adopting or who just want some new ideas. Pre-registration is required, just head to our website at
PEAC.org
under "Seminars and Registration" to put your name down! Remember: MEMBERS ARE FREE!
The Last Outreach Events of 2018:

October 20th from 11 am to 3 pm, we'll have our booth, volunteers and adoptable parrots at Grossmont Center for the MEGA Adoption event "Howl-O-Ween Hounds!" Hundreds of available pets by dozens of rescues will be available, and almost everyone (pets included!) will be in costume! Last year was a blast, you won't want to miss this spook-ta-cular event!

October 27th, from 10 am to 6pm, PEAC will be at "San Diego Pet Con" at the Del Mar Fairgrounds. Its a brand new event for us, but will be fun for the whole family! Hundreds of vender booths from all over the US, and local rescues ready to share their adoptable pets! We can't wait!
November 17th is "Doggie Street Festival Adopt-a-thon" at Liberty Station in Point Loma. It's our third time attending, so get ready to holiday shop and adopt! It is a beautiful location that will be filled with hundreds of pet rescues from all over San Diego County - make us part of your day as you peruse the booths and nearby restaurants and shops!
December 8th from 11 am to 3 pm, we are back at Grossmont Center for the MEGA Adoption event "Santa Paws!" You know the drill: See a movie, do some holiday shopping, and meet hundreds of adoptable pets, including our parrots! You might find someone to kiss under the mistletoe and ring in the new year!

Have any questions, an idea for fundraising or a program? Never hesitate to reach out to us at anytime, we love hearing what's on your mind!

As always, we thank YOU for your support and for making a difference in our adoptable parrots' lives!