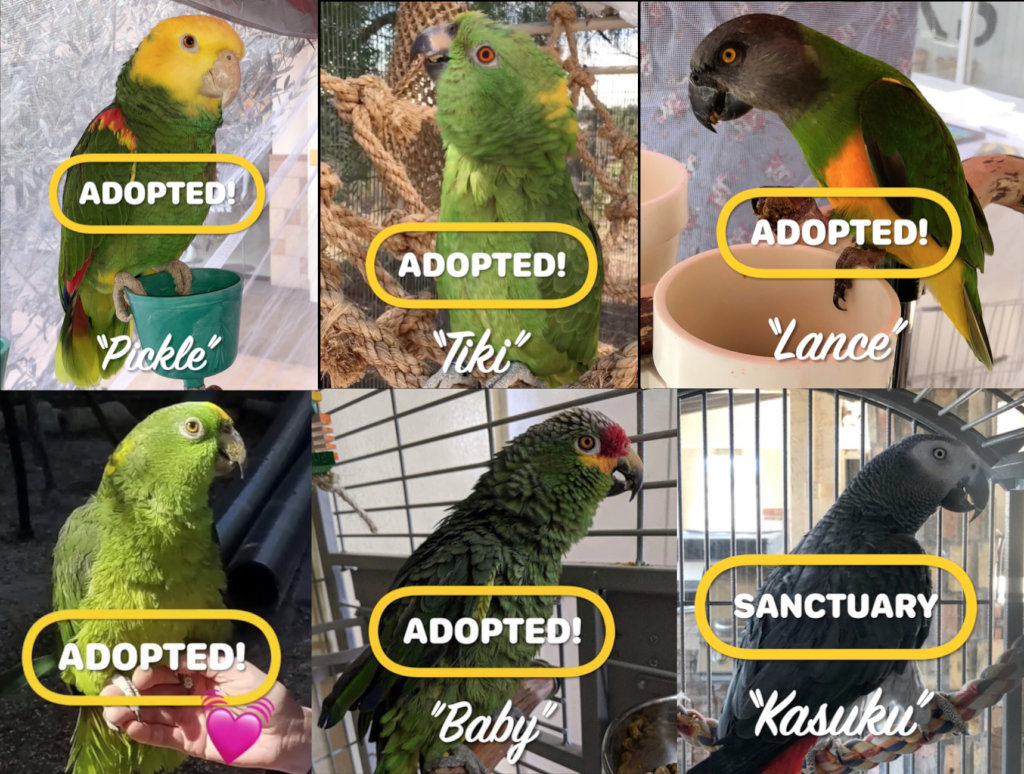 We hope you and your flock are enjoying the long summer days as much as we are in Southern California!
PEAC is having an Adoption-palooza!
Pickle (Double yellow headed Amazon), Lance (Senegal), Tiki (Yelllow naped Amazon), Sweetie (Yellow naped Amazon), and Baby (Red lored Amazon), have all been adopted! Additionally, Kasuku, who has been with PEAC for over two years, was transferred to The Oasis and is now in a large aviary with many new friends to share his days. Because he was still somewhat fearful of humans, it was decided that this was his best possible outcome, and we are grateful that The Oasis was able to find a spot for him. Thank you to all our foster homes, adopters, volunteers and especially YOU our donors, who loved and supported these birds until they found their forever homes!
Sign Up for our Seminars:
Upcoming Educational Seminar: Parrot Behavior, Foraging & Enrichment is scheduled for Sunday, June 24th, at the San Diego Humane Society, 5500 Gained Street, San Diego, CA 92110. MEMBERS ARE FREE! Have you stopped by lately for a class to stir up some summer creativity with your parrot care routine? This is a great general class and perfect for those thinking of adopting or who just want some new ideas. Pre-registration is required, just head to our website at PEAC.org under "Seminars and Registration" to put your name down!
Meet Our New Kids on the Block:
We have some new faces who are looking for love and a family. Skye (a grey colored Indian ringneck parakeet), Louie (Red-lored Amazon, very friendly), Merlin (Sun Conure who prefers the company of men), Lucy (a shy Alexandrine parrot), and unique "Munchkin!" Munchkin was turned into the Department of Animal Services and says "Hi Papa." His upper skull is somewhat deformed which resulted in a "too small" upper mandible and no functional nares. Munchkin can feed himself on a soft diet and if items are broken into smaller pieces. His plumage has already improved and he enjoys human companionship and wants to interact, especially once he knows you a little better. Help us spread the word about these wonderful birds for adoption by sharing our newsletters or social media posts with a friend! If you would like to hand out our parrot care or informational brochures, please let us know, and we'll send you some!
Want to know about our latest adoptable birds? View all their photos and biographies through the Petfinder link on our website: PEAC.org!
Our Partnership with the San Diego Humane Society:
As of July 1, 2018, the San Diego Humane Society will take over contracts for animal related sheltering and law enforcement from the Department of Animal Services, for a total of 12 cities in the county, including San Diego. PEAC has been accepted by the San Diego Humane Society as one of their qualified rescue partners and we will continue to use their facilities for our educational classes on Gaines Street. The San Diego Humane Society works with all their rescue partners to cross promote adoption and facilitate the exit of found or relinquished animals to rescues. These are very exciting times and we encourage you to learn more about their future plans and campus expansion at their website www.sdhumane.org.
Recap - America's Family Pet Expo:
PEAC had three booths this past April at the largest pet expo in the west; America's Family Pet Expo in Orange County! We went "live" on facebook and were swamped as our volunteers worked numerous shifts to answer everyone's questions while showcasing some of our adoptable parrots.
Very special thanks are in order to Michael Keens who set up his booth of Jungle Toys, with a portion of the proceeds donated to PEAC! This was his second year, and the bird-stands went so quickly that Mike had to bring in even more. Additionally, PEAC shared booth space with "My Right BIrd" whose focus is on engaging companion bird owners with education about parrot care and who generously donated to PEAC on behalf of our adoptable parrots. If you visit their website myrightbird.com/locator you can find local supplies, avian vets AND parrots listed for adoption - including ours!
We are so grateful to Mike, Jungle Toys, My Right Bird and ALL our volunteers who made this three day event a success for us and our parrots!! *High Four!*
The "Generosity Train" continues - choo choo!
Speaking of amazing donations, PEAC would also like to thank Planet Pleasures for sending twenty cases of toys for our parrots to enjoy and destroy! This really helps our foster families keep our parrots entertained and engaged while lowering everyone's expenses. Thank you Planet Pleasures for thinking of all our parrots - they are happily leaving little bits of toys everywhere!
Celebrating National Volunteer Week!
You may not be aware, but PEAC is run on 100% "volunteer power!" Everyone who fosters our parrots in their own homes, takes them back and forth to veterinary exams, feeds and cleans up after them, who attends to educational classes and meetings, spends their free time engaging the public and answering questions about parrot care at the many adoption fairs and events we attend, is a volunteer! (Whew, that was a mouthful, but they really do it all!) Should you encounter one of these extraordinary people in the wild, please share a hug or pat on the back for the services they perform. If any of this sounds like fun, please feel free to join us, we need help with social media, office duties, foster care and educational outreach programs/event attendance - you can help out as much or as little as you like!! Visit our website to contact us or email director@peac.org to spend some of your summer with us!
Our next Volunteer meeting is July 29th! Additional details to be shared as we get closer, or let us know you're interested in joining and we'll forward them to you.
Meet Us at Our Next Outreach Events:
On July 14th from 11 am to 3 pm, we'll have our booth, volunteers and adoptable parrots at Grossmont Center for the MEGA Adoption event "Dog Days of Summer!" Hundreds of available pets by dozens of rescues will be available and its a great time to stop by and get your questions answered or meet your next best friend.
October 27th, from 10 am to 6pm, PEAC will be at San Diego Pet Con at the Del Mar Fairgrounds. Its a brand new event for us, but will be fun for the whole family. We'll share more details about the event as we get closer.
Don't forget to follow us on Facebook, Twitter and Instagram for the very latest news (and lots of cute pictures of our adoptable parrots!)
Have any questions, an idea for fundraising or a programs? Never hesitate to reach out to us at anytime, we love hearing what's on your mind!
As always, we thank you for your support and for making a difference in our adoptable parrots lives.