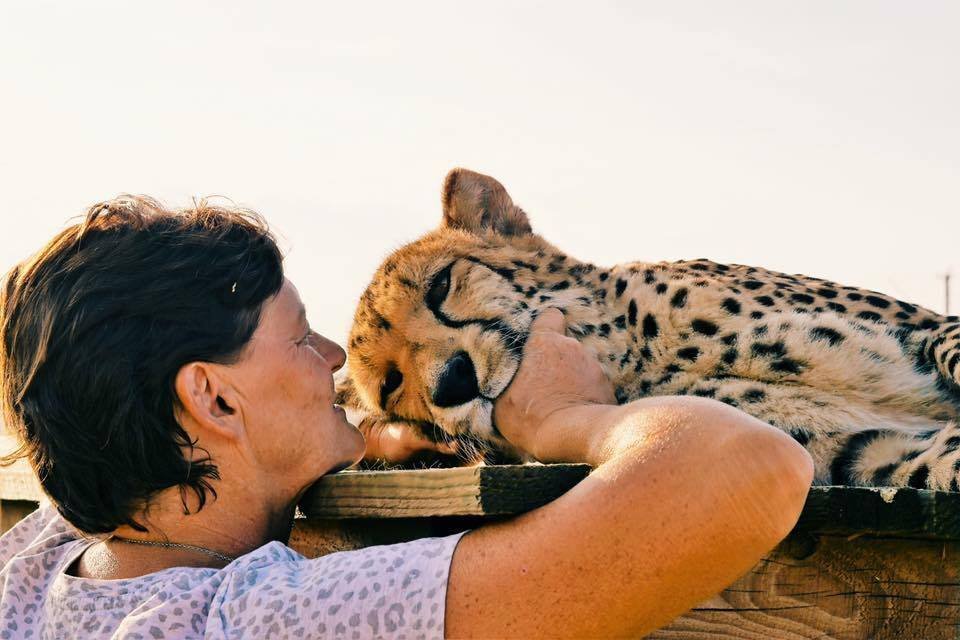 This project report is a submission to GlobalGiving's 2017 FailForward Contest, where organizations are asked to share a story of when they tried something new that didn't go as planned and how they learned from it. Enjoy!
Cheetah Experience is a non-profit organization that was founded 10 years ago by an amazing woman called Riana. At the time, Riana had been working full-time for the Department of Justice for 22 years, but it wasn't her dream, passion or calling in life. After much consideration, she decided to take the greatest risk of her life – she resigned, as she decided to pursue her lifelong dream: doing whatever she could to save the cheetah from extinction. Her journey started with one cheetah, named Fiela.
Fiela had a rough start in life, which is why she still struggles to trust people. Riana is currently pretty much the only person who she allows to touch her and she won't sleep anywhere else than by her side, every night.
At this stage Riana had no clear plan as to what the way forward would be. She had nothing material - just her and Fiela and that was everything.. At that point, she was living in a town house with Fiela. After eventually finding out that she needed a permit to keep a cheetah (and not in a townhouse either) she relocated to another game farm where she worked all jobs for a considerable length of time. Every night she dreamed about having her own place where cheetahs were in abundance and where she could do her bit in saving these graceful creatures from extinction.
Riana realised she needed to dream big but start small – so that's exactly what she did. She arrived at the now Cheetah Experience with Fiela. No money, no food, no furniture, no fence, no garden and a building that was falling down as her 'home' - along with a feeling of intense fear. But she wasn't alone as long as she had Fiela. Her cheetah was her inspiration and Riana often went without food so that she could buy food for Fiela.
Riana had always been involved with hand-raising cubs and used to help "friends of the zoo" where she started to earn a good reputation hand rearing cubs. So she did what she knew best - she raised cubs to bring in an income. She had lots of animals who moved into her home. Eventually days turned into weeks and weeks into months and Riana had four cheetahs that were permanent residents at Cheetah Experience – she then opened her doors to the public for daily tours. In order to help the cheetah, Riana knew that education would be the key to the species survival.
As time passed and more animals became part of the project, Riana realised that she would need help. The volunteer program was created, not only as a way to bring in people to help, but to also give back, and educate the volunteers. Meanwhile, Riana did everything in her power to bring in cheetahs to breed with, in order to save the species. Step by step, the volunteer program started taking off, providing some much needed money for the project. Thanks to the volunteers and donations, Riana was able to feed her animals and build them big, beautiful enclosures. At that point, social media wasn't such a big thing, so Riana really struggled to reach a lot of people and depended on word of mouth advertisement and tourists visiting.
At times, the project would only have a few volunteers so Riana had to find other ways to buy new building materials, do the very much needed renovations, buy electricity, plant trees for shade etc… Sometimes Riana and the entire team would save the little they had to make sure the animals had the best life they could ever imagine. At Cheetah Experience, it is important that the animals always come first. However for some reason, the attempts to raise money by fundraising were never successful.
In the last couple of months, Riana has discovered the importance of social media and fundraising in particular. Through social media, she found a way to reach more people and become more successful at promoting fundraising projects. She realised that the previous attempts to raise money failed because she didn't have the right people working on it. She realised she needed someone professional to be in charge of the fundraising, promotion and marketing side of things. Having someone who understands marketing helped us immensly. Not only did they do an amazing job when it comes to marketing and fundraising, They also helped us to graduate from the GlobalGiving Accelerator Program. Thanks to these efforts, we were able to raise more money, which will be used for various things including building a better meat room, optimizing the running machine for the cheetahs giving them the opportunity to have more exercise, etc... Hopefully we will be able to raise even more money in the future to buy the solar panels Riana has always wanted. This way we can save money on electricity, so that we can spend it on other things for the animals, and do something for the environment at the same time.
Our dreams may have started small but have now become even bigger. Step by step we're trying our best to reach our goals for the animals.