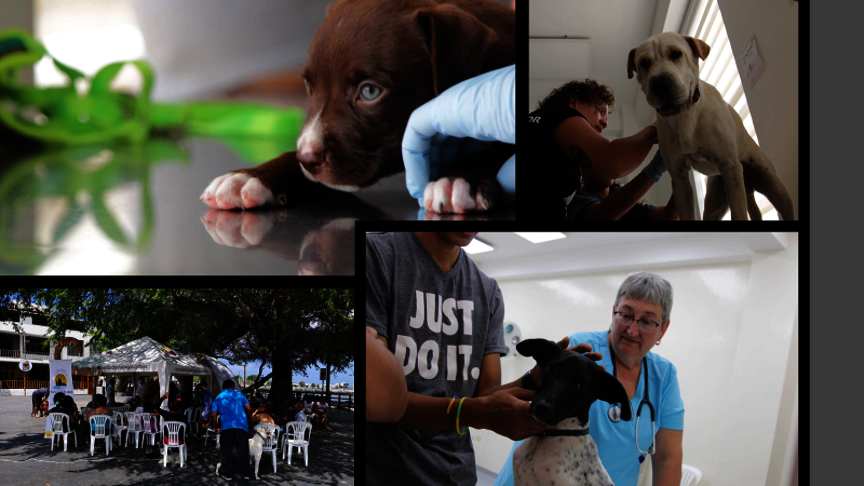 Animal Balance Galapagos May 2020 Report
Animal Balance has been working on the Galapagos Islands for the past 16 years, using a grassroots community-based model to positively impact overpopulation on the Galapagos Islands. Our success here serves as a global model demonstrating our mission: to collaborate with communities in need to create sustainable and humane animal management programs, in order to prevent suffering and ignite social change.
Animal Balance's program on the Galapagos Islands, is a collaborative effort between ABG (the local agency charged with protecting the biodiversity of the archipelago) the Municipality and the Park Service.
For 2020, the authorities had not been able to secure funding for a veterinarian for the island of San Cristobal. ABG has been able to send the veterinarian from Santa Cruz the main island, to San Cristobal every few months for treatments, but there is no veterinarian on the island to serve the community on a full-time basis. Animal Balance's plans for 2020 were to assist San Cristobal with a multipronged approach, establishing a Visiting Vet Rotation program to assist with the need for veterinary care on the island, as well as scheduling multiple high volume spay and neuter clinics throughout 2020.
In February 2020, prior to the COVID-19 pandemic, we were able to visit San Cristobal to provide critical wellness services and vaccines, as well as launch our Visiting Vet Rotation program. Dr. N. a Colombian veterinarian who has volunteered for Animal Balance on these islands a number of times prior, was joined by Dr. M., a veterinarian from the USA, to provide wellness services to the community's animals. The vets stayed for two weeks, working out of both the ABG clinic on San Cristobal and a pop-up clinic in the town center. Accommodation had graciously been provided by 911-Emergency Agency with support from the Municipality. During the wellness campaign over 257 animals, 200 dogs and 57 cats were treated. People were also able to submit applications for spay/neuter surgeries for later dates and 55 applications were received.
Our team returned to their various ports of departure to stay-at-home orders due to the spread of COVID-19, the Galapagos Islands along with mainland Ecuador were closed to non-national arrivals and our plans for our May spay/neuter clinic had to be placed on hold for the interim.
In a bid to continue assisting the community of San Cristobal throughout this difficult time, Animal Balance's Program Manager J and Dr. N joined forces to provide to help provide the community with advice for their pets over social media. The plan was 2-fold; 1) to answer specific questions and 2) to provide basic information on basic pet care.
Dr. N took over 20 calls from community members with medical questions. The most frequent question was on how to give medications safely. She also received scores of texts and photos, even offering evaluations over FaceTime to owners and allowing for follow up calls if needed. Dr. N said the other most common question was when they would be able to have their animals spayed/neutered. Due to the current lack of veterinary care on the island, we are also creating a veterinary webpage for the community called 'One Love-One Health'. On this page, they will find basic information to help care for their animals. Graphic and web artists in Ecuador are volunteering their time to design and create this webpage. It will be hosted on the Animal Balance website and also on ABG's website. We are the two main sources of information for veterinary care to the community.
The key needs of this community during COVID-19 is to have a friendly, knowledgeable veterinarian on hand to contact and also to have a referral source for educational materials. Until we can return, the team is working to create this page. When we are able to return, which we hope to be in January 2021, we will hold a 2-week high volume sterilization and wellness clinic to try to once again balance the cat and dog populations.
Thank you for this opportunity to share our work on these islands and for your support during these difficult times, we, the people and the animals of the Galapagos Islands are truly grateful.