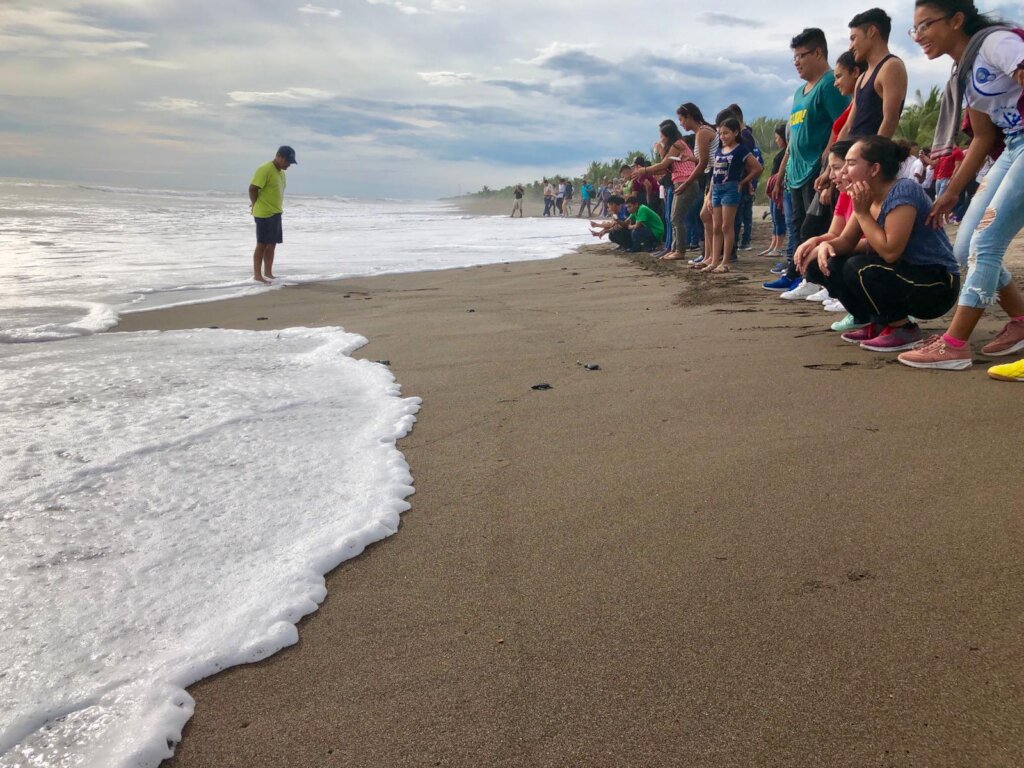 Days of liberation of neonates.
There have been release days for sea turtle hatchlings, in which people are always received in the incubation nursery, followed by an environmental education talk focused on the conservation of sea turtles, this is given by the nurserymen, then the hatchlings are shown and the incubation process of the egg until it hatches is explained.
Establishment or strengthening of a blue enterprise.
This group was provided with 60 certified vests, flashing lights, canvas for the roof of the boat, etc. This in order to benefit the group of aquatic service providers, who have been seeking a series of support to legalize and constitute themselves to be delegated as service providers by the Maritime Port Authority. This initiative was carried out due to the performance that this group has had in its way of working for environmental awareness, carrying out different activities such as cleaning the sapodilla mouth, whose waste is collected by the municipal sanitation train, works in mangrove restoration
Development of a meeting with members of the Xhiutic Network
of turtles at the national level and to be able to analyze the implementation of tagging in the country, in this case the turtle information form was also analyzed and it was proposed to make modifications such as geo data and the number of eggs collected from the turtle marked if it puts.International registration of the marks that we are using is also extremely necessary, so that they can be inventoried globally and appear in the online registers within the global marking inventory platform.
Surveillance patrols as accompaniment to MARN, at the Barra de Santiago Ramsar site.
Support was given to the resource guard team with the purchase of spare parts and repair of boats, which are the ones used for displacement and tours in the estuary.They are provided with equipment such as a propeller, spark plugs, oils for the motors of the boats, in this way they have the equipment ready to carry out surveillance patrols.