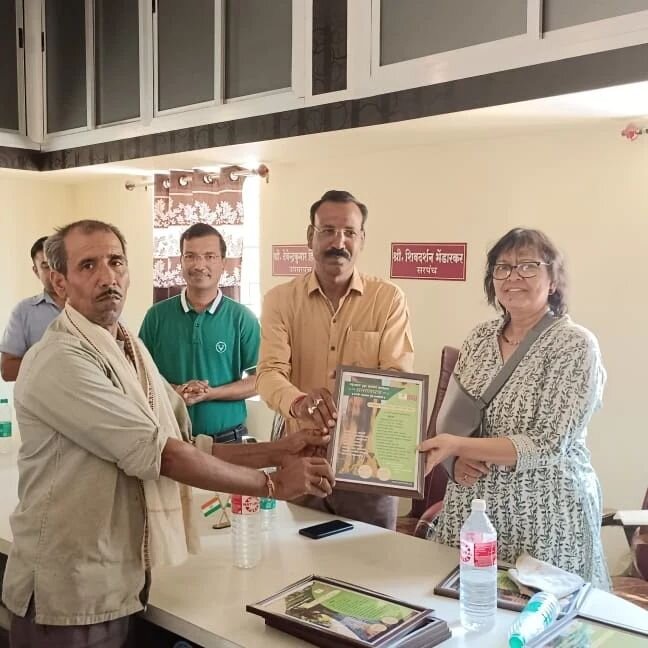 Dear Supporter,
First and foremost we would like to express our gratitude to the founding members of the Giant Tree memorial fund- Ashton Rohmer and Karthik Balasubramanian in support of Giant tree conservation initiative that we are implementing in India.
We are truly moved by this gesture and the response this fundraiser has generated. It is our responsibility to live up to the expectations of the increasing and healthy constituency of this movement After hearing about this memorial fund, our field team got further motivated and carried out specific activities that highlight the importance of conserving giant trees. Here is summary of all what we could achieve in the last quarter.
1) On the World Environment Day , 5th June, we felicitated 25 owners and custodians of Giant trees in village Fukimetta in Gondia district of Maharashtra. A gathering was organized at the village governing body office of Fukimetta to felicitate the custodians. The head of village governing body and other respected members from the village expressed their views on role of giant trees in regulating local climatic conditions such as temperature rise and provision of fresh air. As a token of appreciation of their efforts, direct cash incentives were distributed at this gathering.
2) How do birds survive without Giant trees ? we thought that it is important to provide necessary evidence about the methods of adaptation for survival by big birds when they do not find sufficient giant trees in a landscape. Our team documented how the red naped ibis manages its family on a mobile tower and how these towers have now become a place to go for resting for flock of red naped ibis in an increasingly urbanized landscapes in India. While no studies have been carried out to know the effect of electro-magnetic radiation emitting from these towers on survival of the offspring of this particular bird, the existing scientific literature on this topic shows that these radiations have negative impact on eggs and embryos of many bird species threatening their survival. It is only matter of time this bird species which is surviving with help of the towers (may be) due to low intensity of electro-magnetic radiation will succumb to higher frequency radiation in times to come as the rural parts our country catches up 4G and 5G celluar services. In any case, nobody also knows the impacts of direct exposure to sun on incubation of eggs and birth of healthy chick in case ot red naped ibis.
In support of our argument in favour of saving giant trees, we provide pictures of landscape devoid of giant trees and occupied with mobile towers in radius of 10 Kms from Fukimetta village and how these birds are using these towers for building nests and roosting. We also provide a picture from the same area where one red naped ibis has set up a nest on a giant tree. Though it is matter of common sense that bird diversity and population will flourish with conservation of giant trees the reality is something different and opposite. Hence. we need to protect as many giant tree as is possible. Your support. will forever play an important role in saving these giants.
3) Identifying and rewarding new custodians of giant trees- Our field team identified additional 40 giant trees and its custodians in the last quarter from eastern Maharashtra as well as from the Western Ghats of Maharashtra. We will be soon felicitating them with a certificate and cash incentive.
This campagin has significant potential to protect the heritage and treasure in form of giant trees across the Indian subcontinent and we are now quite confident that with the increasing constituency of supporters like you, we will be able to reach new heights in conservation of this wonder of nature.
Thanks for your contiuned interest in this very important cause.
Best
Jayant