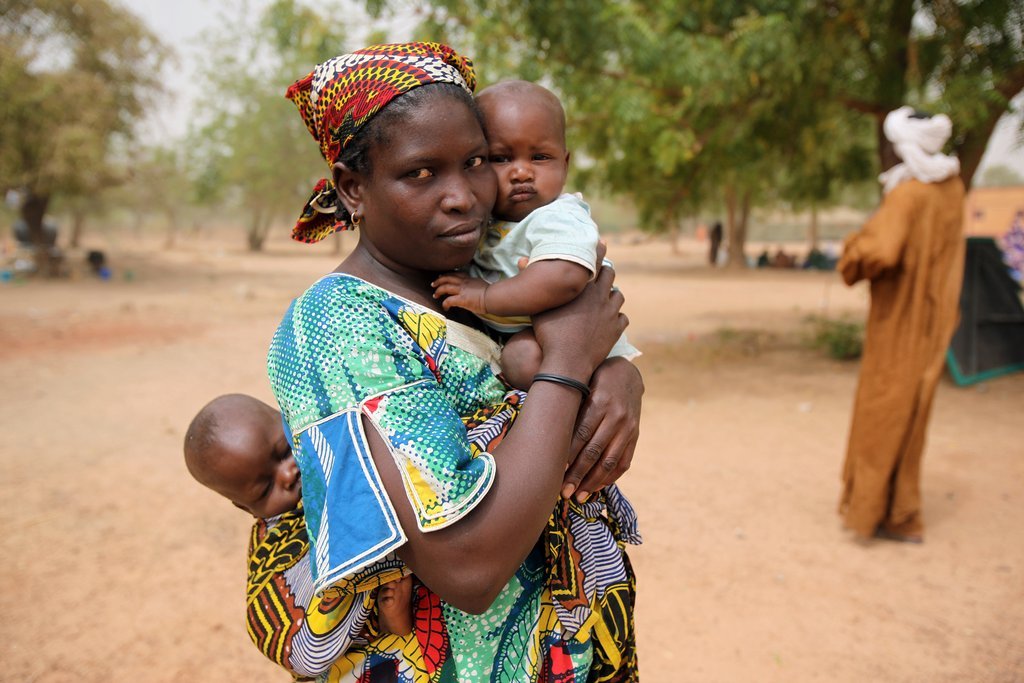 Dear GlobalGivers,
Imagine a little boy. Although he had been sick for a while, now at long last he is able to take that first handful of food again. Picture how the little boy shovels the food into his mouth, giddy that he is returning "back to normal."
This little boy exists, and he is on his way to recovery because you reached out! Hassan lives in Niger, a country in the center on Africa's continent and in the middle of the Sahel region. Only one year ago, Niger, Mali, Chad, and other nations in the Sahel region became victims of a far-flung famine caused by a deep drought, high food prices, and conflict in the region. But you didn't let the Sahel region famine become just another 'forgotten food crisis.' Instead, you helped mobilize several carefully chosen organizations to revitalize people in the famished areas with farming support, high-protein food supplements, defense against cholera, and implementation of long-term preparedness solutions.
Mercy Corps pledged, "While the past year has shown that a crisis can turn for the worst in an instant—and require our rapid response—we work with the knowledge that recovery does not happen overnight. You have helped us bring emergency relief to Mali when they need it most. With your continued support, we will be there, no matter what the circumstances, helping communities steer their own course toward a stronger, more resilient future."
Each of our partner organizations feel this drive, this committed promise to the vision to see the Sahel region equipped to be independent, healthy, and thriving for its people again. With your partnership, we have been able to do so much! Below are some of the amazing details:
Over the past six months, the Near East Foundation (NEF) has distributed 1,775 kilograms of seeds to eight villages in Mali. Seeds were the aid of choice because they allow the families to grow crops, some of which they eat and a portion of which they sell to earn income. NEF also dispatched teams to different villages, working with farmers on strategies for increasing food production. Irrigation, organic fertilizer, and insect protection were all topics of discussion and teaching. As the rainy season descends, monitoring and evaluation becomes a crucial way you can support the Near East Foundation.
Merlin USA, another partner, has been working in the nation of Chad tirelessly, implementing immediate treatments for diseases and malnutrition and creating long-term prevention measures. Recently, Merlin relayed to us some incredible results: 6,565 children under-5 were treated for severe acute malnutrition, and another 14,500 people were treated for moderate malnutrition. Health workers and caretakers were trained, a stabilization center was built, and mobile clinics went out to six remote sites. All of this and even more has been done with amazing coordination between local authorities, communities, and Merlin. The organization made a special effort in developing these programs to support and not duplicate already-existing services. Regular meetings and relationship building have allowed Merlin to operate successfully in Chad's culture.
The US Association for UNHCR is also operating a cross-cultural manner project, one where they are providing shelter, food rations, and water to refugees from Mali who are escaping from the violence in their land. After entering camps in Niger, Burkina Faso, and Mauritania, Malian refugees like Aicha and her four children need each of these survival staples. However, their stories indicate deep needs. "Our worst fears have now become reality. We left our animals and our friends. We feel we have only fear, no more life," she said, explaining her situation. In response to so many vulnerable refugees, UNHCR staff opened transit centers and bathing facilities and held interviews with many of the people, especially those like Aicha representing female-headed households. "They can tell us about things like health problems and trauma and then we can give them the proper care," either directly or through humanitarian aid partners, explained UNHCR Protection Officer Euphrasie Oubda. Aicha now receives regular visits from UNHCR community services staff, who have also been able to help all four of her children have the opportunity to go to school.
Another woman, Aissata, found herself at the peak of desperation following her husband's death and her region's food void. Rebels in Mali holding many villages hostage also contributed to the scarce access to sustenance. Aissata's son had to leave the family in order to search for food. Thanks to our partner Mercy Corps however, Aissata's family members and 20,000 others received vouchers to buy food at the local market to carry them through this unstable time. These vouchers also addressed the potential for cholera in the upcoming rainy season, giving hygiene and water purification resources. Mercy Corps is also focusing their energy on training households on good hygiene practices and helping the women and youth who transport the water learn how to properly clean their equipment. Finally, to combat malnutrition, Mercy Corps has started a new food security program with your donations. Nutrition education classes teach women and men and children about diversifying their food sources, healthy pregnancies, and income-generating possibilities.
GlobalGiving's partner organization Edesia approaches the food shortage and ensuing malnutrition in a unique way: they have committed to making and delivering Plumpy'Nut, a nutrient-rich Ready-to-Use Food (RUF) made with peanuts, milk powder, sugar, vegetable oils, and a fortified vitamin and mineral mixture. It's revolutionary in not needing refrigeration or water. Edesia recently sent us a new UNICEF video that highlights the individual impact that Plumpy'Nut is creating in reversing the effects of severe acute malnutrition. Our little boy Hassan from the beginning of this report is growing healthier because of this infusion of nutrition, and his mother couldn't be more deeply delighted. Since March 2010, Edesia has delivered more than 250,000 boxes of Plumpy'Nut because your donations made this possible!
"It is hard not to be able to feed your children," says Adama Diallo, another Sahelian mother from Senegal. "You can't be at peace. You can't sleep at night." Many families like her resorted to a hand-to-mouth existence, with a good day bringing in what was needed to feed the ten people in her household for the day. "If the food is not sufficient," she says, "we only give it to the children." Adama soon was enrolled in one of Oxfam America's income development programs that gave her the flexibility of cash as an aid rather than just food. Oxfam has found that often the community needs more than food supplements; the people need soap, medicines, and farming tools. Adama, who had lost her harvest and primary source of income, needed income to help her supply food. For this reason, Oxfam has also doubled its efforts to provide ways to purchase food and survival items. This income-generating focus allows families like Adama's to have opportunity to plant their fields and grow a harvest in this coming season.
"Now I have peace," she said, "and I am sleeping well."
Your role as generous donors has contributed significantly and indescribably to each of the accomplishments and successes that our partner organizations have been able to make in the Sahel region. Problems only feel insurmountable when someone is fighting it alone. You stand with Hassan, Aicha, Aissata, and Adama, faithfully fighting the famine that they face.
Thank you so much for being a part of this team!